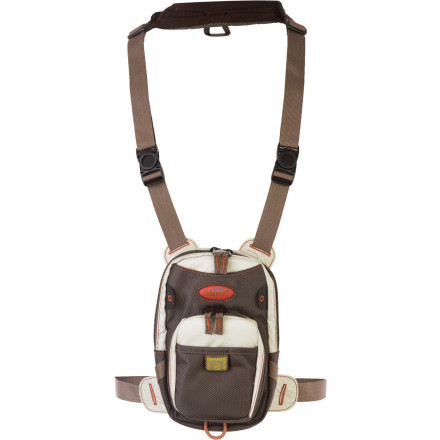 Some guys like to weigh themselves down and have everything with them while they fish, but not you. The Fishpond Tumbleweed Chest Pack. This pack has a lightweight waterproof breathable fabric and a minimalistic design that holds only what you truly need on the water.
One main storage compartment accommodates your fly boxes
A signature zip-down fly bench with replaceable foam for convenience
Integrated floatant holder for easy access
Gear attachment taps and loops keep your tools on hand and secure
Its modular design allows you to dock the Tumbleweed to the front or back of larger backpacks when you do need more stuff
What do you think about this product?
Have questions about this product?
very handy, seems to be the right size without being bulky. you can fit quite a few flies in this. I keep hemostats and nippers on this,along with my tippets and floatant. The top will also accommodate a magnetic release aid for your net. very handy little pack.
perfect for backpacking, and traveling
While a bit on the spendy side, this little pack will hold all your essentials for a day of fishing. The fly bench is the big seller on this for me, it's the best way for storing, and accessing your flies. There's still plenty of room for another small fly box, and even a small bottle of water in the main pocket. The nice thing is how modular this pack is, it's perfect with the neck strap, but you can lose that, clip it on your backpack, and just run your belt through the belt loop for the ultra light rig.