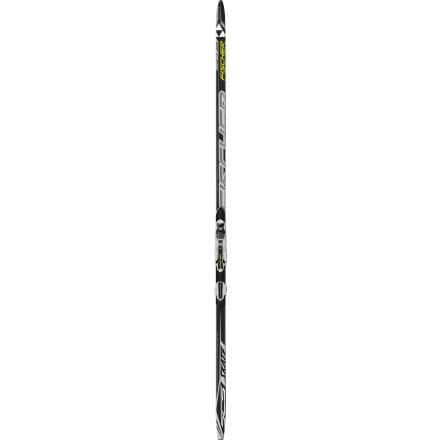 Videos
Description
Fast and forgiving, like a friendly, low-key greyhound.
Somewhere between a beginner ski and a take-no-prisoners race rocket, the Fischer SCS Skate Ski will help you step up your game without making you beg for mercy. The SCS is built with the same easy-gliding, hang-up-free Skating 610 sidecut as its World-Cup-crushing big brother the Carbonlite. It also has a Basalite Pro Air Core, made of super-light materials reinforced with basalt stringers to give you a moderately stiff ski that flexes consistently in all temperatures, letting you thrive without needing to break the bank on a full quiver. The World Cup Pro base is designed to be as versatile as the core, with a moderately-coarse universal structure that handles wet and powdery snow with equal aplomb, and doesn't require an obsessive wax technician to keep it fast.
Don't get it wrong, though—the SCS is no do-it-all-but-do-it-poorly wimp. It's built with Power Edge technology that stiffens that chassis of the ski, giving you a more powerful kick with less energy loss due to unnecessary torsional twisting, and works with the durable Tail Protector to give your skis a long, warp-free life. Like all of Fischer's race-inspired skis, the SCS is built using Computer Flex Control, ensuring that both of your boards will have identical flex and camber profiles, so you don't feel like you're skiing a different setup on each side.

Light, basalt-reinforced Basalite Pro Air Core
Skating 610 sidecut
World Cup Pro Universal base
Power Edge technology with a Tail Protector
Computer Flex Control ensures identical flex and camber profiles
Comes with NIS binding plate for easy binding mounting and adjustment