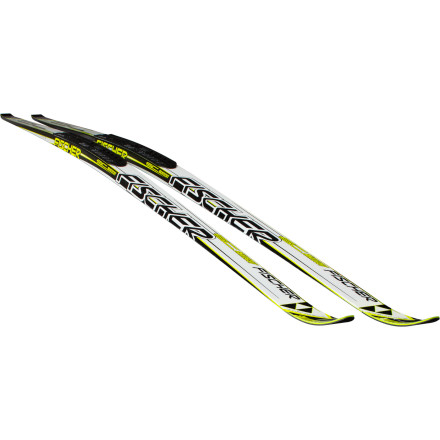 Detail Images
Conquer the learning curve of skate skiing with the Fischer SC Skatecut Ski. As Fischer's entry-level performance ski, the SC Skatecut is a blend of precision, speed, and forgiveness. Hold your glide a little too long or make your transition between kicks less-than-smooth, and this ski won't punish you. Instead, it just helps you get back on track so you can make a mental note and improve. Technology inherited from its brethren in the race department allows the Basalite core to shrug off drastic temperature changes and maintain a consistent flex from severe cold to severe warmth. Consistency of equipment is key when you're trying to get better at anything technical, and compared to the hair-trigger responsiveness of the RCS Carbonlite Skating Soft Track Hole Ski (Fischer's top-tier World Cup offering), the SC is calm, cool, and collected. And what of the weight? The good news is that despite all the friendly attributes this ski offers, you hardly pay for the added forgiveness when it comes to weight. The Skatecut is only 120 grams heavier than the SCS Skating Ski, the next choice up in Fischer's performance and sport ski lineup.
Technical comparisons aside, the focus of this ski is to promote confidence and keep skate skiing fun whether you're on a mission to improve your style or just take a few laps on the track near the ski resort. Choose your length based on your ability and weight: heavier skiers should choose a longer length, and more accomplished skiers should balance the maneuverability of a shorter ski with the stability offered by a longer ski. NIS binding compatibility further ensures the smooth link between you and your ski thanks to the integrated nature of the binding and the ski topsheet.

Torsionally stiff and incredibly lightweight, the Air Core Basalite Core makes you feel light on your feet and it resists twisting and torque as you end the kick phase of your skating stride, thus allowing you to predict the feel of this ski and feel more balanced and powerful
Volcanic basalite fibers also ensure that the core will maintain a consistent flex throughout a variety of temperatures, from warm to cold. This is a significant advantage over a heavily air-based core design that could otherwise change the flex of the ski during significant temperature changes.
As compared to the Air Core Basalite Pro Core, the Basalite Core includes wood with air channels for a more efficient use of weight-saving materials
Power Edge is a ski technology that reinforces the ski chassis at the furthest edges of the base—this reinforcement allows for more even distribution of pressure across the base of the ski, which in turn means that more of the base (and thus wax) touches the snow so you get a fast, even glide
Speed Grind base uses a mechanically ground base structure to provide the best all-around glide performance at a wide range of temperatures and in a variety of snow conditions. This base also requires less upkeep to maintain a significant level of performance.
The sidecut uses a shape trickled down from World Cup technology—a slightly tapered tip reduces swing weight and tip drag and improves tip release during the kick phase of the skating motion. Compared to traditional sidecuts, this allows for a smooth, even release of the ski, making you more efficient from skate to skate.
NIS binding integration allows you to slide an NIS binding onto this ski and adjust the mounting point within two centimeters fore or aft in just a few minutes. NIS integration also allows this ski and binding to flex as a unit, a characteristic that eliminates the flex-interruption of a binding for a more natural boot-to-ski feel and improved responsiveness.
What do you think about this product?
Have questions about this product?
What size SC ski do I get?
What size SC ski do I get?


That largely will depend on your height. Above the orange "Add to Cart" button near the top left of the page there is a little ruler picture with the blue words "Size?" above it. Click on that to find which skis work for your weight.
Is it 1 ski or a pair of skis? does it...
Is it 1 ski or a pair of skis? does it include the bindings?
Its a pair without bindings.