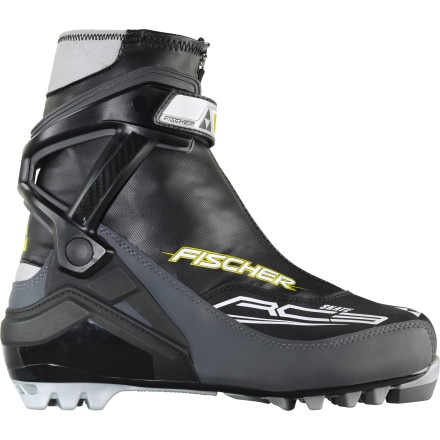 Description
A skate boot for beginners with performance ambitions.
You're just starting out in the world of skate skiing, but you have ambitions and dreams of improving your technique fast. The Fischer RC3 Skate Boot delivers just the right amount of stiffness so you won't feel held back by your boot, and just the right amount of comfort to keep you on your feet all morning. This boot is capable of moving fast on the groomed track, but it isn't a podium-chaser by default. Fischer makes three higher-end boots for that (the race RC7 and RCS Carbonline, and the high-performance RC5 Skate). Although the RC3 does share some traits with RC5, like a Race Fit, Flex Cuff, and Thermo Fit, the RC3 features a fleece-lined toe for warmth and comfort and a sole with a softer flex that's kinder to your foot and more forgiving.
The RC3's rigid external ankle cuff and the massive power strap around the ankle drive your power directly into your ski, in the same way the race-bred boots do. This provides the stability and responsiveness you need to not only improving your skating but also to feel confident skating hard when you're ready. The tall inner cuff, thermomoldable fit, and additional heel-fit adjustment boost ankle stability and help perfect the fit to your feet. If you're coming from the world of classic skiing, you should realize that this boot will feel significantly stiffer than the boots you're used to.

T4 Sole is made of pure polyurethane which provides a softer flex that feels just as comfortable under your foot when you're skating as it does when you're walking around—compared to the PEBAX/PU sole of the RC5 Skate boot, this sole will have slightly more torsional flex and it will have a greater overall flex
Medium-stiff boot flex gives a skate skier the stiffness needed to transfer power during the kick and the flexibility needed to allow for proper balance and ski control during the glide
Frame technology uses an injection process to combine a mesh of technical polyurethane material directly onto the upper to boost waterproof protection and long-term durability that also keeps the boot's profile low and ensures predictable boot flex
Zipper closure is sealed to keep snow out of your boot, and the lace cover further eliminates the chance of moisture or snow finding its way inside
Hinged, external Flex Cuff supports the back and sides of your ankle to improve power transfer to the sole of the boot and into the ski—this Flex Cuff is embedded in a layer of EVA material that provides a layer of comfortable cushioning between your ankle and the rigid frame
External hook-and-loop power strap wraps around the ankle for support and to ensure the most contact between your shin and the tongue of this boot—increased shin-to-boot contact allows you to efficiently drive power to the front of your ski
Race Fit keeps this boot close to your foot but it has a wide forefoot to give your toes room, which offers maximum responsiveness in order to improve ski control and ski feeling without undue restriction. Ambitious skiers will find the Race Fit last appealing thanks to its balance of performance and support
Heel Fit Strap wraps around the back of your heel, and this strap can be adjusted to help control heel movement inside your boot
NIS and NNN binding compatibility means that this boot interfaces easily with one of the two binding types
Fischer NIS bindings deliver a secure connection to the ski without screws, the NIS plate is bonded directly to the ski and uses a patented connection technique that ensures that the binding and ski can flex as one for the most natural feel underfoot, and the NIS binding can be adjusted on its mounting plate so you can move your binding fore or aft of the mounting point to achieve greater forward
The NNN system is a non-adjustable, non-integrated Nordic ski binding system
For ambitious skiers looking for a ski at the higher end of the performance scale, the Fischer SCS Skating or CRS Skating Vasa Ski with Exercise Skate NIS Silver binding are excellent choices, while those in the hunt for more of a sport/performance balance should consider the SC Skatecut Ski with Exercise Skate NIS Silver Binding