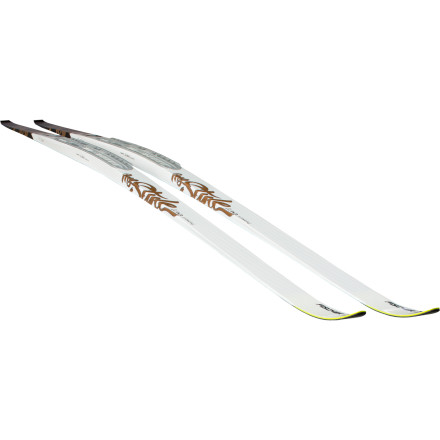 Detail Images
Fischer made the Luna Skating My Style Skate Ski specifically for women who want a performance ski that'll give them the confidence to improve their skate technique. Conquering the learning curve of skate skiing is no easy task, but the Luna has the precision and forgiveness that allow you to learn and dial in your technique little by little even if you make some mistakes along the way. Although it borrows its core fast base and sidecut from top-tier World Cup skis, the consistent feel of this ski comes from the Basalite core inherited from the Spirit Crown My Style ski. No matter how the temperature fluctuates or the snow surface changes, you can predict the way that this ski will feel even before your first kick. If you're more familiar with classical Nordic skis, you'll notice that this ski feels more nimble and a touch stiffer underfoot. In comparison to Fischer's entry-level classical ski of the same length, the Luna is more than 200 grams lighter.
Ultimately, this ski gives you the control and confidence you need to feel in sync with your gear, whether you're out to improve skating style or you're working up your heart rate by doing laps on the trails at the resort. Choose your length based on your ability and weight: heavier skiers should choose a longer length, and more accomplished skiers should balance the maneuverability of a shorter ski with the stability offered by a longer ski.

Torsionally stiff and incredibly lightweight, the Air Core Basalite Core makes you feel light on your feet and it resists twisting and torque as you end the kick phase of your skating stride, thus allowing you to predict the feel of this ski and feel more balanced and powerful
Volcanic basalite fibers also ensure that the core will maintain a consistent flex throughout a variety of temperatures, from warm to cold. This is a significant advantage over a heavily air-based core design that could otherwise change the flex of the ski during significant temperature changes.
As compared to the Air Core Basalite Pro Core, the Basalite Core includes wood with air channels for a more efficient use of weight-saving materials
Power Edge is a ski technology that reinforces the ski chassis at the furthest edges of the base—this reinforcement allows for more even distribution of pressure across the base of the ski, which in turn means that more of the base (and thus wax) touches the snow so you get a fast, even glide
Speed Grind base uses a mechanically ground base structure to provide the best all-around glide performance at a wide range of temperatures and in a variety of snow conditions. This base also requires less upkeep to maintain a significant level of performance.
The sidecut shape, trickled down from World Cup technology, uses a slightly tapered tip to reduce swing weight and tip drag and improve tip release during the kick phase of the skating motion. Compared to traditional sidecuts this allows for a smooth, even release of the ski, making you more efficient from skate to skate.
NIS binding integration allows you to slide a NIS binding onto this ski and adjust the mounting point within two centimeters fore or aft in just a few minutes. NIS integration also allows this ski and binding to flex as a unit, a characteristic that eliminates the flex-interruption of a binding for a more natural boot-to-ski feel and improved responsiveness.
What do you think about this product?
Have questions about this product?
Are these two skis or one (sorry to ask,...
Are these two skis or one (sorry to ask, but the picture shows just one :).

And does it include the bindings?
It does not include the binding and it should be for a pair. I would use the "Chat Now" to verify before you order.