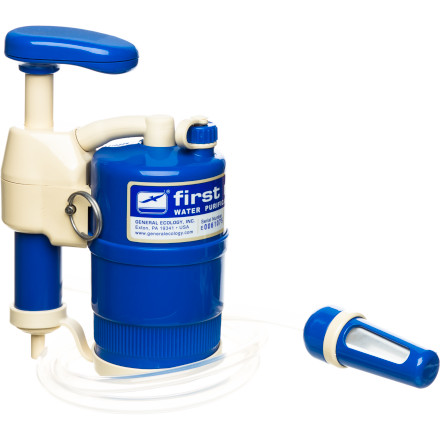 Community Images
Whether you're backpacking in your favorite wilderness area or just need a reliable purification system for emergency preparedness, trust the First Need XLE Elite Purifier for high capacity and a clean, chemical-free taste. The double action pump can purify up to two quarts per minute and the Direct-Connect threaded system allows you to pump directly into most water bottles.
Improved design provides greater durability and impact resistance than previous First Need filtration systems
Double action pump allows you to purify up to two quarts per minute
Average canister capacity will process 180 gallons (additional canisters sold separately)
36 inch intake tube has integrated prefilter to remove large particles and extend canister life
Clean-out port on the canister allows you to easily clean the canister while reducing contact with dirty water
Direct-Connect threaded attachment is compatible with Nalgene, Sigg, and other popular trail bottles
Low weight of just one pound makes the system easy to transport
Independently certified to EPA Guide Standard Protocol for removing bacteria, cysts, and viruses
Worth the weight to carry
Gender:

Female

Familiarity:

I've put it through the wringer
This is the best filter I have owned... oh wait, its the only filter I have owned. But not the only one I've tried. After borrowing a friend's First Need XL filter in college, I first tested his out in South Cumberland during summer when the water supply was a muddy puddle a few miles deep in Small Wilds. I enjoyed remarkably clear tasty water all weekend. That was back when my packing weight was low on the 'traditional' side of the scale. I also tried a brand name filter (that starts with a K)--tasted a little ashy for what I grew accustomed to, same with those little tablets that I would dish out a few bucks for in the beginnings. I bought my own filter, the junior version, and it worked great, forever in fact. Only had to clean it once after several trips, before I passed it on to my boyfriend. I finally bought the XL, its even easier to clean, and you can easily do it in the field. The XL is marvelous thanks to the threaded bottom perfect for wide mouth nalgene sized bottles and another smaller threaded size perfect for gatorade bottles. Makes it super easy to pump that way. The bag is a huge bonus to hang from something and drain water down into filter, and pack it up keeping it from dripping on things in your bag. That being said, this is not an ultra-lighter's filter. It has some bulk and can take up some valuable room in a 50-55L bag, but you have to ask yourself if its worth it...



Even when I researched long distance hiking alternatives, the cool light sterilizers, steripens, bottle toppers etc. I couldn't help but be skeptical, so in the end I decided worth it was the weight to carry this around, I sacrificed a couple of luxury items, considering this a peace-of-mind luxury in itself.

Another use for this is if you tend to have boil water advisories, this can help you get through it and skip the stovetop. I've also heard its a tremendous asset in third world locations where water can be scary and scarce. Happy camping!
Unanswered Question
I've had other pumps that get very difficult...
I've had other pumps that get very difficult to pump when pressure builds up. Is there any kind of problem with pressure building up with this pump?
An awesome pump for backpacking
Familiarity:

I've used it several times
It doesn't look as fancy as some of the other filtration systems on the market, but it is 100% my choice to go into the mountains with. I have used it several times and it reliably filters water very fast. Its a pretty simple system, all you have to do is attach and pump. Another great feature is that it screws directly into any regular Nalgene bottle which is great if you dont have a huge water need.
Well made, works great, and pumps fast!
Familiarity:

I've used it several times
This is everything it's said to be! I love the speed at which it filters, pumping on both the up and down strokes. I recommend it to anyone for backpacking, survival kits, etc...
Lightweight and durable feel.
Familiarity:

I've used it once or twice and have initial impressions
The size of this product isn't too bad. If you made 2 clenched fists and put them side by side, this purifier is slightly larger than that. I can fit it into my 3 day pack without removing too many "luxury" items, but seems like it would be better utilized on longer trips or with a group of people.



This product seems solid enough. I am not concerned with placement in my pack, no need for it to be on top of everything, or padded by clothing or anything like that. It seems like it will take a bit of a beating, and remain functional, thought, I cannot say for certain... I'll let you know when I break it!



I would say that for the additional cost over a filter, the capabilities of this purifier to eliminate bacteria and virus' make this a great purchase. It will save you the time and trouble of boiling, or potentially running out of purification tablets when you need them. It is easy to use, and easy to clean out.
Tastes like water
Familiarity:

I've used it once or twice and have initial impressions
About the size of a coconut and a little larger than some of the other models, but worth it, as it pumps easier and filters better. Was able to get flow from about a 2-3" pool of water. The different types of threads for different bottles is a plus, but water can still flow into any bottle simply by holding it underneath the spout. Requires about a dozen pumps to drain the remaining water out when you are finished so that it doesn't leak in your pack, but this is typical. Has survived a couple of drops onto the ground with no damage so far.
does this purifier remove chlorine in...
does this purifier remove chlorine in water>
Hi Cherry,



Unfortunately, no it won't, nor will anything in this genre of filtration systems for backpacking or survival. The chlorine molecules are too small for the 0.40" micron filter to catch. It should help the taste and smell a bit, although really, as unpleasant as chlorine might be, it's essentially harmless. If you really need to remove chlorine, without going to huge and expensive equipment, the best and cheapest way is distillation.
I am a really protective father. From my research and my experience with this filter, I allow my two young sons,3 and 6, to drink water from this. I hope that my research and experience has been adequate but so far everything has been great. ken
This is probably one of the best water purifiers to date. It purifies well and the resulting water tastes good. Only problem is the size. If you are using this for a group of people, this purifier is worth it. Each filter pumps a large amount of water, it pumps fast and you can split of the weight of other items in your pack in order to make room for this. But for 1 or 2 people, a smaller purifier is preferable.
I've taken this out on long trips and it's such a great thing to have. It does weigh a pound so if you're obsessively shaving packweight it might be a tough call but in my opinion it's easily worth it. Your water will always taste clear and fresh, and it removes all the bad microscopic stuff other filters won't. It's easy to pump, and the flow rate is pleasantly quick. I'm not sure just how compatible it is with different brands of bottles, but a standard trusty 32oz Nalgene screws directly into it. There is also a smaller inner 53mm thread to screw on smaller bottles, and a main "output spout". You can also filter water directly into your CamelBak (or Platypus or what-have-you) by popping off the bite valve of your reservoir's tube and fixing the tube directly over the output spout. There are adapters available from the company's website if you're intent on using some nonstandard sized bottle. Basically, if want the cleanest water possible while backpacking and don't want to deal with chemicals in your water, the First Need is your best option.