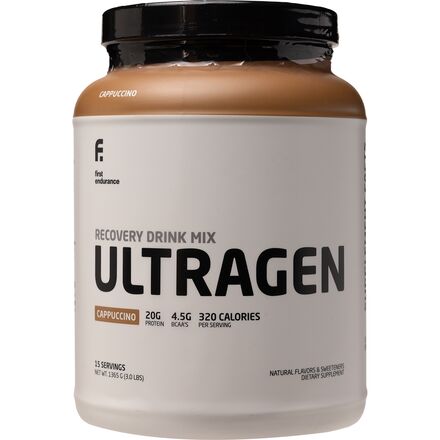 Colors

Detail Images
Description
Maximize your metabolic window.
Touted as one of the "most advanced recovery formulas ever developed," the First Endurance Ultragen Recovery Drink refuels exhausted muscles by providing clinically-proven ingredients within the magic 30-minute glycogen window after grueling races and long rides. This recovery drink gives you 20 grams of the high-quality protein, 60-grams of carbohydrates, 6 grams of glutamine, and 4.5-grams of branched-chain amino acids per serving (serving size is 2 scoops), all working synergistically to rebuild muscles, improve glycogen and protein synthesis, and speed-up recovery time.
15 servings per container, with 2 scoops per serving
20-grams of protein/serving
60-grams of carbohydrates/serving
6-grams of glutamine/serving
4.5-grams of branched-chain amino acids/serving
Great so far!
Familiarity:

I've used it several times
Used for a month so far and it's quite good. I like the tropical punch flavor. Typically, I like Hammer Recoverite, but this product is just as good and possibly slightly better for recovery.
Tastes Great and Works
Familiarity:

I've put it through the wringer
I love this recovery drink for after long days in the outdoors or tough sessions at the gym. The fruit punch flavor and the orange are both refreshingly different and taste great.
Must use for endurance athletes
Familiarity:

I've put it through the wringer
This has become an essential part of my post workout routine. It doesn't seem to matter if I'm running, climbing, ski touring, or hitting the gym, Ultragen tastes good and seems to significantly reduce soreness the following day. If you're serious about doing hard workouts on consecutive days, this product is a must. I've sampled all the flavors, my current favorite is Cappuccino, but the Fruit Punch is a close second. Try it, you will not be disappointed.
GREAT!!!!
Familiarity:

I've put it through the wringer
GREAT PRODUCT IT REALLY WORKS!!!!!
I don't use this after every ride...
Familiarity:

I've put it through the wringer
But when I do, boy do I need it. Normally I like to recover with real food, but sometimes a training ride or race is just so damn hard my body rejects everything. This is a tasty (all flavors really), easy to drink and chuck full of everything you could possibly need recovery drink. I highly recommend this over other recovery drink options, it's simply the best out there.
Delicious & Nutritious
Familiarity:

I've put it through the wringer
I've tried a good amount of the recovery products over the last several years & have found nothing that works better for me than Ultragen. I compete in lots of Endurance auto races every year & when getting out of the car after 2-3 hours at aerobic threshold you need everything you can to get yourself back ready to hop in the car in a few hours time. The formula they use is great for all the activities I participate in, I'll just mix it different depending on what I've been doing. After a big ride it's great to make a smoothie with the cappuccino flavor with milk, some extra protein, & a banana. Really like the different combos you can do with it.
great product and a great price
Familiarity:

I've used it several times
this really works and backcountry has really competitive pricing on this item. use it after a 4 hr bike ride.
Great product. Poor taste
Familiarity:

I've put it through the wringer
I have the orange version. Bad taste. Great product. I'll try a different flavor as I like this over most post workout protein shakes b/c of the glutamine.
Essential recovery drink
Familiarity:

I've put it through the wringer
I use this after 100 mile rides on my bike and it is an essential component to my recovery regimen. I went with cappuccino this time, but tropical fruit is good too. I haven't tried the orange flavor.
As great as every EFS product
Familiarity:

I've put it through the wringer
This is a great product - provides electrolytes and protein for a post ride recovery powerhouse. It taste great too, not too strong, not too weak. Its actually a great value too.

My review would have been expanded upon, but Backcountry pesters customers with emails about reviewing products - not good.
Best when chilled
Familiarity:

I've put it through the wringer
This recovery drink was essential to me as I was training for a half marathon. I drank it after all of my long runs. Not only did it taste great but it was filling enough to not leave me searching for carbs. It also left my body feeling great after the runs where I couldn't even tell that I had just pushed my body the day before. It definitely helped with muscle recovery.

I have the orange creamsicle and it was very good flavored. I like to call it my dreamsicle drink. :)
After a big run anyone needs to get some good stuff to help recovery. First, this stuff has all great ingredients in terms of carbo/protein mix. Second, it tastes great (I like the cream sickle) - specially when ice cold. You almost feel it flow through your veins. I honestly feel this does great good. And if I have a big glass of this after a long run, I don't feel the need to binge on useless calories or other junk. I gotta get me some more! I also have this ready for me at aid stations in long races. Good way to get a quick 200 or more calories while hydrating. I have never NOT wanted to pound this at any aid station no mater how I feel - as long as it is ice cold!
I have been using Ultragen after workouts for about a year. I used to drink an Ensure after workouts, found this is easier to digest. The tropical punch flavor is resfreshing especially after a hot run here in Phoenix. At 52 years old, I honestly think it helps my recovery. (need all the help I can get:)

Honey Albrecht
Wasatch Speedgoat Mountain Racing Team
I've been using the 1st Endurance Ultragen for a couple of years now. I typically will use it within the first 30 minutes of a hard workout as a recovery drink. I do think it helps me to recover a little quicker than if I hadn't used it. Downside is that it's a little on the pricey side.
Ultragen Makes a Difference
I started using Ultragen after my skate skiing training sessions and continued to use it for cycling. The biggest benefit is the minimized muscle soreness the next day after a hard ride. I drink it immediately after my ride to maximize the recovery benefits. All of the flavors are very good in my opinion so I like to have one of each for variety. I always look forward to my Ultragen recovery drink after every ride.
This stuff goes down easy and taste great. It never upsets my stomach which is a big plus for me! I find myself craving while out on the ride! Yes it tastes that good!
First Endurance Ultragen benefits
Robert Kunz of First Endurance talks about the benefits of Ultragen.