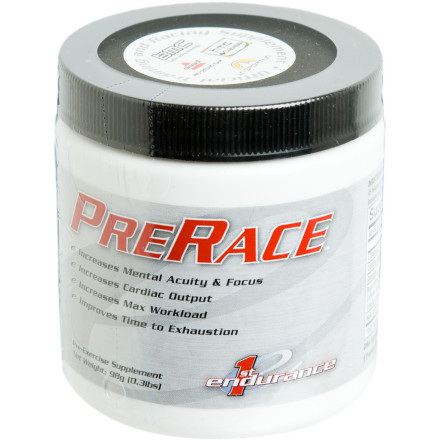 Detail Images
Description
Synergistically supercharged formula.
Boost your mental clarity and improve cardiac output during intense training sessions and races with the First Endurance PreRace drink mix. Working synergistically by combining a neuro stimulate proprietary blend to improve cognitive function with ingredients that stimulate the Nitric Oxide system, PreRace boosts your efforts with just one scoop 30 to 45-minutes before working out. This mix doesn't contain any artificial sweeteners or flavor additives, allowing you to mix it with a flavored electrolyte drink before exercising or racing.
A favorite among athletes, you'll find 200-milligrams of caffeine per serving to increase mental clarity before going hard. That's the same as two cups of strong coffee in a single jolt, giving you a powerful boost before exercising. Additionally, you'll find Taurine and Citrulline Malate work to improve cardiac output by stimulating vasodilation (widening of the blood vessels).
First Endurance recommends starting out with a 1/2-scoop before exercise to get used to its overall strength and effects. Each tub contains 98-grams, which is approximately 20 servings of PreRace mixture.
Drink 30 to 45-minutes before exercise
Flavor-free powder (no flavor additives or artificial sweeteners)
One 98-gram container has 20 servings
Neuro Stimulant Proprietary Blend: DiMethyl Amino Ethanol, Caffiene Anhydrous, Metabromine, Catechin
200-milligrams of Caffeine, 3000-milligrams of L-Taurine, 1000-milligrams of Citrulline Malate per serving
Share your thoughts
What do you think of the
First Endurance
PreRace
? Share a...
GET PSYCHED!!!!
Familiarity:

I've used it once or twice and have initial impressions
First experience with a pre-race supplement of this caliber. And "Great Odin's Raven" does this have a kick!

One scoop of this before a crit or road race and I am absolutely wired.....a little too wired. After a bad experience with the first go with this (full scoop, too much energy, stomach ache), I went to a 1/2 scoop and found a more suitable kick to the pants.

Really makes you hyper aware in the Peloton. Seems to last for a bout 2 hours so it's a good go to pre-race for crit racing but for road racing I just don't think it's needed.

Still not sure how I feel about this product. Need to do some more testing and come back with some more insights.

Key take aways for now have been:
1. Watch your dosage (start with a 1/2 scoop)
2. Be ready to be outrageously energetic for about 2 hours.
3. Go faster. It does work
Bath Salts?
Familiarity:

I've put it through the wringer
The first time I used Pre Race about 30 min after taking it I questioned it's legality. It's really that strong? which is a good thing, because after tasting something this bad it better work! I've tried mixing it in all sorts of different concoctions but nothing seems to mask the taste. I'd be interested to see how the Pre Race Pills work.

For a racing situation I doubt that anything that isn't illegal could give you more of a boost coming off the line. I do seem to notice that my HR for rate of perceived exertion is a bit higher than normal though, but I imagine it's because all the stimulants pumping through your veins. Bottom line, when I'm racing I'm mixing up some go fast juice before the start.
First Endurance PreRace benefits.
Robert Kunz from First Endurance talks about the benefits of PreRace.
Strong, use in moderation
Careful with this stuff, it's powerful! If you take it for a night race you probably won't sleep well.
I use this product before every time trail and crit race. Really gives you a kick. It replaces my espresso before a race. You can't go wrong with this!