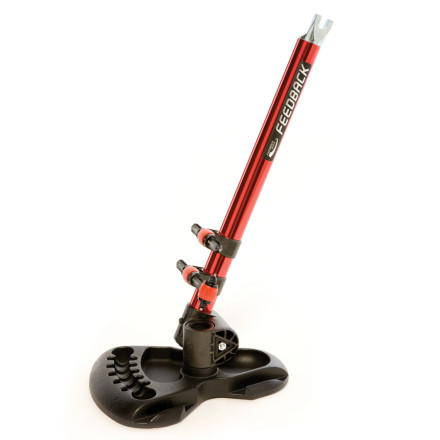 Detail Images
Amassing all of the specialty tools needed for your home shop is often a lifelong pursuit. Between the cost of such dedicated tools and ever-changing industry standards, your tool chest is almost always short one tool or another. The lowly truing stand is a tool that often gets overlooked, perhaps for some because tweaking the near-magical balance of a good wheel gives them night sweats, or because of the other tools needed to get the most from a stand. The Feedback Sports Wheel Truing Station's simple, easy-to-use design makes it the ideal choice for home mechanics, and the fact that you won't have to remove the tire to do the job (even massive 29er meats) makes it all the more accessible.
The one-armed design makes easy work of wheel maintenance and repairs. The stand can be placed on top of any Feedback Work Stand, or it can stand alone on its sturdy plastic 8 x 10in (203mm X 254mm) base which features organizing slots for wheel tools like spoke wrenches and tire levers.
The unique 20in (508mm)long, one-arm design uses your wheels' standard quick releases to secure the wheel in place. As convenient as this is, it does not allow for the truing of any wheel with a thru-axle hub, so early-adopting mountain bikers may want to look elsewhere. It provides easy access to spokes while offering ample clearance for large wheels with tires installed. The run-out indicator can slide all the way up the arm to allow truing of disc brake rotors, taking care of annoying rubbing. The Feedback Sports Wheel Truing Station is made of durable anodized aluminum and weighs in at 7.8lbs (3.5kg) for a nice balance of stability and portability.
I got this since it was cheap and looked well designed and I trusted the Feedback brand. It worked well to true a few wheels. The biggest complaint I had was needing to flip the wheel around to check for dish and the little bit of extra time it took to lock the wheel into the stand. It does the job, but just lacks the convenience of the higher end stands like the Park TS 2.2. I feel there's no truing stands between this and the TS 2.2 worth getting though. Go cheap and functional or all out, IMO. This stand already paid for itself in the amount of time and money it would've cost to have a bike shop to tune up my wheels and I gained skills doing it, actually itching to build a new wheel. Though I kind of want the TS 2.2 for the actual wheel build I'm aiming to get.

This is nice if you have a few wheels to true, or want to check out after replacing a few spokes, that you're not really too attached to and just like to thrash and are on a budget. If you have a larger budget and are serious about your wheel's condition, looking to get more frequent use out of it or trying to true or build up some higher end wheels, then get the Park TS 2.2.

If you have axles bigger than 10mm, look for truing stand adapters from brands like Problem Solvers.
Decent truing stand, but not the best
I picked this stand up on sale. It's better than the frame of your bike, but it is not as good as a two-armed stand like the Park Tool version. Of course, it's a lot cheaper, so you get what you pay for. It works; it holds the wheel and is easily adjustable, and works for both 26" wheels and 29er wheels. It does sort of depend on QR skewers, though, so DH people might be out of luck. Also, if you have a Feedback Sports stand, it integrates seamlessly and fits on the top of the stand, allowing you to do all your work in one place. I still just use it with the base plate, though, I have it out on my coffee table (it looks like some sort of funky sculpture) and true wheels while I watch TV.

My biggest critique is the one-sided aspect of it. First, it only has feeler gauges on one side, so you have to flip it over several times during truing. Second, the single arm is not as stable as two arms (sorry, Cannondale, this has nothing to do with you) so for bigger heavier wheels, particularly my 29er training wheelset (boat-anchor 2400g without tires) it can wobble.
Unanswered Question
Can you true a 150mm Rear wheel using plugs...
Can you true a 150mm Rear wheel using plugs and a normal 135mm skewer?
How does the wheel mount to this? Can I...
How does the wheel mount to this? Can I true wheels with 20mm/15mm thru axle hubs with this?
It is possible that you could make that work. However the added weight that a DH/150mm wheel will have will make it very difficult for a one armed truing stand to support it. I would look into more sturdy options such as:
http://www.hucknroll.com/mountainbike/Park-Tool-Home-Mechanic-Wheel-Truing-Stand-TS-8/PAR0165M.html

Or:
http://www.hucknroll.com/mountainbike/Park-Tool-Professional-Wheel-Truing-Stand-TS-22/PAR0166M.html
A truing stand was the last piece of bike repair equipment I needed to avoid taking my bike to the LBS for service.

I've had an issue this summer with a few broken spokes, and at $30ea for spoke, labor and truing - it made sense to get a stand, and fast.

This was the most reasonably priced stand I could find, and reviews were positive.

In short- it does as advertised - it allows you to true a bicycle wheel. Quality is fine and its quite functional.

I don't build wheels, so I can't comment if it would be a good choice for that or not. But if truing your wheels and being self-sufficient is your goal - this is a great stand.
Can you price match this item from this...
Can you price match this item from this sitehttp://www.jensonusa.com/store/product/TL602F03-Ultimate+Trs-80R+Pro+Truing+Station.aspx 54.98 EA.
Although Backcountry does not have a price matching guarantee, if you click on "Talk to gear experts" at the bottom of this page, they will work with you if the product from the other web site is the same and in stock.