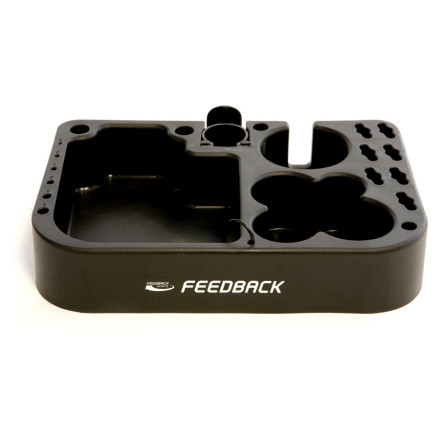 Detail Images
Description
No more searching for the 3mm wrench!
There is some mystique about a shop with a dirty, well-used workspace, littered with tools specific to long-obsolete components, lengths of housing, five-speed derailleurs, and other shiny, greasy homages to a life of caring for all kinds of bicycles. Once the bubble of the daydream is popped, however, it becomes apparent that tools have a tendency to... shall we say, wander. An organized workspace is a functional workspace, and even if you love to let the hours slip by making adjustments, cleaning, and tuning your machines, the reality is that time spent wrenching is time not spent riding. With that in mind, we present the Feedback Sports Tool Tray.
The Feedback Sports Tool Tray easily attaches to any Feedback repair stand and will keep your tools, cleaners, and lubes organized and close at hand at all times. Its heavy-duty plastic construction won't deteriorate if exposed to chemicals, and in fact the large basin can be used to soak parts in degreaser. It even features a drain for convenient clean up. Drop your chain in the basin and let degreaser do the dirty work while you replace cables and align the derailleur hanger.
The 2.75 x 10 x 14.5in (69.9 mm X 254 mm X 368 mm) Feedback Sports Tool Tray provides labeled Allen wrench storage (2 - 8mm) to eliminate guess work, which not only saves you time while you're making the repair, but also when a tool wanders away. Since Allen wrenches are only part of the starting lineup for most repairs, the Feedback Sports Tool Tray includes room for cable cutters, fourth hand tools, and screwdrivers. It also features a cup holder for 12oz beverages or your stickered coffee mug so you can enjoy a refreshing beverage while fine tuning your ride.
great add on
Familiarity:

I've used it several times
Love what this contributes to me repair stand. I always have this full of random bike parts/tools. Really a necessity for any repair stand.
Keeps work area tidy & organized!
I had tools all over the floor around my work stand until I received this as a gift. Now I look really organized! Amazing how many slots and trays this thing has to accomodate a myriad of bike tools. Now everything is close at hand right where you need it to be. Highly recommend if you have a workstand.
Works great with Park Stands too
Familiarity:

I've used it once or twice and have initial impressions
In case you were wondering, I've just installed this on my Park stand. It took a moment to get the shim to set in to my satisfaction, but other than that tweak it was a whole lot easier than the actual work done on the bikes. Highly recommended based on first impressions.
Awesome Tray from Feedback Sports
Familiarity:

I've put it through the wringer
Totally pleased with this great add on tray. It is quickly installed or removed for travel. Feedback stands and tote bags are also top quality.
Feedback on Feedback
Familiarity:

I've put it through the wringer
Most excellent and spot on right out of the box! A definite must have for the daily or weekly bike cleaner/tinkerer. Keeps lots of tools, cleaners, or whatever at hands reach and ready to go - vs. shuffling through a scrappy tool box or the nasty taste of metal in your mouth from trying to hold a screwdriver in your pizza pie eater. There is even a spot for a can of cleaner - but really, it's a place to hold your frosty cold beer can (Bottle optional : ). If you have the FeedBack Sports work stand, this is a must have :)
Great add on if...
Familiarity:

I've put it through the wringer
You are keeping the stand in one location. I generally take my stand with me to races and camping and this becomes just a bit of a nuisance in those situations, but it is definitely attached when my stand is at home. A great add on.
Simply a great add-on!
Familiarity:

I've used it once or twice and have initial impressions
Well just got this in and used it to break down my cassette to clean in the optional drain compartment. Man why did it take so long to buy this item????? It is great. Fits on in seconds and holds all my tools so I don't have to stick them in my mouth or under my arms! If you wrench on your own bikes and have a FS stand, get this item and make life simple!
Nice addition to the Stand
I was pleasantly surprised when i got the tray. It is larger that I expected based on the photo. The dimensions of 2.75 x 10 x 14.5in are spot on. This tray is well constructed and is very durable. One of the best features of the Feedback Sports stands is how portable they are. I was please to see that the tray unhooks from the stand with ease. It takes seconds to attach and remove the tray so portability is practically unaffected.
Does what it is supposed to do, keep my tools off the floor. Well built.
Perfect add on for your stand
Holds everything you need and keeps things organized. Snaps on and off easily and quickly.
Feedback sports tool tray.
Great little item to make your personal wrenching needs that much easier. No back and fourth to the tool box. It's all right there on the stand. Installs quickly, if you are like me taking your stand to all the weekly CX races the tray needs to be removed in order to collapse my stand. It's quick and painless.
Great add on. Excellent quality. A must have.
Has anyone tried slapping this onto a Park...
Has anyone tried slapping this onto a Park stand? How well does it fit? Do you need after market parts to make it stay on the Park?
It is fairly easy to put on. Just remove the top clamp and slide it on. It's great for holding the essential tools and not having to run back and forth from your work bench
Just put it on a Park stand as well - simple to do, just had to play with the shim for a few moments to get it just right.