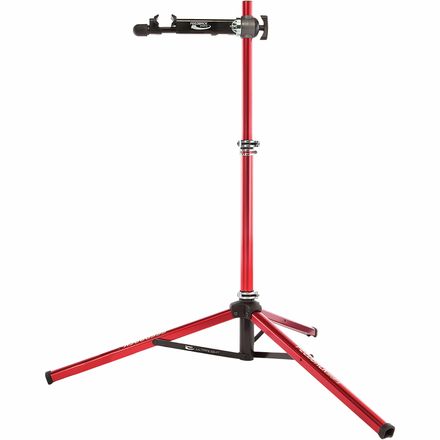 Detail Images

Community Images
Description
Take the show on the road.
If you are the pit crew for your team, Feedback Sports makes lugging a heavy work stand around one less thing to worry about. The tubes are 6000-series aluminum that have been shaved in weight by reducing the amount of material used. In fact, the stand weighs a mere 10.6 pounds and is only 37" long when folded. The stand holds up to 85lbs and its tripod-designed legs provide a stable base. To hold your bike, Feedback Sports uses its Slide-Lock clamp with a quarter-turn open/close action, which has 360 degrees of adjustability. The clutch holds the bike securely without crimping the tubing. Its height is adjustable from 42 to 71 inches.
6000-series aluminum
10.6lbs
Slide-Lock clamp with quarter-turn open/close
What took me so long!?
Familiarity:

I've used it several times
Perhaps I was trying to relive my childhood by always flipping my bike over to work on it...but I'm an old man now and the ground is so far away!

This stand is AMAZING! It holds very tight and stable! I've already used it to replace cable housings, derailleurs, brake pads, etc. I can even hold a bike up at different angles as this stand holds so firm.

On top of all that, it folds up to be incredibly small. It will fit nicely under my truck seats for tune ups during racing season/road trips.
Awesome Repair Stand!
Familiarity:

I've used it several times
Sturdy workstand that I expect will hold up for years. Packs down nicely for storage and travel purposes. Versatility of clamping mechanism and height adjust, make it easy to work on any component of a bike. Would not hesitate to buy again!
solid workstand!
Familiarity:

I've used it several times
This workstand is a great buy for the home mechanic, very solid build quality, and easy to use.
I love the way it folds down when not in use. I got a great deal on it, and glad that I bought one when it was on sale.
Great for shop OR Travel!
Familiarity:

I've used it several times
Excellent quality. Comes ready to get to work. I have a Kestrel Airfoil Pro which has an elegant and unusual geometry. Nonetheless, one can mount the bike using either the top tube or the seat post without any need for additional padding. The clamp is lined with rubber; so it holds firmly without any chance of scratching. Using large hand knobs and tube clamps, the work stand is easily adjusted to put the bike just where you need it to work conveniently while standing, or sitting on a work stool. The stand folds compactly and weighs about 11 pounds. Since it is made of aluminum, it has a very high strength to weight ratio. Excellent in every way: stable, good looking, strong, portable. My latest and greatest tool, at a good price!!
great stand at great price
Gender:

Male

Familiarity:

I've put it through the wringer
I researched stands before I bought this one. I didn't want to spend too much, nor did I want to buy something I'd be frustrated with or have to replace down the road. I've had the Feedback Ultralight now for a year and it is simply outstanding. I paid $150 for mine.



As the name indicates, it is light. I can move it around with little effort - but once it goes to work, it is rock solid. You have the choice of holding your bike by the seatpost or top tube - I prefer the latter - and the clamping mechanism is smooth and 100% steady. There is never any balance issue, nor does my bike ever seen in danger of being damaged.



It folds up easily and small enough I can lay it on the floor in the back of my small Hyundai. All the clamps and locks feel silky smooth and are super solid when locked in.



But the best thing about this product is the price. As I said, I researched - I looked at five other stands, priced from $89 to over $300. The Feedback Ultralight felt and worked as good or better than the much pricier stands. At first, I was cautious - I thought I had to be missing something. But nope, it's just a great product at a great price.



The best moment came when a professional cycling coach with over 25yrs in the sport saw my stand and commented, "Wow, that is a really nice stand." He then proceeded to throw his bike up on it just to use it. After thoroughly servicing his bike he said, "This stand's better than mine and so much lighter." I won't tell you what he owned, but he paid $250 for it.
RAD!
Familiarity:

I've put it through the wringer
Super sturdy, light weight and easy to use. The tool tray is the perfect addition. I must use this every day on all different types of bikes, road, DH, CX and it's easily adjusted to fit any shape or material tubing. Wouldn't be without it.
any way to convert the clamp to work with...
any way to convert the clamp to work with a Cervelo S5 seat post?
Best Answer
Not really, but you could rotate it and use the clamp to hold the top tube instead. I have the same issue with my TT bike on this stand but you just have to get creative. I use some foam and cardboard packing to protect the tube and just don't do it up super tight, works fine.
Great Product
Familiarity:

I've used it several times
I tend to skip past many 100% and 0% review scores, but every now and then there are products that exceed my skeptic expectations.

I come from a furniture-making background and am accustom to working with heavy duty machinery. Sure, this is not a cast-iron band saw. It wasn't designed to be. However, the cross-section of strength to weight, fit & finish, and price-point is impressive.

Finding an equivalent stand at this price-point may be a tall order.


Love this stand. been using a Park Tool forever and this is beyond light and far more portable. Great price as well.
This is the best designed bike stand I have ever used. Folds up easy. Sturdy. The clamping mechanism is so much better on the Elite model it is worth the extra money.
I have a Burley tandem that I will need...
I have a Burley tandem that I will need this stand to hold. Will it do or what do you suggest. The bike's about 45 lbs.
Best Answer
I have this stand and put many a friends bikes on it - meaning, instead of my 14# steed, a Target special that probably hits the scales at 50+# ! I would say it will work without hesitation, albeit after you find a good balance/neutral point to clamp it :)
Stashes away nice and compact. Holds my 29lbs mtn bike and saves my back. Worth it if you are planning on biking for a while and like to clean/work on your bike often.
Great stand for the money!
I've had this stand for about six months now and I have zero complaints. High quality, very sturdy, easily adjustable, and the sliding clamp makes locking in the bike a snap. Spend the extra coin for the tool tray. It's definitely worth it.
You can get the Pro Elite stand with the upgraded clamp. I've been using this clamp since last Christmas, though, and I have to say it does the job just fine. Let's just say, the more you use it, the easier it gets. This is the best $180 bike service stand you can buy, period.
Nice stand but the clamp could be better. Problem is that you have to turn the clamp 10-15 times while holding the bike which can be a pain but allows for you to select the pressure which is a benefit. Would be better with a spinner as is on the back as you could quickly spin the clamp into position. However, the clamp does its job well once you screw it down. Otherwise a very good stand-stable, light, sets up really quickly and easily, well made. The 360 degree rotation is a real nice benefit (you have don't have to move the stand). Overall good stand. Good experience with Real Cyclist also-shipped quick, no packaging problems. Would buy from again.
Feedback Sports Pro Ultralight Repair Stand
This bike stand is very light and folds up into a compact unit for travelling.

The grips holds the bike securely and doesn't damage the paint.

The only gripe is the mechanism to open and close the grips, I like the concept of the slide and lock, but in reality when holding a bike the grips don't always slide very easily, especially when angled to hold the bike by the saddle post.
Awesome Bike Repair Stand
Great repair stand. Very quality construction. Highly recommned.