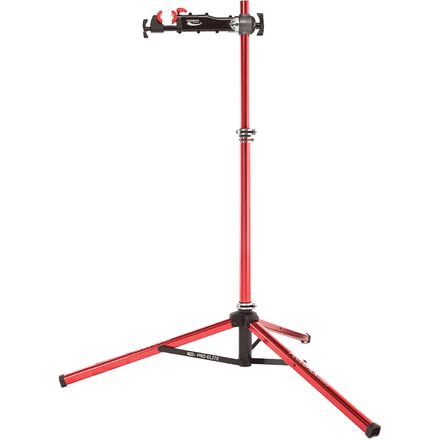 Detail Images

Community Images
Description
Simple, durable, convenient.
Feedback Sports started as an offshoot of Universal Support Systems, the company known the world over for its speaker stands (big speakers, concert-sized). So it should probably come as no surprise that the three-legged design of the Pro Elite Bicycle Repair Stand is rock solid. What was a surprise, though, is just how useful, strong, and simple the clamping mechanism is.
Throw the seatpost in between the jaws of the clamp, push it in, and give the wheel a few turns to tighten it down completely. When you're done, back it off a hair to relieve tension on the threads, slap the spring-loaded quick-release, and voila! After years in bike shops using the old-style clamps, this was a surprising revelation.
The Pro Elite Stand folds up small, so you can take it to a race, keep it in a closet, and generally not mess with it until you need it. This one even comes with a tote bag to make transporting it easier.
Three-legged design
Quick-clamp jaws
Collapsible
Includes tote bag
I can't believe I waited this long
Familiarity:

I've used it several times
I just set up my new stand. I've been using the same Park stand for almost 20 years, and when I opened this up I couldn't believe it. The build/materials are absolutely top-notch. It is 10x more stable than my old stand, and 10x easier to get the bike locked in there. WAY more adjustable, lighter, and folds down into an easily stored or transported unit.

I thought i was spending a lot on this stand, but now that I have it i think it is an absolute steal. Between myself and the family, we have 9 bikes to maintain... this is going to make my life significantly easier.

If you're serious about doing your own wrenching... don't hesitate.
park tool doesn't even compare
Familiarity:

I've put it through the wringer
I upgraded from a PCS-10 to this and am kicking myself for not doing it sooner. Between the ratcheting/quick-release clamp, light weight, collapsiblity, and included carry bag this makes up for the slight difference in price.
I have a KS Lev dropper post on my Cube mountain bike. Will the dropper post not be damaged if I suspend the bike at the dropper?
Hey Wil105946508,

You will want to suspend the bike from the outer post and not the inner post. Suspending the post from the inner post could damage the post.
i suspend my bike from my top tube. you could also wrap a towel around the seat tube.
Outstanding!
Familiarity:

I've put it through the wringer
I already had a perfectly good Park Tool stand- not really sure why I bought the Feedback Sports version, other than the idea of the ratcheting QR clamp really appealed to me...

Turns out that feature is fantastic! It really makes working on heavier MTB's so much more enjoyable, just because it's now so easy to clamp them up and unclamp them.

The quality of the stand is top notch, the finish is perfect. It's lightweight, but sturdy. BUY THIS STAND!
Great Bike Repair Stand!
Familiarity:

I've put it through the wringer
Well, what makes this stand great?



1. Easy setup and take down - extend the legs, neck, and arm. Reverse to take back down! Easy!

2. Is sturdy and balanced - it is HEAVY DUTY! This stand means BUSINESS! My wife walked in when I first set this bad boy up to adjust my rear mech, and she thought I turned the living room into a bike shop. It's solid and there is NO sway when you need leverage to turn a pedal loose, or whatever. The quality of the stand will outlast me and my bikes.

3. Easy to get bike in/out - it has a QR button, which makes changing from all of my bikes super fast (I don't own an aero bike, so haven't tried the clamp on one of those seatposts, but works well with '14 Giant Defy, which sort of has a shaped seatpost). One word of caution here: be careful in tightening bike because I have no doubt the clamp could crush the crap out of a carbon seatpost!!

4. EXTRA EXTRA ... comes with heavy duty (ballistic nylon material) carry bag, which when folded down takes up no space at all and allows me to fit it into a small corner of my precious Manhattan sq. footage (trust me, if you live in a place where R/E costs $1,500/sq. ft., this is a MAJOR benefit)!! Also, since it's mostly unseen when not used, no complaints from the wife, and that's always good news when buying bike kit!!



Combine all those benefits with the fact that it is very competitively priced at CC / Backcountry.com, and you've got yourself a serious WINNER!! Definitely exceeds expectations!! If you're on the fence and need a bike repair stand for cleaning, repair, and maintenance, then BUY IT NOW!!
Purchased this stand a week ago. At first I almost returned it because I did not think the clamp would work on my aero seat tube, because it clamped side to side. I also looked at the Park Tool prs 25 team issue. I actually had REI pull one out of a box to compare build quality, (no wow factor) Parks clamp needs to be completely removed to transport. No bag is included w/Park stand. But I liked the clamp on the Park for my Aero seat tube.(Park clamps front to back on Aero) Then I visited four bike local shops asking them which one they would purchase if using their own money. Mind you they all offered to order in either model as they were retailers for both companies. Every one chose Feedback Sports stands. One shop actually had two Feedback clamps mounted on their commercial Park (bolted down stands) in their shop. The best part of my adventure was a bike mechanic showing me how to orientate my Feedback stand to grip my Aero seat post Front to back, instead of clamping side to side.

This stand comes with a very heavy duty protective bag for storage or travel. Plus with the $37. credit applied after delivery, you can purchase an accessory tray or other products. If you have any questions or concerns about this stand, please do not hesitate to send your questions my way.

This is truly a remarkable piece of workmanship, I am proud to have in my home bike shop. We need 6 STARS for this product Competive
Best stand ever!
Familiarity:

I've put it through the wringer
Finally decided to purchase a better stand than the cheap ones offered by other companies.

This stand is super durable and is very well designed.

It folds up small enough that I don't hesitate to take it along on road trips.

The included Tote bag is worth the extra expense to protect the stand if you're going to travel with it.
Really great bike stand with nearly all the features you could want. I personally prefer the Park Tools lever clamp, but I'm coming around to Feedback's design. Both are awesome though. With this design, hold your bike up, push in the clamp, and give it a couple turns. With Park Tools, you could set the clamp to your bike and not have to retighten everytime, with Feedback, it's easier to work on multiple bikes.



It's a really sturdy design. I haven't tried to pull pedals or cranks off yet, but it held sturdy when cranking on my tires to break the bead and add some Stan's. Set up is super quick and easy, and Feedback went so far as to attach the carrying straps on the tote bag off-center so it's balanced with the rack in it. Great attention to detail.



Only gripe is that the upper tube will spin a bit when pushing on the bike. For 80 bucks more, your can get the Park Tools stand that has hexagonal (or some multi-sided shape) tubes and wont spin, but I'm not sure that worth the cost.



Best bang for your buck.
As a downhiller this is the only stand that I will use. The release feature is the best when it comes to dealing with a 35 plus pound bike and the stability of the stand is top notch.
having used both and yea it's not a fair comparison as the Pro-Elite is a little more costly. If one has dedicated work area then the Park would be fine but if you need to pack it up and put it away each time, the ease of doing so and the huge (to me) weight difference as well as the compactness makes the Pro-Elite so much easier to deal with, esp if you have little or no storage space. That's not to mention any differences in quality or design. For me well worth the small price difference. And get the tote :-)
Turning a bike upside down and balancing it on the seat and the handle bars always limited the type of work that I could do on my bike--even when I was a kid. This stand allows me to work on almost everything without killing my back. The finish on the stand repels all of the degreasers that I use, its wide stance enables me to work on uneven surfaces and it does not fall over. The polyvinyl jaws of the stand will not mar the finish of anything I put in it. Save you money and get this one. You will not regret it.
Solid, well worth the extra bucks
If you can afford a nice bike you can afford this stand. Top of the line construction and design. Sooooo plush it seems like it should cost twice as much as it does, seriously. It folds up easy and nice to have on weekend trips. Hard to think anyone could possibly be disappointed in this stand ... simply awesome. Don't know why I waited so long to get one.
This is the best stand out there. It's worth every penny. Don't shop or look around. Buy this bike stand and you'll never ever look back. You will be happy- It's a keeper.
Lovely all around. Clever and functional and well built.
Lazy amateur bike mechanics, this is for you
"Simply being able to suspend a bike in the air and work on it while standing is a total joy. Having a work stand in my garage has helped me to find the motivation to put some love into my family's Wal-Mart, and Costco bikes as well as my mid-level bikes; an opportunity to explore the vast universe of my mechanical ignorance."

Full review on Commute by Bike:
http://www.commutebybike.com/?p=15698
Can you use this clamp with a carbon fiber...
Can you use this clamp with a carbon fiber seatpost?
Best Answer
Sure you can. You have to be more carefull but seatposts are quite strong. When it comes to clamping carbon seattubes or seatmasts I would use a european fork mount work stand.
i have the easton haven carbon fiber and i have zero issues. push the clamp in and turn the micro adjust knob a couple times. you'd really have to crank it to damage the post and you'd know you were turning it too hard.
I did a lot of research on bike stands and didn't want a cheap one that left me wanting more, I wanted the best functioning one that didn't have an outlandish price. After comparing, this stand stood out as being one of the best, but it was kind of expensive. When Huck n Roll offered $50 off $250, I found this to be the perfect opportunity to pick it up. I now use it basically everyday I touch the bike and I'm so shocked by how convenient and useful it is that I feel compelled to recommend someone working on a bike to get a bike stand and save their back.
, ☃bcs_badge_alumni_label☃
Feedback on the beach.
Ready for the riders to show up. Somewhere on the beach, CA AIDS LifeCycle 7