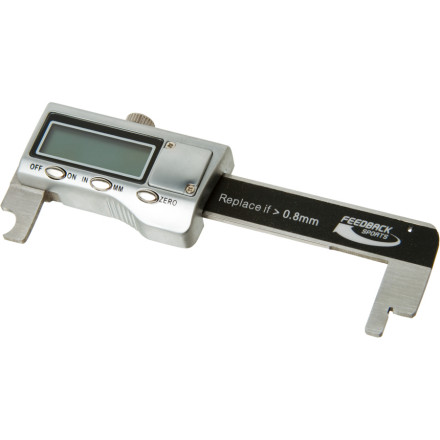 Detail Images
Professional mechanics with unlimited supply of chains have the ability to live by the "when in doubt, replace it" mantra. But the rest of us? Well, let's just say we need to get the most out of our components, while not pushing the limits of durability too far. Perhaps nowhere is this more important than with your chain. Break one in the middle of a ride, and it may be game over. This is why we keep a Feedback Sports Digital Chain Gauge on hand.
While many theories exist on just how far one can ride on a single chain, regular maintenance and frequent measurements of chain stretch are the most reliable ways to be sure you're getting the most out of your chains and replacing them when needed. After all, an ounce of prevention is worth a pound of cure -- especially when we're talking about the 250-gram piece of metal holding your drive train together.
The Feedback Sports Digital Chain Gauge takes the guesswork out of this process, offering a quick and reliable measurement of your chain's wear and tear. Easy to use, the digital gauge measures chain wear in millimeters or inches and tells you when it's time for a replacement. It also comes with its own carrying case to protect the digital screen from scratches and cracks.