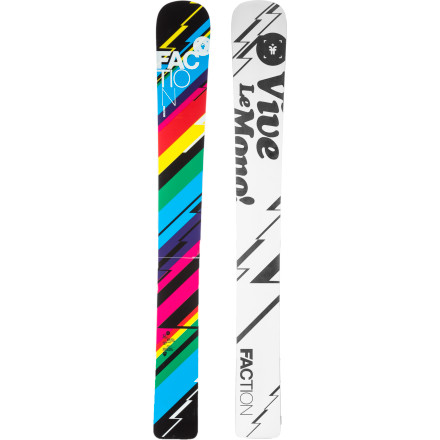 Detail Images
As the first mono ski ever to feature a rockered tip and flat camber underfoot, the Faction Vive Le Mono Ski is breathing new life into a lost art. Suit up in your favorite one-piece, get comfortable with your legs pressed firmly together, and make a name for yourself as the guy (or gal) that lives the single life with unprecedented style.

Big Mountain rocker puts 10mm of lift in the tip and flat camber underfoot for the first ever rockered mono ski
Half-Nelson wood core provides the stability for fast, big-mountain lines
STP Technology presses a small series of waves into the ski for lighter weight and a more forgiving ride
Durable sandwich construction allows the ski to stand up to abuse day in and day out while maintaining consistent flex
188mm underfoot with 240mm in the tip allows you to float and carve to your mono-skiing delight
Anti-chipping sidewalls and an ABS tail protector stand up to a beating and increase the lifespan of the ski
Rockwell hardened steel edges are made from a single piece of steel that wraps the entire ski
P-tex 4000 die-cut base is durable and quick on the hill
What do you think about this product?
Have questions about this product?
which bindings can be used on this? Im...
which bindings can be used on this? Im interested in purchasing in this mono ski but i absolutely have no idea what bindings would word with these. Please let me know
What's up D, good news. You can use any ski binding you want ( i wouldn't recommend tele bindings....). The demo had Marker Jesters with the brakes cut off. Crank the DIN as high as it will go. They told me that you do NOT want this thing coming off. If only 1 foot pops out, your other knee is going to pay a pretty huge price. If both bindings pop off, you have a looooong walk ahead of you. Viva.