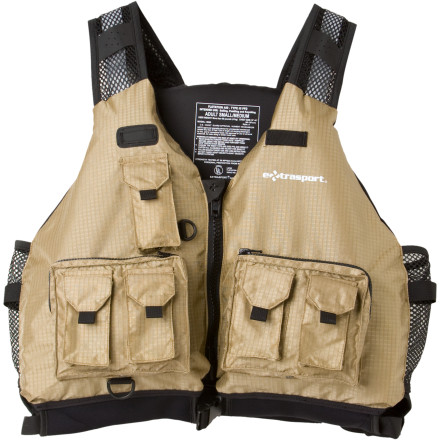 Description
You'll be sitting pretty, or comfortably at least, while other fishers squirm around and sweat bullets in their blocky PFDs.
Extrasport made the Striper Personal Flotation Device with mesh on the shoulders, sides, and lower back so you don't overheat, and seven pockets on the front for your fishing gear. While some PFDs have stiff foam underneath, the Striper's GlideFit Cartilage system allows the panels to glide on top of one another. This means the Striper feels less blocky and more comfortable. One pull of the side webbing adjusts this Striper Extrasport life vest's sides and shoulders, so you can adjust quickly, hop in your canoe or kayak, and paddle out to where the fish are biting.
Top drawer while flyfishing and running rapids CL4 and below. Larry Koakai "sea warrior"
does this vest have a place for an emergency...
does this vest have a place for an emergency blunt nose sheath knife??? I dont like being on the river without a safety knife at hand? thanks Bob
Really? You had to ask three times? I'm sure there's a place to clip a river knife sheath. Or you could put it in the snazzy Leatherman pocket.
This is a very versatile Jkt. Plenty of storage, lessens the need to find space in the kayak,mine had a whistle attached, which was a nice touch. One drawback is that it can be a little bulky for a paddle jkt over top with spray skirt. Still love it as I don't do much in bad weather, or high current. Those days are behind me.
Great life jacket, very comfortable, lots of pockets which is a big plus. Not too bulky like other jackets can be. The mesh sides and back keep you cool during the summer, even on pretty hot days. I use this jacket all the time kayaking and fishing and I love it.