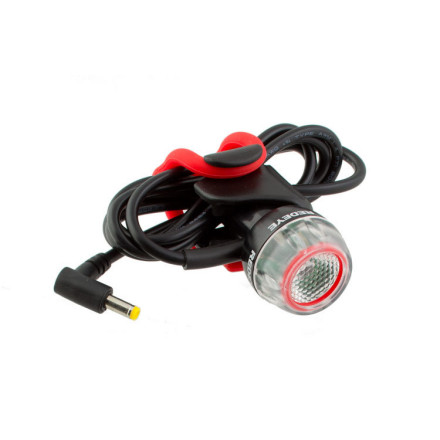 The Red Eye Mk.2 Light with Long Cable is a perfect complement for any Exposure Headlight with Smart Port Technology Plus. Used with compatible lights, Like the Maxx D, Toro, or Strada, the Red Eye simply plugs into the Smart Port and runs off the built-in battery of the front light. The long cable allows plenty of slack to get from the handlebar mounted headlight to the seatpost where you'll mount the Red Eye rear light on even the biggest sized bike frames. It uses a single Seoul P4 LED to produce 80 Lumens, enough to make you visible to errant drivers.
The Exposure Red Eye Mk.2 Light with Long Cable mounts to the seatpost with a tidy plastic cradle and silicone strap. The attachment is tool-free and installs in moments so it's easy to get on or off the bike quickly. The Red Eye benefits from a weatherproof design that includes a CNC machined aluminum housing and a full complement of O-rings just like Exposure's bigger lights. Should you get yours muddy, Exposure recommends cleaning their lights with a soft, damp towel.
Exposure Lights have a two year warranty against defects in materials and workmanship.
Unanswered Question
will this work with Exposure Strada Mk...
will this work with Exposure Strada Mk 3?