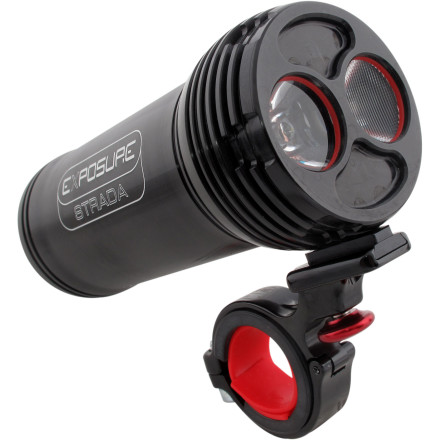 If you've ever snagged a power cord and had your singletrack tunnel go dark, then you know the appeal of self-contained lights like the Exposure Race Mk7. Its Lithium-ion battery is enclosed within the 800-Lumen Race Mk7's aerospace grade, exquisitely CNC-machined aluminum body.
The extensive machining, however, isn't just to look cool. It's actually designed to help heat transfer -- to physically cool the light. Packing two Cree XPG R5 LED's, the Race Mk7 can generate excessive heat. One way it's managed is through the body, the other way it's managed is with Exposure's patented Intelligent Thermal Management (ITM).
If the internal temperature gets too high, ITM kicks in and automatically drops the power level down to the next lowest setting. It will remain at the lower setting until the temperature inside the housing returns within normal operating range. This, and the weatherproof aluminum housing with O-ring seals, ensures the light's 5800mAh battery and LED bulbs are safe from moisture, muck, and heat for a long life span.
A defining feature found here on the Race Mk7 is Exposure's Smart Port Technology Plus. Essentially, it's a cylindrical plug on the back of the lamp unit that allows you to insert the smart charger. But it also enables you to plug in accessories like a red LED taillight and back-up batteries, or to even charge other USB-powered devices. It will automatically recognize each accessory and configure the system to take a charge or power accessory lights. Best of all, a remote switch is available for quick light control.
As one of exposure's longest running models, the Race Mk7 has consistently evolved and helped establish Exposure's market-leading expertise. One such advancement this year, aside from the 25% brightness increase, is the introduction of Exposures Optimum Mode Selector. OMS offers eight pre-programmed settings to provide the optimal lighting for ride conditions.
After all, the requirements needed for a high-paced trail ride are quite different than 24hr race, or a week of commuting -- and OMS lets you tune the light for any of those conditions. For example; in the first OMS setting, the Race Mk4 will push 800 Lumens for 2hrs in high, medium gets you 6hrs at 390 Lumens, and low nets 220 Lumens at 12 hours -- great for standard trail riding or commuting.
Now, let's say you're going on a moonlit White Rim in a night ride--a nice off-road century -- in the dark. For that situation you can select the third OMS mode where the Race Mk4 will kick out a sufficient 560 Lumen for 4hrs in high, 220 Lumens for 6hrs in medium, and 80 Lumens for 36hrs. That'd be plenty of light to safely cut through the darkness.
The OMS modes are selected using the power button located on the back of the unit. The new info display resides under a clear silicone covering with eight LED's that double as the OMS display indicator and a fuel gauge. The Race Mk7 mounts to your handlebars via a small, but sturdy CNC machined aluminum clamp assembly for 31.8mm bars, and it includes a shim for 25.4mm bars.
The clamp features a spring loaded button that holds it securely for trail use or over broken pavement. When you need to remove the light for charging you simply pull the red button and the lamp unit slides right out.
The Exposure Race Mk7 has a two year warranty against defects in materials and workmanship
Share your thoughts
What do you think of the
Exposure
Race Mk7
? Share a...