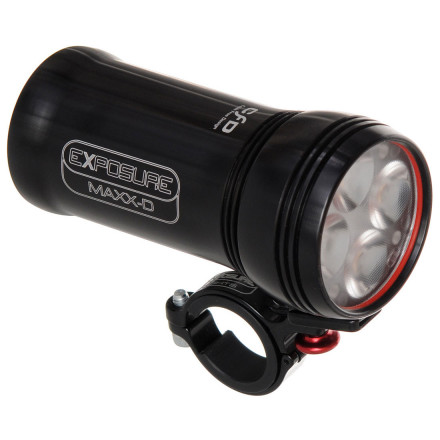 Detail Images
Exposure's Maxx D Mk.4 Light was previously their most powerful light. It's recently been eclipsed by their Six Pack, but that's not to say that its output isn't enough to get you where you're going in fine style. In fact, the four Cree XPG R5 emitters in the 1285 lumen Maxx D make for a blinding punch of light that will illuminate any trail, at any speed. It's also enough light that cars will see you approaching intersections, increasing your safety. And that it's 35% lighter than the Six Pack is a bonus for those concerned with weight.
Like all Exposure Lights, the Maxx D Mk.4 Light is a self contained unit. That's right; there are no external batteries or wires to connect them. The CNC machined aluminum housing contains the rechargeable Lithium Ion batteries and all of the electronics that control the LED lamp unit. Within the machined housing, O-rings seal each interlocking section to make it totally weatherproof. After all, Exposure Lights are manufactured in the U.K. by the same folks that create USE components, and we hear that there's plenty of dreary weather in the U.K.
The Maxx D Light has what Exposure calls their Smart Port Technology Plus. Essentially, it's a cylindrical plug on the back of the lamp unit that allows you to insert the smart charger. But it also enables you to plug in accessories like additional white LED lamps to bolster the output or a red LED taillight to make you more visible from behind. It will automatically recognize each accessory and configure the system to take a charge or power accessory lights. It's a simple matter of plug and play. You can also add piggy back batteries to extend the run-time of the Maxx D Light. A remote switch is even available to create easier "...the best balance between sheer output and package size/weight..." access for quick light control. We see this being a handy accessory for commuting, as the Maxx D is certainly bright enough to blind pedestrians and other cyclists on the path, so we'd use it to dim the light when we approached oncoming trail users.
With the built-in battery pack, the Maxx D Mk.4 Light will run for 3 hours on the 1285 lumens high setting. Dropping it down to medium will net you 10 hours of use, and it will run for 24 hours on the low setting. And should you plan on getting yourself into real difficulty somewhere, you'll be glad to know that its flash setting will go for days and days. The power button is on the back of the unit, and it has a clear silicone covering that allows you to see a colored indicator. This does two things for you. (1)By pushing the button with the light on, you'll change the power setting, and the button will indicate what mode you're in -- Green(high), Amber(medium), or Red(low). (2)After two seconds, the indicator will automatically be your fuel gauge, and you'll know how much juice is left in your battery pack just by looking at the color of the indicator -- Green(100-50%), Amber(50-25%), Red(25-5%), and Red flash(5%-empty).
Exposure builds in a thermal protection circuit to keep your light safe from damage caused by overheating. If the internal temperature gets too high, the light will automatically drop down to the next lowest setting. It will remain at the lower setting until the temperature inside the housing returns to within the normal operating range. At that time, the light will automatically bump back up to the high setting. If this happens, don't be alarmed as the light has been saved from harm.
Of all of the Exposure Lights available, the Maxx D Mk.4 Light offers perhaps the best balance between sheer output and package size/weight. It comes with a sturdy, yet tidy CNC machined aluminum handlebar clamp assembly. You'll get a shim set that allows its use on bar diameters from 25.4 to 31.8mm. The clamp features a spring loaded button that "catches" the light and holds it secure over the roughest terrain, but when you need to remove the light for charging inside the house, you simply tug on the red button and the lamp unit slides right out. Should you get yours muddy, Exposure recommends cleaning their lights with a soft, damp towel.
Exposure Lights have a two year warranty against defects in materials and workmanship.
Competitive Cyclist is an authorized USA Exposure retailer. Only Exposure products purchased from an authorized USA retailer will include a genuine USA compliant charging system and a USA product warranty.