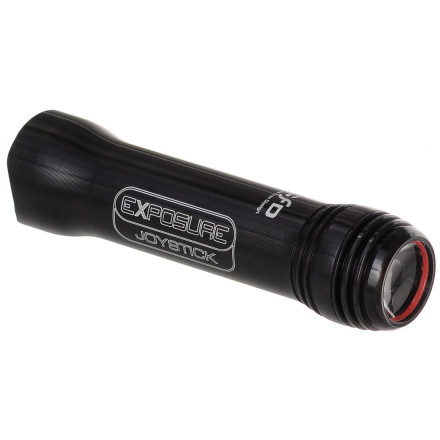 Detail Images
We're big fans of riding at night, and we love having a light on the helmet because it always shines where we're looking. The Joystick Light from Exposure Lights eliminates the only thing that bothers us about typical helmet-mounted lights -- the cord and external battery. Like all Exposure Lights, the Joystick is a self contained unit. It has a CNC machined aluminum housing that contains the battery and the electronics necessary to control the 325 lumens from the single Cree XPG R5 LED.
Another Joystick attribute that's enticing is its feathery weight. It tickles the scales at just under 100 grams. It's so light that you'll never even notice that it's mounted on your helmet. In that regard, the Joystick includes Exposure's helmet mount. It's a sturdy threaded mount that's designed to secure the Light to your helmet. All that is required is a vent hole in the helmet, as the mount has built-in washers on top and bottom. You simply screw it together, clamping the ribs aside the vent hole between the two pieces. The top of the mount has a C-shaped clip that snaps securely around the body of the Joystick light housing. It contains a ball joint that gives you some positional freedom to aim the light.
With the same electronics package as the bigger lights, the Joystick has a mode indicator/fuel gauge built into the power button on the back of the lamp. It has a clear silicone covering that allows you to see a colored indicator when the light is on. This does two things for you. (1)By pushing the button with the light on, you'll change the power setting, and the button will indicate what mode you're in -- Green(high), Amber(medium), or Red(low). (2)After two seconds, the indicator will automatically act as your fuel gauge, and you'll know how much juice is left in your battery pack just by looking at the color of the indicator -- Green(100-50%), Amber(50-25%), Red(25-5%), and Red flash(5%-empty).
The Joystick Light has what Exposure calls their Smart Port Technology Plus. Essentially, it's a cylindrical plug on the back of the lamp unit that allows you to insert the smart charger. But it also enables you to plug in accessories like additional white LED lamps to bolster the output or a red LED taillight to make you more visible from behind. It will automatically recognize each accessory and configure the system to take a charge or power accessory lights. It's a simple matter of plug and play. You can also add piggyback battery packs to extend the run-time.
The Exposure Joystick Light has a black anodized housing with laser etched run times and logos. It runs for 3 hours on the 325 lumens high setting. On medium it will run for 10 hours and low will get you 24 hours of run time. The flash mode will run for days. The Joystick comes with the helmet mount and a smart charger. If you'd rather mount the light to your bars, Competitive Cyclist exclusively offers an additional handlebar mount included at no extra charge.
Competitive Cyclist is an authorized USA Exposure retailer. Only Exposure products purchased from an authorized USA retailer will include a genuine USA compliant charging system and a USA product warranty.
What do you think about this product?
Have questions about this product?
Best investment for safety
Familiarity:

I've put it through the wringer
Been using this for over a year now at least 3 times a week on work commutes averaging 25min on otherwise poorly lit roads, sometimes in steady rain. Newer versions are brighter, but this is definitely sufficient to light up the road at least 10ft ahead. I always use it on the high setting because it's chargeable-- one of the main reasons for purchase. Another reason is because when mounted atop my helmet (mount included), it significantly increases my visibility to drivers. I use it in combination with my handlebar & seat post blinkers, but those are simply too low to be effective in catching a texting driver's attention. Lastly, it's very well-made, small, and doesn't require a separate power source. I'd also recommend the red LED microlight that attaches to the back.