How to Choose Ski Bindings
Scoring a pair of old but pristine skis at the thrift shop can give you serious shopper's high and make your season, but shopping for ski bindings can confound any skier. There's no pretty top sheet, stiffness to test, or sidecut to eye; there are only mysterious inner workings. But don't be intimidated; essentially bindings attach your boots to your skis. For most types, this job also entails efficient transfer of energy from boot to ski and safe release when you fall, but it's not rocket science. There are three main types of bindings, and here is how to choose which ones are right for you.
Below Photo: Backcountry Athletes Jenn Berg and Jamey Parks in the Alta backcountry, UT
Photos: Re Wikstrom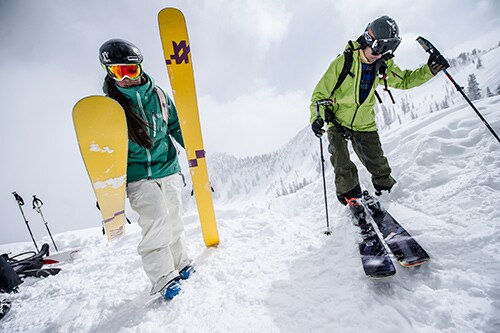 There are three main types: alpine, alpine touring (AT), and telemark for alpine, backcountry, and telemark skiers, respectively. Nowadays there are bindings with AT and alpine interchangeability for those who have both boot types and want that adaptable convenience. But for general clarity alpine and AT are discrete categories, and telemark bindings only work with telemark boots.
Alpine Bindings
Alpine bindings are made for alpine boots for in-resort downhill skiing. The different models depend on ski style and Deutsche Industrie Norm, known as DIN, release setting. There are different categories that include freeride, race, freestyle, sport, and junior. Choose the binding in your style and category that has the appropriate DIN range. Your DIN setting is determined by your skill level (Type 1, 2, or 3) and weight (some charts also incorporate age, height, and boot sole length). Beyond the expert level, DIN setting is even less scientific and depends heavily on personal comfort levels. For example, there are many featherweight but aggressive racers or freeskiers who like a high DIN. Ideally your setting should fall somewhere in the middle of the binding DIN range, not at the low or high limit.
Alpine bindings are made to release during a fall, based on the DIN number, to reduce risk of injury. They consist of a toe piece, which includes an anti-friction device (AFD), and a heel piece with a ski brake. Most bindings feature wide-angle, multi-directional, pivoting release for the wicked backward twisting fall. They also feature height adjustment and varying profiles and platform widths to accommodate today's fat skis. Brakes come in different sizes, but usually are easy to swap out to fit different skis.
AT Bindings
If getting away from the crowds and making first tracks is your thing, then AT is a logical option. These bindings fit AT boots and aim for lightweight efficiency for backcountry touring. A base plate and frame link the toe and heel, and the binding pivots for free-heel, comfortable climbing in hike mode. On the descent, the binding locks down for alpine-like performance. In recent years, AT setups have made big advances in weight reduction, durability, and performance. You've probably even seen AT gear ripping around in-resort.
These are releasable bindings and operate like alpine bindings, with multi-directional, multi-pivot release, and an adjustable DIN range. You choose them in a similar way, taking into account preference and comfortable DIN accommodation. They come with different brake widths, but, again, these can be easily changed.
Telemark Bindings
Free the heel, fall on your face, or something like that. Don't believe it: telemark skiing is an old and beautiful free-heel ski style that can take you into the backcountry but also perform inbounds. The bindings only work with telemark (or tele) boots, but you won't inadvertently come home with tele bindings, since they look very different from alpine or AT. The tele binding has a fixed toe piece that can come with or without a cable and heel throw. A simple heel plate comes with it and can come with a climbing bar for easy hiking. If your boot has a three-pin toe, you can go without the cable and opt for a three-pin toe plate for secure attachment. These cable-free bindings provide the least support and are best for touring in soft snow.
Like AT bindings, tele bindings have also made great strides and come as releasable (but with a free heel there is no DIN setting) with ski brakes and/or with varying and adjustable cable stiffness for freeride tele skiers. There's not as much variation with tele bindings as there is with alpine or AT, so the choice is largely based on style preference (e.g., releasable vs. non-releasable and cable stiffness).
Mounting, Maintenance, Etc.
Mounting your ski bindings means drilling into your skis and should be done by a certified technician. It requires the bindings, skis, and boots, plus your personal ski info to determine DIN setting if mounting alpine or AT. There are manufacturer-recommended mounting positions, but some skiers prefer a more-forward or backward position. If you're unsure, talk it over with your shop tech; it's mostly a personal preference. If you want a riser plate, a raised platform under the binding, or different brakes, bring those in, too.
Ski bindings are maintenance-free. You can wipe or hose them down, but cleaning them with soap or solvent is not advised.
The proper bindings provide peace of mind with an appropriately secure hold while reducing risk of injury upon a release. That is, unless you're in a non-releasable tele binding, in which case your skis stay attached but flop around harmlessly.
Related
Shop