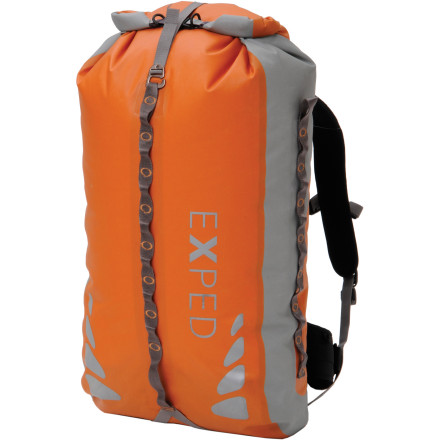 Description
For some locales, staying dry isn't optional.
A backpacking trip can go from fun and carefree to miserable and dangerous if your gear is soaked by the time you make it to camp. Maybe you got caught in a heavy-hitting rain storm, or maybe you lost your footing and took a dip fording a river. Either way, you are not going to be a happy camper. The Exped Torrent 50 backpack keeps water away from your precious gear so it stays dry and you stay carefree.
Padded, segmented frame sheet with foam spacers provides light rigidity for a more comfortable carry and greater and freedom of movement
Padded shoulder straps distribute weight evenly and a sternum strap helps relieve pressure
Padded hip belt can be removed or repositioned based on personal preference or to relieve pressure
Durable, laminated body fabric sheds water without weighing a metric ton
Reinforced bottom panel reduces abrasion and improves durability
Welded seams block moisture from seeping in so your gear stays dry
Watertight roll-top closure keeps H20 out and keeps your gear easy to access
Removable top compression strap lets you adjust the pack's volume or secure extra gear to the outside of the pack
Triple daisy chains give you places to clip gear
Sturdy haul handle makes loading the pack into your kayak, canoe, or truck bed easy
SE Asia Tested
Familiarity:

I've put it through the wringer
I used this as my primary pack while traveling through SE Asia for 6 months and it served me really well for that time. I had it strapped to the back of my motor bike as I rode through the torrential rains of Thailand and Laos and water never got inside. 50L was just the right size for my trip too! It held a ton of stuff when I had a lot, but rolled down to a smaller size when I didn't. It has a nice wide opening and is very durable, having held up well to the hard use I put it through (I did put a couple small holes in it as it scraped against the pavement when I dumped my motorbike, though I'd say that's beyond 'hard use'). It has good padding too, not as good as an equivalent backpacking pack, but really good for a drybag. ----------------------------------------------------------- It's primary downside, and this would apply to almost any drybag, is that if I needed something at the bottom, I had to dump the whole thing out to get to it. That same weakness however, proved to be one of it's strengths. Because it only has one opening, I was able to use a hefty padlock to lock it closed so I didn't have to worry as much about things disappearing from inside of it when I was on long bus or train rides. The only improvement I would suggest is to add a couple outside pockets (some of those mesh/elastic pockets would be great). Even if they wouldn't be waterproof, it would be really handy for some of those small things you want to get at without having to unroll and unclip the bag. ------------------------------------------------------------ Pro's: It is truly waterproof, Comfortable, Great storage capacity, Durable. ----------------------------------------------------------- Con's: No outside pockets, Hard to get at stuff in the bottom, Not as comfortable as a traditional pack. ------------------------------------------------------------ I'd suggest it if you've got to carry a lot of stuff and need a true drybag. It's a good bag.
Magical!
Familiarity:

I've used it once or twice and have initial impressions
I'm planning on using this pack this summer for backpacking trips. I was a bit surprised by the size, not realizing how big it would be, but I love it! It is big and open so I can fit just about anything in there. I feel like it's my magic Mary Poppins bag! So excited to try it out this summer!
Works for me
Familiarity:

I've used it once or twice and have initial impressions
I used it as a backpacking pack and I loved the size. This is smaller and lighter than my osprey. I actually like how it doesnt have multiple compartments. I fit everything I needed: a two-person tent w/ footprint, a not-so-tiny sleeping pad, my sleeping bag, my first aid stuff, down jacket, doggy gear, and a bear vault. I thought it was comfortable.
Best of its kind
Familiarity:

I've used it several times
I really like waterproof backpacks. I do a lot of packrafting and they are great for that. I also like them for camping in light tents and tricky wet environments because you can leave your pack out in the rain to give you more room in a tent and your stuff stays dry. They just make sense.



Exped have done a really good job with this range. The daisy chains are great and they've made a decent attempt at constructing a comfortable harness. This is where there is still some room for improvement though as the buckles on the harness slip under load and movement as they are too low friction, which is one of my pet hates in backpacks. Also there is no over-shoulder adjustment to bring the load close to the shoulders high up. So, although I really like the pack and think it is the best portage-type pack I've seen, it could be improved.
Exped Torrent 30 & Torrent 50 backpacks
Exped's waterproof, roll-top closure packs are rugged and great for wet conditions from hiking and biking in the rain to wet weather paddling. Please note: The Torrent 50 is new for 2011 and the Torrent 30 was previously known as the Drypack WB 30. Same great features, new name.
Tested in Patagonia and 9 airplanes
Gender:

Female

Familiarity:

I've put it through the wringer
My Requirements: 1) lightweight 2) waterproof 3) big enough for bulky camera gear yet can pass it off as my "personal item" on flights.



Used as daypack in Torres del Paine, plan to use for motorcycle trips. This bag worked great! Very light for the sturdiness of the fabric. Comes with 2 metal biners that have slots to lock them onto the straps. Great!



Weatherproofness: Absolutely waterproof. Nikon gear stayed safe thru thorny scrub, 8 hours in rain & days of dusty desert .



Packability: Easy to load it with DSLR, lenses, filters, jacket, wallet, a paperback: squeeze air out, roll all the way down , clip the biners to the lowest side loops, use the waist strap as a compression strap and tada! it looks like a school backpack. No trouble using it as my second carry-on item. Yet big enough to be your primary carry-on if you load it up.



Functionality: No pocket or bungee grid so I clipped my platypus bag and a drawstring bag to the chains. I'd add gear loops to the shoulder straps.



Comfort: Both 5'7" 36D me and my 6'2" thin hubby found comfy fits. The shoulder straps were cushy enough with <20lbs. Waist strap is good enough to take some of the load. Adjustable sternum strap.



See awful photo for size while on, daisy chains and the included biner. You can roll the top much farther down and turn it into a cube shape.
This is great pack from a great but little known manufacturer. I have been taking extended canoe trips through Canada for many years. Along with my never fail canvas Duluth I always carry a day pack with my and my bowman's rain gear, bug jackets, camera, bino's, sunscreen, snacks, maps GPS, etc. anything I need to get at while moving in a day. The struggle is finding a pack that is completely waterproof for the inevitable dump in the rapids, heavy rain or even sitting in a bit of standing water in the boat for a while. The pack also must carry the load well and comfortably as i wear it while portaging a canoe for sometimes long and usually rough portages. For my purposes in these conditions i need a specific set of design elements from a pack. Exped hit it right on the nose and after one 260 mile trip down the Bloodvein river four other guides i work with ordered this same pack.
Aside from its ability to fill or niche, Exped's gear is top of the line. Their build quality is simple and strong, the kind of gear you know from the first moment is gonna last through all the beatings. The little things are there to boot, ingenious strap management, and who doesn't love daisy chains? Most importantly however. It will comfortably carry 30 beers on ice and water.