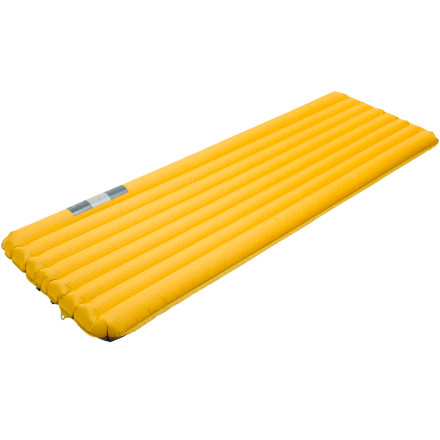 Colors

Detail Images

Videos

Community Images
Description
Add the SynMat UL to your ultralight arsenal.
The ultralight SynMat UL provides some serious insulation when you're counting grams and cutting the tags out of your undies to cut weight. The welded baffles of the SynMat are filled with microfiber insulation to eliminate cold spots and provide a comfortable night's sleep in the backcountry without going over on grams.
Ultralight material provides abrasion and puncture resistance
Compresses to the size of a 1/2-liter water bottle for easy packing and transport
2011 Outdoor Gold Award from OpPad in Sleeping and Innovation category
Stuff sack and repair kit for quick field maintenance
Great sleeping pad
Gender:

Male

Familiarity:

I've put it through the wringer
This pad is lightweight, inflates, and deflates quickly, and is a great combo with the Big Agnes bags - the UL7 fits into the sleeve on the bottom of the BA Lost Ranger bag no problem. I like how the two outermost tubes are slightly bigger than the middle ones which creates a slight cradle effect keeping your body centred in the middle of the pad. For me the Exped is a great side sleeper friendly pad. I have had no issues with leaks or tears. Pad seems robust enough. Used in a bivy and in a tent. I really like this pad!
Like some of the other reviewers note - this pad is quiet. Some pads are crinkly like potato chip bags!... this one is not like that at all.
Sleep well
Familiarity:

I've used it several times
This is a very comfy mat. I am a side sleeper and a toss and turner. It is not crinkly/noisy! Blows up easy, rolls down easy.
Review of the UL 9
Familiarity:

I've used it several times
OMG OMG OMG. I love this thing so much. I have a perfectly functional sleeping pad (BA Core Insulated) that I like very much, but I've been eye-f#$king the Expeds for awhile now and since I was going on a solo trip to Alaska for 10 days, I decided to spring for it. Best decision ever.

I got the long/wide because I have a wee solo tent that the dimensions are perfect for . Even in the long/wide it packs down very small and light... about to the height of a nalgene and just a bit wider. I am a sleep-thrasher, but no matter how much I shimmied and rolled around, I couldn't find my way off of this thing. If you can afford the extra space and weight (and cost) for the L/W, it's so damn luxurious.

Though I sleep hot in bed, I tend to get a little chilly camping... which is why I really wanted to try out the UL 9 for the bomber r-value. It really IS super toasty. I did not once get cold.

As for comfort, it truly was out of this world. I was a little skeptical because I've slept on tons of pads from the accordion that everyone has to self-inflating to some inflatables, and nothing was reeeaaaaally comfortable (I sleep on my side and roll around a lot)... until this thing. I seriously slept like a baby every night, on my side or on my back it was equally comfy.

My big concern was durability because it's ultralight and the material does feel a little thinner than I'm used to. I've also heard some horror stories about chambers failing when it's over-inflated and getting a huge bubble in the middle of the pad. I'm happy to say that after 8 nights of sleeping on it on cold nights and warm nights and downpouring rain and not being particularly delicate with it, it was totally fine. If you use the schnozzle to inflate it, it's practically impossible to over-inflate. During the day I'd just let a little air out of it in case it got warm and swelled up. And the schnozzle is SO fun! It takes like three minutes to inflate it with that thing and then it's not full of hot swampy people breath. The one thing I'd say is that at the price point they're charging, I really think the schnozzle should be included. But definitely not a deal breaker.

I'll update on durability in a few months!
Ultralight, ultra comfy and quiet!
I have dragged this thing all over the place for the last year. I've slept in the tent overtop grass, dirt, rocks, sand ... You name it. It's gotten as cold as below 10 degrees and this pad has been the bomb. The look on my daughters face when she woke up on a 10 degree morning and slipped out of her sleeping bag onto the cold tent floor was priceless- I think she thought the Expeds were a comfort only item up until then. The trick with these is to get a pump bag to blow them up with and carry them in. They blow up fast with the pump bag. For the price they are Exped should include one. The mini pump is useless, save your money. They are unbeatable for comfort. I'm a side sleeper and am truly comfy on the trail.
I sleep comfortably on my side and stomach with this pad. Awesome pad! Was concerned about the vertical baffles feeling "bouncy like" before I bought it, but it hasn't been an issue at all. In fact it may be an advantage in holding me on the pad - I don't roll off like I did my last pad. Just got back from Yellowstone and this kept me comfortable in temps down to 26 degrees. I do recommend buying the schnozzle - makes quick and easy work of inflating this.
Care of Exped sleeping mats
Who ever regretted a better sleep?
Familiarity:

I've used it several times
All my friends were crinkling noisily on their NeoAir's, driving me nuts! Sooo this big beauty makes them green. It's quiet.

So you're looking for a 4 season pad, and snow caves are on the menu perchance. GET the 9LW! So your legs, feet and bag don't overhang into the snow.

With winter camping, you want to also purchase the pump bag (also light, and a stuff sack) so your breath moisture doesn't condense inside as ice. But you can give it lung love if it's warm at night.



I'll never regret the 9LW becuase it's still so light, (lighter than most cheap summers pads) and who did you ever hear complain about their great night's sleep?


Best mat I've had
Familiarity:

I've used it once or twice and have initial impressions
I've used the roll up foam pads, self inflating foam pads, and now this. I bought the UL 9 in a LW. It's nice to be able to roll around ( some what ) and not hit the ground. sleeping on my side was no problem ( 6' 180lbs ). I bought the schnozzle pump bag along with it and just a few bag fulls and it's done. I did give it a couple extra puffs to firm it up but will heed the advice below and not over inflate. It is kind of pricey, but if I get a few seasons out of it, I will consider the comfort worth it. I wondered when I got it, if I would be able to roll it back up to fit in it's sack. This ended up not being an issue and has room in the bag for the sachnozzel as well. So far happy with the mat, now to see about longevity.
Careful if using out of tent
Familiarity:

I've put it through the wringer
My boyfriend and are using this pad for several seasons now. We appreciate the light weight and packability (the packed pad is small, it rolls easily and fits into its stuff sack without difficulties which is a big plus during chilly morning when the last thing on your mind is to fight with your gear).



The comfort is unsurpassed. Once inflated, the pad cushions you from any small rocks and sticks and other objects that you might have missed when cleaning your site, which could otherwise compromise the quality of your sleep.



The R value of 3.1 makes it a good 3 season pad. We take it snow camping but when we do we increase the insulation value but doubling our pads with Thermarest Ridgerest. This set up works great for snow camping.



Be careful when inflating the pads. We made a mistake of over inflating the first set we owned and the seems were not able to hold the pressure and failed. The pads were still usable (fortunately as we were in the middle of multi day trip with no civilization escape close by) but it was quite difficult to attain comfort with a large bubble of air in the middle of the pads.

Learning from this experience, we were more careful when inflating our second set and never had an issue.



We didn't think durability would be an issue; however during our recent multi week trip our pads got little damp on one occasion and we decided to dry them out before using them that night. Deflated we lay them across smooth granite slabs. The wind picked up and shifted them few feet off their original location. Ever since the pads leak. We found several tiny holes that we fixed in field but it appears that the pads got scratched severally and every time a hole is covered, a spot nearby starts leaking.
Best trail sleep, but don't over-inflate
Gender:

Male

Familiarity:

I've put it through the wringer
Packability:

This was a welcome upgrade from my 1.5" self-inflating Thermarest. The packability of the Synmat UL is virtually unrivaled and was the primary reason for purchasing. It is pretty light (without being crinkly and plasticky like the Thermarest options). Packs down to something about the size of a 1-liter bottle, and still has enough insulation to keep me warm well into the extreme ends of the three seasons.



Comfort:

After several seasons of use, I'm pleased to also report that it allows me to get some of the best on-trail sleep I've ever had. By carefully adjusting the amount of inflation, I'm able to get the mat squishy enough to where my butt almost touches the ground, allowing my spine to assume a more natural position while I sleep. I've used it mostly in 3-season weather down to 25 degrees without any discomfort temperature-wise. The 2.8 inches of cushion feels downright luxurious.



Durability:

At first I was super careful with this, but have become increasingly more confident in it's ability to withstand abrasion and puncture. I've not had a problem yet. Mostly it is in a foot-printed tent, but it has also endured the bare wood of some Adirondack shelters without problem.



The last trip was a measly car camping trip, and I was racing a fellow camper to inflate our pads. I over inflated mine and the adhesive holding the baffles together failed, resulting in a giant tube running half-way up the center of the pad. Super uncomfortable. Fortunately I was able to spin the pad 180 degrees and sleep with the big bubble between my legs, but the pad is definitely ready to be replaced. I will probably stick with this model.
I own the exped downmat and the LW Synmat UL. Bought the Synmat UL to give me the sweetspot of comfort AND lightweight. Exped mats have been bomber durable for me. Downmat has been to Alaska for remote wilderness raft/fishing trips. LW Synmat UL has done car, river and backpack trips. No punctures or faults to date for the casual use they get (besides the 2 week AK trips every other year, my expeds are used a half-dozen nights or so a year). It was easy for me to stick with Exped when adding the 20? wide full-length as I already have the snozzle that makes filling a snap. I also own the exped chair kits (they make one for the standard and wide width). Sitting in camp with some back support after a grueling long day on foot, by pedal or on the oars is worth its weight in gold in my book (maybe not gold, by titanium maybe?). UL Medium rolls down to smaller than Nalgene bottle and within grams of the other UL mats out there. Having a quiver of mats in the family, nobody reaches for the self inflating units anymore when you can get 3? or more in thickness to smooth out the ground and such a light weight and compactness. So that is all the ?good?. Here?s some other info to inform your purchase? The newer Thermarest chair kit should work with the exped?s and weighs less and costs less (win-win). For that matter, T. Neoair and offerings from Big Agnes look to match the specs of the Expeds for less money??? Regarding a chair?gram counting yet practical/comfort minded friend pointed out that the new alite and similar backpack chairs weigh a bit more than a chair kit, but set up faster (midday for lunch?), can?t puncture and can stay OUT of the tent so you?re not dragging dirt and crap in your tent as you would with a mattress/chair kit?


So comfortable
Familiarity:

I've put it through the wringer
This was an upgrade from my self inflating thermarest and I love it. Originally purchased for a long camping trip where I was looking for something a little more comfortable. Loved the fact it was lighter and smaller (packed) as well.



Dislike, takes a little longer to inflate, but guess that's the downside of more volume.
Has anyone had experience with the exped...
Has anyone had experience with the exped SynMat UL 7, the Thermarest NeoAir All Season, and the Big Agnes Q Core? I'm wondering how they compare as far as comfort and durability. I realize that the Thermarest is heavier, but warmer, but the main things I'm trying to sort out is the comfort and durability. Thanks!
Best Answer
Q core is the most comfortable I've ever slept on (only 1 night on a friend's pad). I own a SynMat UL 7 and love it, but if money weren't a question, I'd go for the Qcore in a heartbeat... better R value, way more comfy (doesn't feel like a pool floaty), and it appears to be very well made.


I own a Qcore. It's very comfortable.



BUT... I can't sleep on the thing. It's INCREDIBLY noisy. I actually came to this link because I searched for pads that are less noisy and the UL 7 came up as an option since a few reviews in here mention that it's quieter than other pads. I slept one night on my Qcore with earplugs in and had one of the best nights of rest I've had while backpacking. But I personally don't want to have to wear earplugs to sleep - it's a safety issue in the backcountry beyond the fact that I don't think my sleeping surface should be louder than my snoring camping partner (who didn't wake me up with her snoring) and require me to wear plugs in my ears.
Replaced my prolite with this
Familiarity:

I've used it once or twice and have initial impressions
I also own a prolite pad which I think is great for packed size and durability but it was no where thick enough to constitute a good night sleep. I've had a crush on Exped pads for a while now but we've been kept apart tell now because of price (they are rather spendy). I bought the synmat UL for me and the downmat for my wife. I like that mine packs smaller while still having plenty of 'cush', I like her's a little more because it's a little less slippery with my mummy bag and her's has larger side baffles than center one's which keep the sleeper in place better. I definitely sleep better now camping. The construction has yet to really prove it's self but gives the impression of not being quite the quality of a Therm-a-rest.
Great Pad
Familiarity:

I've put it through the wringer
Packs down to the size of a gatorade bottle and very comfortable. I was a concerned about durability when I bought it but have had no issues. I even backpack with two dogs who walk all over and have not had any problems. I have only used in temps down to the mid-30's but It worked fine at that level with a 20 degree rated bag. The weight/size to comfort ratio is off the chart for this thing. Even at $100+ well worth the price. Also doesn't have the noise issues that the therm-a-rest UL pads have
Great mat
Familiarity:

I've put it through the wringer
Super light.. (the first one I got was defective and BC sent me a new one lickety split)



I would definitely suggest testing it a few nights at home before you go out into the Forrest. One downside is that the cornbread yellow color shows dirt that you will inevitably pick up whilst backpacking. The stuff sack breaks too, but it's not crucial. The long tubes could be better if they were more quilted like the big agnes q-core, but this pad is way lighter than that one too.
I've used this sleeping pad on three backpacking trips so far and love this pad. Prior to this purchase I've been relying on on a combination of a z-rest pad and a 3/4 length ultralight thermarest for my sleeping solution. The ridgerest for warmth and the thermarest for "comfort". I've switched to using just the exped and it rocks! Much more comfortable than the combination of the other two. And it's lighter and packs smaller. It's much easier to compress than the thermarest. I also boght the inflator bag and it takes about 4 iterations to inflate it (about 3 minutes - I'm not racing) The only downside is it's louder than the other pads were. Kind of a squeaky/crunchy sound, but doesn't keep me awake (or wake me up) after a day on the trail. Haven't had any leaks, so I don't know what repairing it would be like.