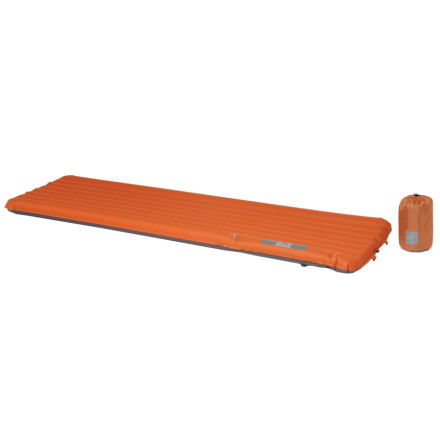 Colors

Videos

Community Images
Description
Go ahead and pass out.
If you always end up crammed in a two-person tent in below-freezing temperatures, just praying for dawn, check out the Exped SynMat Sleeping Pad. The welded baffles between the microfiber filled chambers eliminate cold spots for a comfortable and supportive sleep in the cold. Plus, the polyester fabric is highly durable, airtight, and humidity resistant, so you won't need to retire this baby after a few backcountry overnighters.
Integrated pump and rubber gasket eliminate the need for failure-prone valves
Stuff sack and repair kit for quick field maintenance
All 7 Pump pads have a temperature rating of 1 degrees Fahrenheit (-17 degrees Celsius) with a 150g / sqm Texpedloft microfiber filling
All 9 Pump pads have a temperature rating of -13 degrees Fahrenheit (-25 degrees Celsius) with a 200g / sqm Texpedloft microfiber filling
Unanswered Question
On the SynMat models with the integrated pump, do you have the option of inflating by blowing air into the mat, or can you only use the pump feature?
Comfortable and quick to set up
Familiarity:

I've put it through the wringer
I like this pad a lot. I usually inflate it too much at first, but once I let some air out it's very comfortable. I bought the hand pump with it and it inflates really fast.
It packs up easily and fits in a small space too.

Great pad, minimal effort
Familiarity:

I've used it several times
Has a built-in inflation mechanism where you give it a few CPR-style chest compressions to pump it up.

Very comfortable, no rocks felt, doesn't get cold, doesn't lose air.

Pull the separate valve to release the air. Easy to roll up to store in the bag.

Includes patch kit.

Get the 7 pump unless you plan on being in freezing conditions.
Hadn't heard much about Exped before deciding give this pad a-go. It's thick and cushioned, packs small and gives your lungs a break, the pump system is incredibly convenient. It'll warm you up if it's chilly out side and takes no time to complete.
Saving my back....
Familiarity:

I've used it once or twice and have initial impressions
I really needed a solution for my back and hip issues while camping with my Scout troop and found this sleeping pad to be PERFECT. This past weekend was my first time using it, and I was able to sleep through the night (raccoons withstanding) for the first time in a LONG time. Easy to inflate with the built in pump, and easy to pack back up at the end of the trip. Would ABSOLUTELY recommend this (and have been!)
Unanswered Question
do you carry the exped 7 in the wide med? I thought I saw on at REI.
Care of Exped sleeping mats
Exped SynMat Sleeping Pad (7/9)
When will you be getting more of the Terracotta, 9 Pump Deluxe LW?


Hey Caleb,

We do have some more ordered to come in- but unfortunately we do not have an exact arrival date. We are hoping to have some available by the end of November- I would recommend checking back then! Please do feel free to contact us with any further questions or concerns, you can reach me at kweiser@backcountry.com
Where have you been all my life?
Familiarity:

I've used it several times
Spent 5 nights in the High Uinta's in Utah last week. Rained every day and night. Cold temperatures at night. 6'2' 205. I bought the LW synmat 9. Wow!!!! I am a side sleeper. never got close to hitting the ground on my side. Amazingly comfortable. I didn't go with the UL because of price. Weight was fine for backpacking. Comfort was awesome. shared a plastic tarp tent with my boys and on the last night there were rocks under my side of the tent. Couldn't even tell when I was on the mat. 3.5 inches of heaven. Love the durability of the synmat 9LW. Would love to see how the UL feels, but will not be trading in my pad.
Great pad
Familiarity:

I've put it through the wringer
I have used it in mid-winter as well as in cool summer weather and it is the best pad I have ever tried. I am 177 cm (about 5'10") and have the medium sized pad. Sometimes I wish I would have gotten the large wide one since it can be a little short, especially when your feet goes outside the mat in the winter, but usually it's fine.

I would also say that it's a more or less HAVE TO to get the chair kit as well. Camping at its finest!
Best Compact Sleeping Pad On the Market
Familiarity:

I've used it several times
The difference between the synthetic down and regular down doesn't matter really at all unless you're winter camping. This sleeping pad is incredibly comfortable, highly compact, and easy to use. The built in hand pump is phenomenal, and everybody will be jealous of your sick pad.
Love the self-inflating feature.
Familiarity:

I've used it once or twice and have initial impressions
The main reason I got this pad is because I hate getting to the campsite and spending the entire time pumping up my pad. This pad has an awesome self pumping feature that really saves you time and hassle. It really works! Took me 15 minutes max, probably closer to 10 minutes to pump it up.
7 Pump LW
Familiarity:

I've used it several times
I went with the 7 Pump/LW as I am a bigger guy (5'10", 195lbs) and it provides great padding and insulation for me in cold weather. I have spent the last two weeks in Yakima, WA and temps have ranged from 15 degrees up to 40 degrees and I have had plenty of insulation. This pad has been a moneymaker as I am accustomed to using my Army Issue sleep pad.
all of models (7 and 9) works very well...
all of models (7 and 9) works very well in four season?

it's comes with a n external pump?

thank
These mats are both insulated with lofted microfiber insulation on the top and bottom, so they will perform splendidly in any of the seasonal weather you may encounter while out in the wild.

Regarding the pump, it is not a separate device or instrument; rather, the pump is built in to the mat itself, so you don't have to worry about carrying around some superfluous piece of equipment that you could potentially break or lose. Moreover, the fact that it is a built in pump helps protect against possible ice crystal formation as a result of manual pulmonary inflation that could form inside the mat when using it in colder climates. In this way, Exped has truly designed a spectacular piece of backcountry sleeping gear.

Hope this helps.
Comfortable
Familiarity:

I've put it through the wringer
super comfortable, warm, and easy to inflate. little bit heavy, but for use in winter conditions it is needed.
So comfortable
Familiarity:

I've put it through the wringer
I was a little uncomfortable spending so much money on a sleeping pad... Then I spent one night on it and I was quite comfortable. I slept through the night and did not wake up until the sun hit my eyes, a rare feat for me while camping. Usually I roll around and wake up feeling unrested. Now I wake up camping and feel so rested, almost like im in my own bed. Its very compact and the built in hand pump works well. highly recommend
Fantastic sleeping pad!
Familiarity:

I've used it several times
The size of this bag makes it easy to take backpacking. It is relatively light weight as well. The incorporated (or built-in) pump makes it easy to set up and get ready. It is comfortable so it definitely helps in getting some needed rest after your day's journey. I totally recommend it, I have bought an additional one to complete a pair.
Exped SynMat Sleeping Pad
Great Sleeping Pad
Familiarity:

I've used it several times
I have had some poor experiences with sleeping pads before ( ie: one too many times of waking up cold and on the ground) so I decided to try this one. I'm a huge fan of the integrated hand pump in the mat. It's effective and easy to use. I really like the one way valves. It makes it much easier to roll up the mat when air can only escape and not get back into the mat. While I haven't tried it in cold weather, it has done a great job so far.