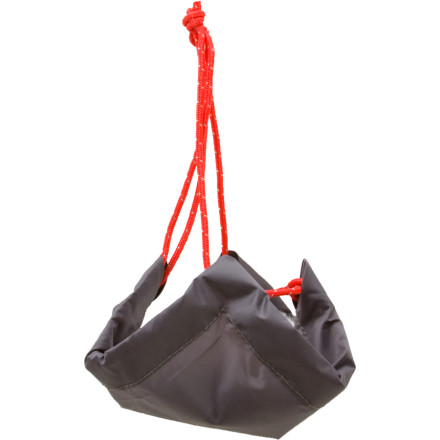 Detail Images
Secure your tent in a desert river bed, snow covered meadow, or rocky outcrop with the Exped Snow and Sand Anchor. Pull out this five-pack of highly durable nylon anchors and fill as many as you need with snow, sand, or rocks in those areas where tent stakes just can't do the job.
Great for rocky terrain
Familiarity:

I've used it several times
I used these on a desert backpacking trip. The terrain was rocky to the point that it was near impossible to use a stake. We ended up using these exclusively, and they worked very well. Lightweight and durable; I consider them to be replacements for stakes in any terrain that has rocks available.
These things are literally lifesaving
Bought this anchor in preparation for a beach camping trip I took this summer, and boy am I glad I did!



As luck would have it I chose a beautiful weekend to camp... complete with gale-force winds and driving rain. While every other tent (and I mean EVERY other tent) ended up being uprooted and blown down the beach my gear held strong- and I attribute it completely to these little puppies. Even my reinforced stakes I used in conjunction with these anchors were bent in the wake of the storm!!



Just dig a hole, place these down, and fill it back in and you have an anchor that will keep you grounded for good!
Used on Denali climb.
Familiarity:

I've used it once or twice and have initial impressions
I used both this style stake and the regular snow stakes on a Denali climb. If I had to choose, I'd go with normal steel snow stakes only, however, these were convenient setting the guy lines. They don't melt out as bad as the steel stakes, but they don't perform well in ice or dry snow. If the snow is packable, or if you can wait for the snow to set after planting these stakes then these are a good option. My advice is to throw a few in your bag and use them for running the guy lines. They are very light weight and easy to use.



These would probably be perfect for sand camping camping where rocks are available. I only used them in snow/ice.
used camped at beach for 20 days they held firm and take the wind good. you set them a couple of times and get good at it you wont be able to pull them up. attached mine with some rope to make it a little easier to hook to tent

need sand anchors?? cant go wrong here
trying to stake in sand on windy beach can be frustrating
Does the job, buried alive!
After a week of constant use at the beach these anchors never complained a bit. And if they did I couldn't hear their cries of help buried a foot or two in the sand! Very happy with these anchors and I'm sure would work well in snow or on top of a granite face. Heck you even get a 5th spare one, who does that anymore!? Spare parts included for when your idiot brother decided to make a mini parachute out of one and loses it, I mean that's awesome! Anyway these are great anchors, very durable, and simple. A perfect adjective combination for those of us in the outdoor pursuits. BUY THEM!