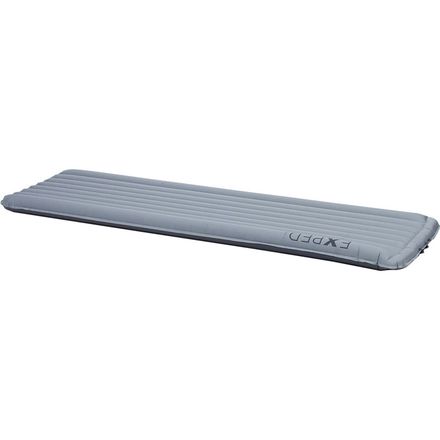 Videos
Sleeping on the snow can suck the heat out of any sleeping bag, but you retain more heat with the inflatable Exped DownMat UL 7 Sleeping Pad between your bag and the floor of your snow cave or frozen tent. This award-winning design unites the comfort of an inflatable sleeping pad with the most natural and effective insulation on the planet to ensure a good sleep for the harshest winter camping.
Integrated stuff-sack pump inflates the mat within a minute
Baffled design prevents cold spots and brushed polyester top fabric prevents sleeping bag migration throughout the night
Laminated polyester on the bottom resists moisture and abrasions
Seams are welded for durability
Foam at both ends ensures down can't escape and loops near the head let you attach the included packsack as a pillow
Best mat for winter
Familiarity:

I've used it several times
I got the LW and it is big, but my whole bag stays on without worrying about my bag hitting tent walls or the floor. I've been a thermarest guy for years, but as a side sleeper who weighs 210+ pounds my body was never cradled like this pad. I woke up in -10C several times on my last trip and the sun was already up and the only trouble was getting out of bed. I sleep better on this on the ground than I do in most beds. Amazingly comfortable, warm, and even the LW is so light that I will take this matt on summer trips as well due to the plush comfort it provides. It also sheds water and ice very well. If something better than this exists, I don't need it.
Fragile
Familiarity:

I've put it through the wringer
It's very warm and comfortable, but unfortunately after 1 year of gently usage it starts deflating. There are no visible holes and it's impossible to detect problematic spot using water because of very small air leaks (should be inflated each 5 hours). I will probably buy regular one, not ultralite model. It's a pity.
Extremely comfortable!
Familiarity:

I've used it once or twice and have initial impressions
As a side sleeper, it is difficult to find a pad that is really comfortable and lightweight for backpacking. There is alot of support on this pad, and the baffles stay fairly firm even when you are shifting around on this pad. The slightly raised edge on the side really does help reduce roll-off. Overall this pad is far more comfortable than the EXTREMELY crinkly and slippery Therm-a-rest XTherm, and even more comfortable than a 5lb, 4-yr old Therm-a-rest 3" LuxuryMap! The XTherm packs slightly smaller, and is slightly lighter, but the extra weight and size of the DownMat is really worth it I think for the comfort.



I havn't used this pad in wet weather yet, so I wonder how the down will hold up to high humidity.
What does the "7' mean in the size?
It stands for 7 cm thick, or 2.8 inches. The Downmat 9's are 9 cm thick, or 3.5 inches.
comfy but fragile
Familiarity:

I've put it through the wringer
Comfy and warm but I had the baffle delaminate in about a month of use. I was laying on the mat and heard a pop. Now there is a huge bleb in the middle and the mat is unusable

Not quite ready for prime time


My fav pad
Familiarity:

I've put it through the wringer
I've had this pad a while and love it. The pump system is really awesome and easy. The pad is super warm and light and packs down really small. A friend of mine bought a thermarest neo and it was just way to loud and crinkled every time he rolled over. after seeing mine he returned his and bough an exped. I really recommend this pad . I only have one complaint and that is that the silver colour picks up the slightest stain from oils in my hair to drool, it shows everything!!
Winner of my comparison
Familiarity:

I've used it several times
Disclaimer: This review is relevant to three-season use, as I haven't tested the UL 7 in cold conditions, and didn't buy it specifically for that.

I bought this along with the Big Agnes Q-Core and Dual Core models, all in LW. The Dual Core was out of the running immediately, as it was much larger than the other two packed up. I didn't even set it up. The Q-Core and DownMat I set up in the living room, sleeping on each for a night, and also using them for hours at a time reading, watching TV, anything involving sitting or laying down. I also left them inflated for a full week to see how they kept air. Both did great in all of these areas.

There are two reasons the UL 7 won. First, it is slightly lighter, and slightly smaller packed up than the Q-Core. For many, the weight and bulk difference may not overcome the steep price increase, as the UL 7 is significantly more expensive. I was willing to pay extra for the difference, and because of my next point below.

The second reason the UL 7 won is because of the outer tubes. Both of these mats have raised outer portions to keep the body on the mat I'm guessing. The Q-Core isn't a tube setup, but the baffles work the same way to create a guardrail setup out of the outer portion. The Q-Core is more pronounced than the UL 7, which may help some buyers decide. I didn't like the confining feeling I got from the more pronounced outer edge, but can see how some might actually prefer that. All said and done, the UL 7 gave me the packed size, light weight, and shape I wanted. Once I tried it, money was not a consideration for me anymore.
I love it
Familiarity:

I've used it once or twice and have initial impressions
I tried this pad on a recent trip and loved it. It is lightweight enough and it is SOOOO comfortable. It is thick so the terrain doesn't mess with your back while you sleep. The only downside is the price, but it is worth it.
Exped DownMat UL 7 Sleeping Pad
The Schnozzle bag makes this a piece of cake to inflate, and it's about as warm and comfy as they come. I feel like I'm on my mattress at home when I sleep on this thing. Love it.
The best things about this pad are the thickness, down, warmth, weight, stuff sack pump, and vertical baffles. The pad is nice and thick, so that any frozen rocks in the ground don't dig into your back. The down on the inside makes the pad nice and warm for those cold winter nights. This is lighter than the regular downmat, so I can use it for overnight snowshoeing or ski touring trips. Stuff sack pump inflates the pad in a very short amount of time. It makes it so much nicer not having to huff and puff to blow up your mattress. The inflate and deflate valves are one way, so that the air you put in won't come out the inflate, yet the air you push out through the deflate valve won't rush back in. The vertical baffles help keep you on the pad, which is nice. My two gripes are that the deflate valve sometimes gets a little stuck, so the pad doesn't deflate very quickly, and that the stuff sack for the pad is very difficult to get the pad back into. Other than that, great buy.
The Exped DownMat is designed for use in extreme cold and because of it's outstanding insulating capability it also keeps cold sleepers warm in more moderate conditions.



The DownMat 7 LW in this video weighs 1110 grams/39 ounces and offers an R-value of 5.9.
Deflating Exped Mats with Andy Brun
Andy Brun from Exped gives tips to deflate your mat
Inflating Exped Mats with Andy Brun
Andy Brun from Exped gives tips to inflate Exped mats with an integrated pump.
The DownMat UL 7 is an award winning sleeping mat that combines extremely high R-value, low weight and small stuffed size. With an R-value of 5.9, this mat represents the warmest lightweight sleeping mat available. DownMat UL 7 comes with the Schnozzel Pumpbag for rapid inflation and elimination of moist breath making its way into the mat.
Pretty awesome
Gender:

Male

Familiarity:

I've put it through the wringer
I loved the ease of the stuff sack pump, it was even easy at 21000 ft. Three inflations and voila... Loved the mat, but don't heat it up in the sun or have it soft and kneel on it. The baffles can become unglued and then it sucks....
Which version of the DownMat 7 is this? ...
Which version of the DownMat 7 is this? Photo is for the integrated pump version, but weights listed seem to be for the 2012 UL model.
I haven't seen a ul with integrated pump so I believe this is the 2012
How does compare with the Xped synmat 7...
How does compare with the Xped synmat 7 with the built-in pump? I've used the synmat

over several summers in central america and was very comfortable...but am looking do some spring camping in yellowstone...don't want to get another xped if I don't need to...Can I pair it with a closed foam mat like the Thermarest Ridgerest?
The stuff sack pump works really well, much less frustrating than the built in pump. Probably a little lighter and warmer than your synmat..
I really like the inflation system and it is supper comfy! I have to say I haven't used it in the snow yet but will this summer in the Mountains.
I threw out my mattress at home.
Who need's bowling balls and glasses of wine? Just put two DownMats on the floor and be done with it! Snow, check. Ice, check. Surface of Pluto, check. This mat is warm, light, comfy, sleek . . . you get the idea. If you're going to be on snow, near snow, thinking about snow than this is the pad.