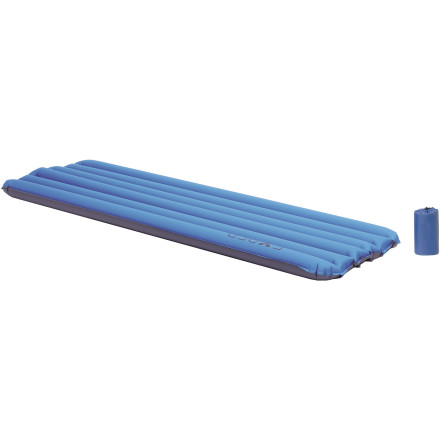 Videos
The rocky, root-riddled ground beneath your tent doesn't encourage good sleep, but the Exped AirMat Basic UL 7.5 Sleeping Pad provides insulated cushioning for maximizing your time in snoozeville. Best for summer car camping or short backpacking trips, this tough mat improves your camping experience no matter where you decide to roll out your sleeping bag.
Durable 20D polyester fabric withstands your tossing and turning while camping cowboy-style
Brushed top feels smooth to the touch and provides a little insulation while bottom laminated fabric resist humidity coming up from the ground
FlatValves are built into the top of the mat, ensuring a low-profile inflation-deflation system that doesn't snag and break easily
High-frequency welded seams ensure the mat remains inflatable for years
Included stuff sack enables safe and easy storage while a repair kit, adhesive, and patches prepare you for knife-juggling accidents
Pump needed for inflation but NOT included
Total fail
Familiarity:

I've used it once or twice and have initial impressions
Took it on a recent backpacking trip in Grand Canyon along with other purchases from this site. This is the only total failure that occurred on trip. The inflation valve failed during the trip resulting in a slow 5 minute leak that leaves you sleeping on rocky floor of Grand Canyon. Ended up getting about 6 hours of sleep for the 2 night grand canyon trip.



On 2nd night tried several things to get the inflation valve to not slowly leak out air. I even tried using the glue in the included patch kit to glue the inflation valve shut. No luck.



My advice is to avoid this product like the plague. The slow leak at the inflation valve makes the patch kit worthless. I'm glad I got it at steep and cheap but sleep was worth more than the discount.



Funny thing though was all the funny stares I got from other hikers on the hike out of the canyon. I didn't realize it at the time but later at the hotel while shaving, I noticed my eyes were super blood shot from lack of sleep. Other hikers probably thought I had rabies from a rat bite.



In any case if you do get this, make sure you inflate it all the way and let it sit overnight with weight on it to make sure the inflation valve doesn't leak. I would do this before every trip. I think this is a design flaw with the 'flapper' valve that may quickly/slowly fail with use. Yes, you should check this anyway for every trip but a valve leek is way different than a leak at the air bladders and this is a ticking time bomb even if you think you checked it beforehand like I did. I would give this zero stars if possible. Have not used other products from Exped, hopefully this is no longer for sale from them.
GREAT ultra light pad for warm weather
Gender:

Female

Familiarity:

I've put it through the wringer
Got the medium 72" version of this pad a few years ago on sale. Cannot be beat for weight/packed size, ease of use. But beware you need something underneath for anything but warm weather. I matched it up with the ultra light Gossamer Gear ThinLight Insulation Pad for a winning combo. and versatility. Also picked up the smaller Exped hand pump (not the disco pump) for flawless, quick inflation. I know it only takes a few minutes to inflate by mouth but after a full day of hiking I always felt breathless and faint after this task and was glad to add the few extra ounces for the pump. I'm 5'4" & 140 lbs. and do not hit the ground while sleeping on my side. It is relatively quiet compared to some really noisy air mats. When packed down I have never seen one smaller, literally disappears into your pack. SUPER Comfort! BEST MAT EVER!!!
Pretty good for the price
Familiarity:

I've used it several times
I'm not sure why this gets such poor reviews from other users. I got the Long/ Wide and I'm very happy with it after several trips this summer. It packs down MUCH smaller than my Prolite 4, weighs about the same, and the extra width and length makes it far more comfortable. It is definitely possible to overinflate the pad and make it uncomfortable, but once you find the right pressure it is great. I didn't experience any discomfort from the baffles, but the LW does have more than the standard.



It seems very well built, although I have always used an ultralite tarp with it to protect it or had it inside a tent. I've not noticed any air leakage even on multiple nights in a row.



This pad is only for summer camping due to its poor insulation but if that's what you want it for, you can't go wrong in my book. Get the LW and chortle as your friends try to stay on top of their heavier 20 inch self inflating pads.
Exped AirMat Basic UL 7.5 Sleeping Pad
I bought it and now i think that it was not good idea. It is very small packed and lightweight but at fact:

My wife said that her back start to ache.

When i was in Crimea, Ukraine i have put it on the dry grass and after that it had 24 holes


Ted shows us the features of the AirMat 7.5 sleeping mat.
It's small, light, easy to pack and feels like a pool toy.

I've been looking for a perfect summer sleeping mat, and so far this is the worst I've tried. The welded through baffles and the general stretch of the thin materials make it impossible to get the mat comfortable. Either you can inflate it 100%, and sleep uncomfortably on a hard mat - or you can fill it up 70-90% which leaves your hips on the ground and the skinny baffles poking your side/belly/back.



Notice compared to the Synmat UL 7, this only has 6 baffles (compared to 8) which are welded completely through. Which means basically, don't get this pad unless you're planning on sleeping on your back and not moving. Otherwise your hips and shoulders will hit the ground. I am 5'11" 170 pounds.



Just carry the extra 6 ounces and get the synmat UL 7, which is heads and shoulders above this piece of garbage.