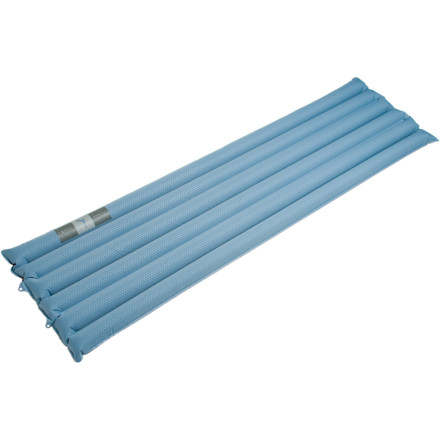 Detail Images
Get a good night's rest with the Exped AirMat Basic 7.5. Its no-nonsense design keeps you off the ground so you stay warmer, and since it has separate valves for inflation and deflation, it's easy to inflate to a custom firmness level.
Exped's FlatValves are flat and totally integrated, making them less likely to snag or break
High frequency-welded seams are ultra durable
Can be inflated by mouth or by using the Exped Mini Pump
Unanswered Question
What's the thickness of this pad when...
What's the thickness of this pad when inflated?
which is the diferences between this exped...
which is the diferences between this exped 7.5 vs exped 9?
The 9 has a higher R-Value so it will be warmer.
Ted shows us how to use the Exped Mini Pump. This accessory pump is used to inflate Exped mats from 2010 and beyond that do not have integrated pumps, such as AirMat 7.5, SynMat Basic 7.5, and Exped SIM series mats.
Ted shows us the features of the AirMat 7.5 sleeping mat.
hard to beat this pad
Gender:

Male

Familiarity:

I've used it several times
seems to be extremely durable and you get comfy nights rest. Big fan of the length ways ridges. Doesnt take too many breaths to inflate...worth it when you lay down for the night. Best sleep pad i have come across...i am very familiar with Thermarest. Enjoy
I have an air pad from other brand with...
I have an air pad from other brand with length wise ridges. Only problem is that I slide down if the camp ground is at an angle. How is the Exped pad?
Best Answer
This modle is not slide proof. thay do have non slide models
You can also put dots of seam seal (silicone and mineral spirits) to add grip!
For those of us who don't like to sleep on rocks, Exped gives us AirMats and SynMats and DownMats. I love this pad for all my warm weather adventures. It also doubles as a great airport over-nighter (love the red-eye deals). Lot's of wonderful air makes me forget where I am sometimes when I wake up. Easy to adjust the amount of air in the mat as well, to get just the right amount of support. Perhaps one day I will get my hands on the pillow pump so that I don't almost pass out blowing it up. If you like sleeping, you'll like the AirMat.
I love this pad. Over the last couple of years I have become a big fan of Exped products. I have three sleeping pads and their inflatable pillow. All of their products show top notch build quality, excellent attention to detail as well as top levels of functionality. This particular pad is very lightweight (the medium size is 19 oz) and comfortable. It lacks insulation so it's probably best for temps over 40F.

Here is a comparison of this pad with other pads that I have used: The Thermarest Prolite. Similar weight but much thinner and uncomfortable. Also the Thermarest takes much longer to deflate, roll and pack up than any of the Exped pads. The Exped UL Synmat 7 is about 3 oz lighter at 16 oz, it has insulation so it is great for temps down to probably 20F. It is just as comfortable as the Basic but the cost is three times what the Exped Basic is. Also the Basic is made of slightly thicker material which probably makes it more resistant to punctures. I can't compare the durability of any of these pads because I have yet to have any problems at all with them.

I hope this brief review helps you guys out.