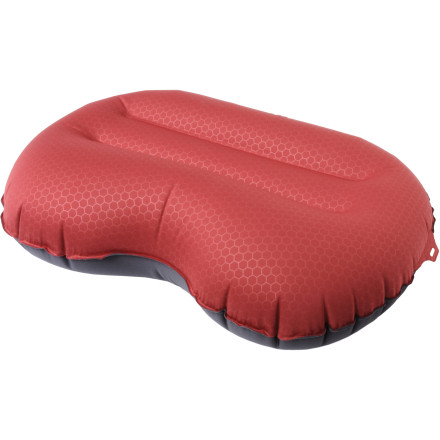 Colors

Detail Images

Community Images
Description
Catch a few Zs anywhere.
Don't let location limit your beauty sleep. The Exped Air Pillow inflates with just one or two breaths and offers the comfort of home, thanks to a design that's higher on one side than the other and contoured to accommodate both side and back sleepers' head positions.
Soft tricot polyester fabric is comfortable next to the skin
Two FlatValves, one for inflation and another for deflation, are low profile and highly durable
Two loops allow pillows to be attached to Exped mats with corresponding loops so you don't wake up with a stiff neck and your pillow halfway across the tent
Size of a coke can and inflates in three breaths. Outstanding. Awesome companion to exped synmat and good for side sleepers. I got the xl and it's plenty roomy. No need to wake up with neck pains from using clothes as a pillow anymore.
Does this come with a repair kit? Med size pillow
Nice addition to my sleeping gear.
Gender:

Male

Familiarity:

I've used it several times
I have been using a Therm-A-Rest NeoAir pillow for a while now. I loved the packed size of it, the ease of blowing it up... but hated the height of the pillow. I'm a high pillow sleeper and this Exped Air Pillow is the answer. The packed size is a slight bigger than a packed NeoAir, but I don't mind it. Inflating it was kind of weird, because I'm used to having some sort of nozzle, but that is not a deal breaker. Deflating it was simple. The pillow has a soft material that lines the exterior and feels great on skin. This pillow is certainly high quality and a luxury to have, but I bought this with a great deal... I wouldn't have paid MSRP for it. I'd most likely would have gone with the Big Agnes insulated Air Core if my GF didn't get a $20 credit from Backcountry :).
Once a luxury, now a staple in my pack
Familiarity:

I've used it several times
Packs down small enough I stored it in my sunglasses pouch. Curvature of the neck cutout really makes it comfortable for side sleeping. Haven't used it long enough to talk about durability but I'm sure other reviews here have.



USING WITH OTHER MATS:

I highly recommend a cover/pillowcase and not over inflating to prevent it from sliding out on non-EXPED mats(i.e. therm-a-rest). Without the cover and inflated to turgid(bloated or full) I woke up with a face oil spot on my pad and Air Pillow in the corner of the tent. With cover and easing back on the inflation, it stayed put and works very well on other mats.



I've been against backpacking with pillows until this little guy. I was intrigued after trying it in store and now I won't go back to the rolled sweatshirt pillow.
Game Changer
Familiarity:

I've put it through the wringer
This may be my favorite (in tent accessory) now. I inflate 3/4 and snooze comfortably.
Great air pillow
Familiarity:

I've used it several times
I'm skeptical of air pillows since I had one several years ago; this one is wonderful. It is stable and just the right shape. With a soft face fabric, I found I have no need of anything on top of the pillow. Tested at home one night before entrusting my head to the new pillow out in the wilderness. Superb. I have the medium and would buy the same size again for backpacking. I also tried the NeoAir pillow and much prefer the design of this one.
Best pillow for side sleepers
Familiarity:

I've put it through the wringer
After trying half a dozen pillows with various designs, I bought the large version of this pillow with a degree of skepticism. After two years of use, I can confidently say that it's the best lightweight pillow I've found for side sleepers. The neck "ridge" on the end is what does it -- it stays in place better than a flat pillow, provides the needed support, and seems to be just high enough to keep my head mostly flat. Sometimes I'll wrap a shirt around it as a pillow case and tuck the extra fabric under the pillow to give it an extra half-inch of height, but the pillow is just about perfect.



The only improvement that I could suggest would be to have a rubberized backing on one side of the pillow, similar to Thermarest's NeoAir pads. I've found that the pillow can slide around a little too much sometimes unless I have something above it (like a water bottle or other in-tent items). But this would add to the weight, so I'm not going to complain too much.



Highly recommend this product for side sleepers if you want to get some sleep in the backcountry!
Awesome Pillow!
Familiarity:

I've used it several times
You can only sleep on crumpled up clothes for so long. I couldn't stand it, so I got this and its awesome! Its sooo tiny when its deflated and is very light and easy to inflate.
Light and dreamy
Familiarity:

I've used it several times
This pillow is really light and sleeping on it is great! I still have to say that there are other pillows that are more comfortable, but who wants to lug in a pillow that weighs 2 pounds? This is a great pillow for how small and light it is. I guess that's what you pay for.
Great design
Familiarity:

I've used it several times
Ever catch your self trying to get as much air in a pillow and it all comes out when your trying to close it.? Say goodbye to that. This pillow has a schnozzole on it and stops the air from escaping leaving you with a nice not half deflated pillow! Awesome
A new favorite piece of equipment.
Familiarity:

I've used it several times
It's rare that I'll buy a piece of equipment and have it make enough of an impression on me for me to recommend it to friends or family, but the Exped Air Pillow is one of those items. I was amazed at the pack size and weight of this luxurious pillow! Fits right inside the hood of my bag to keep it in place and the dual valve inflate/deflate system is idiot proof.

The only change I might make were I to buy this again would be to get the Large rather than the slightly too small Medium size.
Perfect!
Familiarity:

I've used it several times
This pillow was just the thing. My husband and I have different sizes of this same pillow. I got mine first and loved it so much that I recommended he get himself one for our backpacking trip on the Colorado Trail this summer. It inflates and deflates easily, packs quickly in a tiny package, and doesn't seem to leak any air. The shape is cool - you can use the slightly fatter edge toward your neck or the top of your head, as you like. I won't go camping without this pillow now that I've been spoiled.
Best of a Bad Lot
Familiarity:

I've used it several times
Light, packable, easy to inflate, easy to deflate. These are its good qualities. Unfortunately, it is uncomfortable like any air pillow, with your head always wanting to roll around or bounce like a trampoline. From now on I think I'll just take a real pillow in a plastic bag and tie it onto the outside of my pack. You can't understate the importance of a good night's sleep.
Among lighter pillow options, Exped is the one to beat. The dual valves are awesome, and the packability is amazing. I may just have an unusually slippery head, but the material of this pillow is such that unless properly positioned it tends to scoot out from under my head. Body oils will naturally stain and degrade the top surface of this (and most Exped products, I find) over time). Went with a washable Nemo Fillo (11oz, blarg) after a year, kept the Exped as a backup.


Kaj describes the use of the super small and lightweight Exped Air Pillow.
Medium Exped Air Pillow Rocks!
Gender:

Male

Familiarity:

I've put it through the wringer
I've used inflatable pillows in the backcountry for years. I started with the uber-light (0.60 oz) Flexair inflatable pillow. The Flexair, popular with ultralight backpackers, is a disposable hospital-type pillow that inflates with an included straw. I had trouble with mine in the field and decided it was time to upgrade. The medium version of the Air Pillow is 15"L x 10.6"W x 4.3"H and weighs 2.8 oz. On backcountry trips I don't use the included stuff stuff sack (weight for stuff sack is not included above). If you plan on using pillow inside of a mummy sleeping bag, I wouldn't use the size large. To help get a feel for size, pic below shows a medium Air Pillow on my Therm-A-Rest Prolite sleeping pad (see my separate review of that excellent pad).



In use, I inflate my Air Pillow to about 1/3 full, add a folded puff jacket on top and stuff both in a small pillow case - perhaps the best pillow setup above 12,000 ft! Recommended.