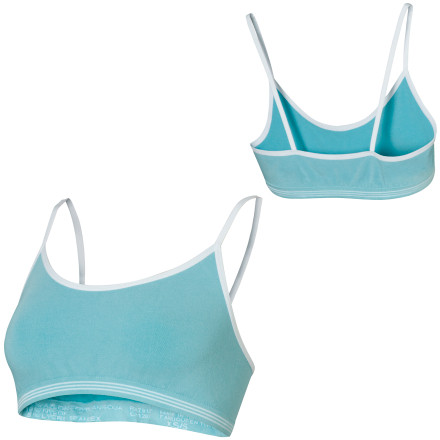 Detail Images
Share your thoughts
What do you think of the
ExOfficio
Soytopia Seamless Tank Bra - Women's
? Share a...
Sweet Ex Officio Tank Bra
Notice this is not an sport bra, it provides minimal support. Indeed I use it for casual days, I wear it under other t-shirts to contrast the colors. The material is super light and feels very comfy. I am 34B and size M works great.
I bought this as I needed some support for low impact sports like hiking.

When I first looked at it, I scoffed as it was SO light and thin. But when I put it on, it was...comfort.

No binding, bunching, or pinching. Perfect for hiking in the hot weather as you don't feel drenched.

It really is very comfortable, but definitely not to be used for high impact sports or if you're much bigger than a B cup. I'm 5'4"/115lbs/32B and the xs/s fits great.
Best. Bra. Ever. I'm giving my old ones away!
This is the greatest fabric ever! I've been wearing Patagonia capiline bras like this for years, but they phased out the size XL so I had to try alternatives. This is a bit more stretchy than the capiline, and significantly more comfortable for all-day wear. The fabric wicks away moisture, and hardly holds any odor. In the Patagonia I wore an XL and in these I'm comfortable in an L if i want a loose fit or an M if i want a slightly smaller fit for a bit more support. Definitely consider sizing down when ordering.

I'm completely serious about giving away all my old bras: this is the only thing I'll wear now.
I love this little bra. I am a 36a/b and needed a little extra under my cami tops for climbing that didn't add bulk and bind. This bra is perfect for me in the xs/s size and fits without cutting off any circulation or pinching and the fabric is sooooo soft! Warning: this bra was not meant to lift and separate! Which is why it is so comfortable. It doesn't provide full support and i think if you are in the 'upper range" you may not be happy. I ordered a medium at first and it seemed i could get two cantaloupes in there if i wanted...but i didn't want to as that seemed a strange place to store fruit.
I agree with reviewer mipae1477055. This so-call bra gave absolutely no support, there isn't even any point in wearing it. I am a 34B/C and I ordered the xs/s in the hopes that going down to the smallest size would help. No such luck. This might do something for you if you are an A cup, but I am not even sure of that.
i love this bra. no moob(mono-boob) that many tank style bras force the girls into. this is not a sports bra. it does not offer that kind of support. but it does offer everyday comfort and shape that can be worn under the closest fitting clothes.
sick deal on sac too! domo arigato gozaimasu!
Super comfortable, light support
This material is uber soft & the bra is super comfortable. Provides minimal support, so if your a big girl like me use it for low impact activities only. Also the material is indeed stretchy and since they span 2 sizes per go for a size smaller.
I normally wear a 34D and when I measured...
I normally wear a 34D and when I measured I came out a (37") medium. I just want to make sure this is correct before I order a few of them. Thank you so much.
Hey Megan. I'm a 34D as well (and fell into "medium" on the chart) and just bought the medium. I found it to be too big, too stretchy, and did not give me any support - even for low impact activities. At the very least I suggest trying the small.
hey so this one is it, if you dont bounce but for some like big rocks, this one rocks. go over them with your mtn bike and you barely feel things shift, no rubbing, no binding. *****
Unanswered Question
Does this bra come in size small. I do...
Does this bra come in size small. I do not want the size extra small/small.
Thanks.
I'm a 34B and don't like structured and smashing bras for everyday use. I wouldn't use it for jogging, but I mountain bike, dirt bike, downhill ski, motorcycle, hike, paddle and raft and it's perfect.
Material was too stretchy and not supportive enough. As a result, it felt like it ran a size or two too big.