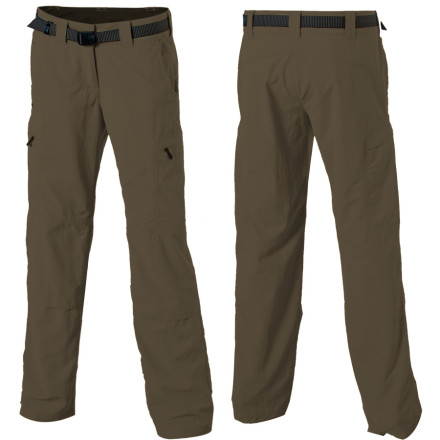 Detail Images
Water, wrinkles, UV rays, and the general rigors of travel are no match for the Ex Officio Women's Nio Amphi Pant. Whether you're doing the tourist thing in Europe or backpacking in the Rockies, these lightweight, protective, and quick-drying pants are possibly the only pair you'll need. Ex Officio added plenty of pocket storage for your daily essentials and zippered ankle gussets for venting or rolling up your pant legs.
What do you think about this product?
Have questions about this product?
My boyfriend had these pants on a hiking trip where we got covered in rain and snow and I was so jealous at how dry his pants stayed dry compared to mine so I had to get myself a pair. I like the fit and they are not too heavy that they make you feel too warm on the hike. I also like that when my dog runs in the streams and then shakes the water off near me, the water just beads on top instead of soaking in and getting me wet. They seem to be good quality too like they will last a long time!
I've attached a picture of my old pants compared to my boyfriend's exoffico's on our wet hike (he's wearing the nio amphi on the right). I was soaked compared to him!
I bought these pants with two other brands. These were the best fit of the three. I took them on a trip, and they were great. Very cool and comfortable. I had to re-order a size 6 because the first order of size 8 were too big. I am 5'9" and 130 pounds. I normally wear an size 8-10, so I was surprised to have to order a smaller size. Overall, the quality of construction is high, and I like the built in belt. I just wish I had waited another week to order because they just went on sale...I am tempted to get a second pair in a different color.