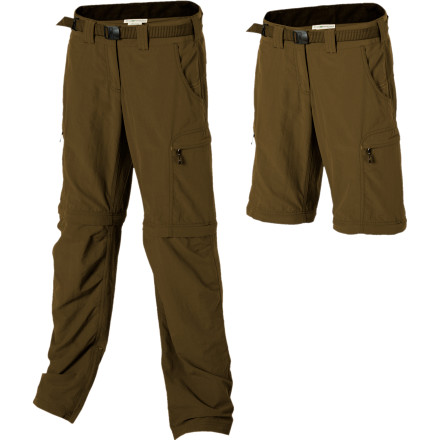 Detail Images
When you board the plane in a brisk, chilly wind and arrive at your destination to 90-degree heat, come prepared with the Ex Officio Women'd Nio Amphi Convertible Pant. From international travel to a week-long backpacking trip, the Nio Amphi's zip-off legs make changes in temperature an easy fix. The quick-drying, UPF-30+ nylon fabric repels water and stains, and wrinkles, so you can wear them straight from your day hike to dinner.
These pants are awesome! They are very light weight and breathable. The fit was spot on and they are not restrictive.
Love these pants! The fit is great, not too high and not too low, loose enough and just about perfect. I have never worn a pair of zip-off pants so was a bit unsure about them.. However they're great. I wore them for a day of international traveling in the airport as pants, a day of car-traveling in Costa Rica as shorts and then as pants again for night hiking in Costa Rica. The pockets are pretty roomy and I was a bit suprised to be able to fit my boarding pass fully in one of the side pockets (not the zippered), plus a wallet, passport and cell phone with plenty of room to spare. The light khaki color is actually more of a green but I prefer the green.
Are the lower zipper pockets large enough...
Are the lower zipper pockets large enough to hold maps? Are the upper pockets a good size?
they will hold a map folded, but it really depends on the size and what material the map is made of. I am thinking of the map I have of Rocky Mountain National Park and that will fit. Sorry I can't be more specific
The zip pockets fit a passport just fine, but not a boarding pass when it wasn't folded. The side "hand" pockets that aren't zippered do fit a boarding pass. I would say that the non-zipping ones could hold one of those NatGeo Adventure maps however the zipping one would have to have it folded.
Really expected these pants to be too tight, too low, and a return. To my surprise they are PERFECT! When they arrived I knew they were going to be too close fitting, wrong! They fit like a dream. I can do a full squat and stretch completely without any tugging or pulling (especially in the knees or butt area). The belt is a nice touch too and is really easy to adjust and open/close. They are very well fitted and not baggy, like my ex officio bugsaway pants are. The rise is about mid-rise, not high rise like the bugsaway pants. I've tried on so many convertible pants trying to find the right one, these are it! I just bought another pair in case they are discontinued any time in the near future!
Do anyone know if the fit of these is...
Do anyone know if the fit of these is similar to the ex officio bugsaway convertible pants?
Best Answer
These will have a lower/modern rise. The BugsAway pants have a high rise. Hope that helps!
I love the fit of these pants. Not too high in the waist, just the right length, and love the tricot lined waistband. Not too tight but fits well enough that when I put heavy items in the cargo pockets it does not pull the pants down. The nio amphi also has the best pocket combination with 2 zippered cargo pockets.
are the short part long. I own a pair of...
are the short part long. I own a pair of mountain hard gear that I love because the short part comes down to my knees.
Well that depends, the shorts have an 11" in-seam

So more normal than long.