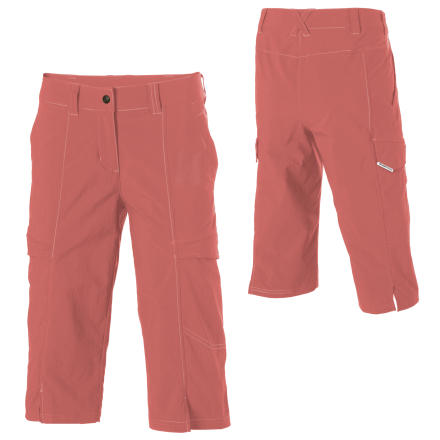 Detail Images

Community Images
I was looking for a pair to use for rock climbing, but these didn't quite fit the bill. However, I think they are very cute, love the material, all of the fasteners and overall look. If you are closer to a size 9 vs. a size 8, I recommend getting a size bigger.
I love the fabric of the pants but beware, they run small!! I ordered my regular size (6) and they are TIGHT..... I usually like to get my hiking pants a little looser so I can hike a variety of terain without them feeling like they are going to rip so I might just use these to run to the grocery store or take my pups on a walk!

But over all, great pant!!
Great Looking, Comfortable.
I have both colors and really like these. They are great for hiking, paddling, travel or grocery shopping. They are cute and do not necessarily look like you just left the trail, even if you did. The color pinkish color is not coral, it is much more of a dark mauve the cigar color is a bit more brown than shown. You cannot go wrong.