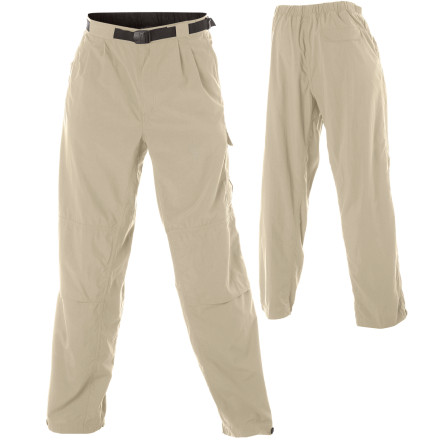 Detail Images
I love these pants. They don't get wet easily and when they do they dry pretty quick. The vents in the knees are pretty cool. The fabric is soft and durable. The mesh briefs take a little getting used to. I bought the XL and they run a little bigger than other brands.
These are quality pants. I wear them fishing, hiking and camping. The only thing I dont like is the mesh on the inside that acts as some sort of wierd underwear. Other than that they are very durable and have held up well against the abuse I have thrown at them. I will buy another pair.
Awesome pants for hiking or traveling. If you are planning to backpack through South America or Europe these are a must. You can wear em all day and at night wash them in the sink and they are dry before you are up in the morning. Awesome pants!!
I wore them about a week straight while traveling through Madagascar. They stayed fairly clean and always cool in the heat. The side cargo pocket has a zipper, great spot for keeping your passport on yah'. Never jumped into a swamp or anything but I am sure they would have been up to the challenge!
These are nice and light, I had trouble finding the right size, the mediums fit my waist but they are skinny on the thigh, so if you have thicker legs go with the large. I wear the large and I love them.
It is not clear from the description. Are...
It is not clear from the description. Are these the Buzz Off version?? Thanks!
These aren't the Buzz Off version, but I did a little research and found that version for you. "Ex Officio Insect Shield Convertible Pant" item # EXO0254. Hope that helps! http://www.backcountry.com/store/EXO0254/Ex-Officio-Insect-Shield-Convertible-Pant-Mens.html
Used pants on four day backpacking trip. Dried very quick.
Only problem was that the pants had no way to stop chaffing.
Did not get to test out on bugs.