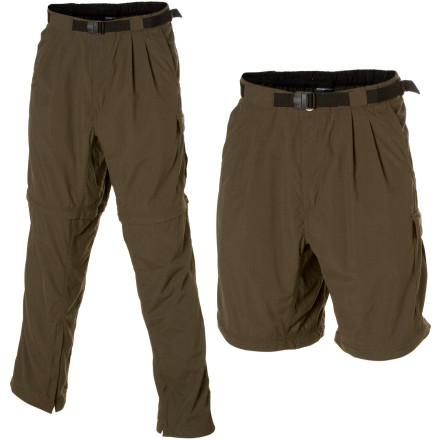 Detail Images

Community Images
Why did they quit making them with the...
Why did they quit making them with the mesh liner?
I think Ex Officio made the transition in the mid-2000s. I had a pair of their shorts with a liner that I had to replace in 2006. The new ones were liner-free.
I only see small and extra large. I need...
I only see small and extra large. I need a medium. Will medium sizes come back in stock? Randall Hayes
Randall,
This style was updated to the Nio Amphi Convertible pant. Different look, same material. The only major change is the removal of the mesh brief, the new style doesn't have this feature.
What is the lightest weight men's convertible...
What is the lightest weight men's convertible pants you have?

Is shippimg free and what about returns>
You got them! this is it, the Nomad pant may weigh less but the material is the same.
I love these things. The waist fits like a charm and the integrated belt just makes things easier. And, boy, do they repel water! I usually wear 30/32 and a M fits great.
Love these, repeat purchase
I've got several pairs of these. I bought this extra pair because I wasn't smart enough to put my rain pants on before a glissade on some crispy snow. Did a number on the back side.

While great for weeks of touring and walking, the built-in undies fail to get the job done on strenuous hikes or climbs. I've cut them out of my pairs and instead wear the underarmor or wool boxers.
Super lightweight, great material. Dry fast and lining means no undies! I wear these if I know I'll be swimming or getting wet. Built in belt, zipper pocket secures your goods, overall great pants for just about anything.
My Husband's FAVORITE Pants
I bought these for my husband for his birthday and he wears a pair everyday while we are camping/hiking/paddling, etc. They dry fast and are super lightweight.
We just cut the built-in underwear out; simple as that.
I wear these all the time in the US for almost any reason. This Spring, I took two pairs to Thailand for two weeks and loved them! Probably only needed one pair because you can wash them out in the sink and they'll be dry enough to wear the next morning. I didn't abuse them, but didn't baby them either - no holes, tearing, etc.
Biggest complaint is fixable: cut out the mesh briefs...and buy a pair of Ex Officio Give-N-Go briefs - most comfortable underwear I've ever worn.
I will only buy these pants - they're awesome!
First the good: great material. It is very light and comfortable and breathes well. It has a good amount of useful pockets and when the zipoffs are removed the shorts arent too short. There is a wicking material in the waistband.

Why they dont work for me: The mesh liner. I normally do not wear underwear at all but dont mind liners in swim trunks, running shorts, etc. I tried them out as is. Too tight and restrictive. No problem, I cut them out. Wore them on a weeklong hike. I discovered that the way the seams are does not mesh with my hydraulics, even if I was wearing silkweight longunderwear. Sadly, I will not be using these again.

That being said, I think these will work great for anyone who doesn't mind the liner.
men's long inseam is 34"??? long in midget land maybe.
These are very comfy. I like the belt and the zip offs. I will agree that the "panties" are a little annoying at times, but when you aren't wearing loose boxers, underwear it just adds support. Also good if you only bring one pair on an extended hike...
Good pants, except for the built-in "panties"
I found the pants very comfortable, especially in the hot weather. I got soaked through changing a tire in a downpour, and by the time I got home half an hour later, the pants were dry - unlike all the rest of my clothing. I agree that the built-in mesh panties were an unpleasant surprise. I may slice them out. (not bragging, but whoever "test-drove" these at Ex Officio must have smaller junk than I do... feels cramped.) I like all the rest of the features though.
I've been wearing Ex Officio pants for over 10 years and these are my top choice. Although the design is showing it's age -- a bit pleaty and baggy -- they're still the best fitting and best looking zip-off-leg pant out there. I like the mesh "panty" because I don't own a swimsuit! Just these pants. Ideal for rafting or canoeing trips. They dry more quickly than any other pant, but the fabric will eventually rip -- that's how all of mine end up dying, albeit after 6 or 7 years. Medium fits me well, but if your waist is over 32, head for the large.
I was prepared to be impressed. However, there's a problem with these that isn't mentioned in the description - they have a built-in mesh brief. That creates issues. Issue #1 - my boys don't like the feel of mesh...especially tight mesh. Issue #2 - if you wear these on a long trip, they must be washed daily, less one face the peril of crotch rot. Normal pants require only the underwear to be washed...a far easier task. A lot of thought went into these pants - if you're into built in panties, I guess they'd be okay. I'm returning mine.
Unanswered Question
Could you tell me the outseam length?
Could you tell me the outseam length?
I am very impressed with these pants. They are so lightweight that you don't even realize you are wearing them. They offer great insect protection also.
I just ordered my second pair of these after owning a pair for about 3 years. I really like these pants and almost always wear them when I am backpacking because of how lightweight they are. Over the years of backpacking through brush and scrambling over rocks several holes developed though they weren't that big and I just patched them with some repair tape and it sticks to the fabric of the pants extremely well; I've washed them probably ten times since putting the patches on and they are still adhering really well. My only gripe about the pants is that where the zipper comes together at the bottom of the pant legs there is about an inch left where there is a slit so you don't have a solid cuff which is great for putting over boots but it doesn't look so great if you're trying to wear them as casual travel pants with regular shoes or dress shoes.