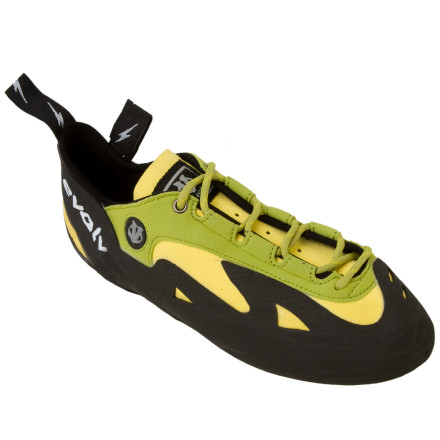 Detail Images

Community Images
After receiving rave reviews for Chris Sharma's signature series Pontas Climbing Shoe, Evolv decided to release a lace-up version to provide you with even more precision edging performance. The stretch-resistant Synthratek synthetic upper ensures an out-of-the-box fit with minimal break-in time, so you can start sending your projects immediately. Ultra-sticky TRAX XT-5 rubber glues your feet to desperate smears on anything from horrendous boulder problems to rope-stretch sport climbs.
One of the best all around shoes ever!
Familiarity:

I've put it through the wringer

Fit:

True to size
The Pontas Lace Up is one of the best all around shoes I've ever worn in over 20 years of climbing! Excelling on all types of climbing from super thin slab, gnarly cracks, and steep faces, and overhangs. A litte stiffer than the Velcro version and laces allowing for precision fit. I was bummed they stopped making it. Luckily the Geshido Lace up was able to take its place for me. Geshindo is bit more hardcore and awesome all around!
The shoes work awesome for bouldering but I don't like how they perform on oververt foot holds. It's hard to keep your feet from swinging off and once they do it's a pain to get them back on that hold
I really want to love these shoes but I have exchanged an 8 for an 8.5 and now an 8.5 for a 9. A european 42.5 fits me perfectly in most shoes and I never have any footwear problems. But my foot is really a "tween" size. In Nike running shoes (which run a bit small overall) I wear a 9. In dress shoes, always a perfect 8.5. However, when I measure my foot it is actually an 8 3/4. I thought the 8.5's I ordered would fit or at least give a bit over time - they did not. It was pain to put them on and even more painful to climb in them. My big toe was jammed right up against the front of the shoe causing it to curl back.

I have worn all types of shoes over the years from the original Fires, the Sortiva Mariachers, the Sportiva Mythos, etc. Sportive seems to always hit my sizing dead on, whether it is a running shoe or a climbing shoe/alpine/mountaineering boot. Always a 42.5.

I hope the 9's that are on their way fit well.
my street shoe size is a 9.5/10. Just got...
my street shoe size is a 9.5/10. Just got these in a 9 and they seem a bit uncomfortable after maybe 10 minutes of hangin around in them. Should I go up to the 9.5? I'm not looking for anything super agressive because i'm at V3 status at the moment. I just wanna make sure that if I went with the 9.5 it would be too loose for some good heel hooking and edging. The pain is in the top of my toes
I would go to 9.5. I am a 13 street shoe and get 12-13 in Evolv. Hope this helps.
Exchanged it for the 9.5 today. Definitely runs small. The toe box was far too low volume for a fit that aggressive in the 9s. Looks like the 9.5 was too high volume. apparently I have the lowest volume foot ever. had to go with some 7.5 coyotes that are super hard to get into, but actually hold my foot in tight with some space in the laces. Very weird.
I have been climbing in pontas lace shoes for 2 years now. I had them resoled this winter. These shoes are a good blend of comfort and performance. Stiffer foot bed, rand, combined with sharp edges makes these shoes hold to micro edges extremely well. The sole rubber is soft enough to get really good grippy smears also. Seems like the sizing for me was the same as me street size.
For some reason I have been climbing in shoes with out stiff midsoles for a long time. And I predominantly trad climb on granite, which means standing on lots of micro holds. Why did I wait so long to get a performance pair of stiffer lace ups? These things are sick on the high end granite, it just made 5.12 trad climbing that much easier. Really. Not as good on the really steep stuff, as you can't really feel or grab the holds with your toes to keep your self from swinging off, but hey, don't the rest of you own like 10 pairs of climbing shoes for every different style of climbing and type of rock?
How does the fit/shape/sizing of these...
How does the fit/shape/sizing of these compare to the Bandits? I have a pair of the grey Bandits in size 10 that are fully broken in and I can keep them on my feet for 20-30 minutes of bouldering or up and down a long sport pitch before they start to hurt my feet. I'd like to find a pair of shoes that fit the same way. Should I stick with the Pontas in a 10 or go up to a 10.5?
I have the pontas lace in a 9.5. Mt street shoe is a 10. I feel like they fit perfectly.
Nice shoe: some sizing info
The lace up is a very good shoe; does all that everyone else here says it does. Stiff for edging and vertical climbing. But that doesn't add or help much, does it? Nah, the only reason I'm writing is to add some fit data for those considering the shoes. I use a 10 running shoe: in the Defy, good gym shoe, I use a 9. Also a 9 in the Pontas velcro, but 9.5 in the lace up. They all fit just about the same (which is odd), pretty tight, without pain after break in. Translation: you could go down a full size in the velcro but only a half in the lace up, unless your feet are less bumpy than mine. The velcro is much more an all purpose shoe than the lace up. If you're undecided, go for the velcro. Wipe them out when you're done and spray them occasionally with Lysol, and the smell won't kill you.
These shoes are great. You can stick to most anything you want with these shoes, great for edging. Even though they are synthetic they do break in over time for a comfortable fit. You'll want to make sure you do something to hold down the odor on these shoes after use. Start using those little deodorant balls that you can put in shoes from the get go. The heel doesn't fit like a glove for me, but I can't complain about it.
nice shoe. could be more aggressive
I like this shoe a lot. My last shoes were 5.10 galileos, which were also great shoes. I bought the pontas b/c I wanted a more aggressive (and more versatile) shoe, not unlike the Miuras. The Pontas are supposed to be Evolv's version of the miuras, with one advantage that the pontas are synthetic. Well, the miuras are way more aggressive that the pontas: they turn both in and out substantially more. I did get the lace-ups, and it may be that the velcro pontas are more aggressive than the lace-ups.
All that being said, I'm enjoying the shoes. They edge nicely (the toe box could be narrower), are firm enough to spread the pressure of small holds across the foot, and the synthetic upper is surprisingly soft/supple (almost comfortable).
The yellow is also a cool color.
This shoe is nice and stiff, providing excellent edging power, but less so with smearing--at least not till the shoe is broken in. The toe rand makes hooking easy and adds some stability and control for the steeps. I wear a size 8-9 shoe regularly, depending on the brand and type, as well as an older model Evolv Bandit in an 8.5 (with the XT-5 rubber). I got the lace-ups in the same size and it fits comfortably, not too snug. It comes with the newer eco-trax rubber which works just as well, however, there's varying reports about eco-trax soled shoes fitting just a bit looser than XT-5 soled shoes. Can't comment on this. One thing I do notice between the Pontas and Bandit is that the Pontas fits my foot better, no dead space like I got with the Bandits. Look into this shoe if you have a narrower, smaller heel or if your heel angle is not so sharp. One last thing...to all those complaining about the smell due to the synthetic leather: air out your shoes, wipe down the insides with a towel if you must to keep the sweat from lingering, and store with some old bounce dryer sheets or a bag of odor absorbing charcoal (can be bought at Home Depot, or similar stores) in it. Believe me, I've done this for over 3 years without any problems.
Hands down my favorite climbing shoe I have ever worn. Its edging is superior. It's heel is excellent. And it feels good. It sizes pretty true to your street shoe. Being lace up you can wear it a little more comfortably or tighten down and get that precision fit that you expect out of a high performance shoe. As long as this shoe is around, it will be in my quiver.
I have used the Pontas Lace up for grade V alpine big wall climbs, traditional cragging at the notoriously technical faces of Looking Glass, NC and on the overhanging routes at the Madness Cave in the Red River Gorge. The rubber is sticky, they give a SOLID edging platform, they fit very comfortably, and the rubber on the sides gives good protection in cracks. They are not as sensitive as their velcro counterpart, nor do they perform as well on overhanging terrain. I have made this shoe my first choice for techy trad and cracks.
Is the fit of this shoe similar to that...
Is the fit of this shoe similar to that of the velcro version
Yup, you can just crank em nice and tight with the laces for a more precision fit right down to the toe.
I've worn these for about a year now and they are definitely an amazing shoe for climbing slabs and overhangs. The rubber on the sole provides great edging support and the toe points nicely for precision footwork. But they do build up a funky smell if you don't air them out or even clean them on a regular basis.
These are great for edging but you can't smear in them at all.I have a very thin heel and these fit me quite well.The rubber is very grippy but wears out fast.They dont smell if you air them after use (dont leave them in your bag or they will eat your feet as with any synthetic boots) Mine smell like daisies:)

All in all a very good boot
I love these shoes. With the lace up u can make it tight where u want it like up in the front. These shoes edge great. But i agree with the person who said they smell terrible after like 2 uses. But overall a great shoe. Worth every penny
Friends, I'm convinced. Now to the sizing....
Friends,

I'm convinced. Now to the sizing. I'm a 10.5-11 in street, 44/10.5 in anasazi slippers (which I've resoled four times, and stitched, but they're done.) My sense is that the 10.5 is the way to go here. Thoughts? I can try on the pontas velcros, so I'm guessing they're similar.
you might be able to go down to a 10. I also wear 10.5-11 street, and 10.5 for the 5.10 galileo. I wear a 10 for these, and frankly could probably suffer through a 9.5.
It is a pretty stiff soled shoe, edges really well. The lace system is great, very fast and easy to adjust/untie. These shoes STINK like none other, you really have to make sure to let them dry out in the sun, evolv claims it is because they don't use harsh chemical treatments to keep odors down, so i guess it is a positive in that respect. Work well for cracks too. I use mine mostly as my gym shoe as the toe can be a little uncomfortable for long multipitch climbs, at least for my foot. Got to love the color.