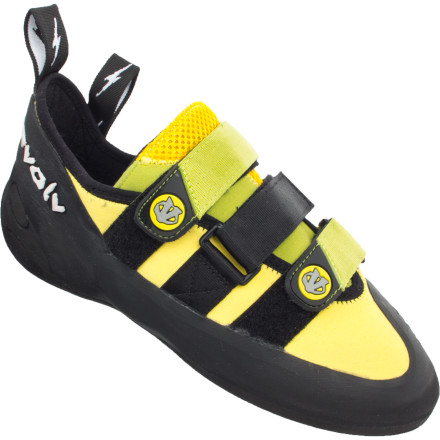 Description
From the mind (and feet) of a master.
The long-awaited Evolv Pontas II Climbing Shoe is finally here. With design input from the man himself, Chris Sharma, the Pontas II builds on a tried-and-true, aggressive profile for your more intimidating projects.
Triple hook-and-loop closure for a quick on and off without sacrificing performance
Ultra-sticky Trax rubber for 5.15 performance
Lined construction keeps this shoe from stretching
Designed by Sharma for his toughest sends
Get them before they're gone!
Familiarity:

I've put it through the wringer

Fit:

True to size
These are my all time favorite shoes. I am an Evolv athlete, and have put 3-4 pair of these through the wringer. The rubber is great. I have done climbs from 5.4 to 5.14a wearing these babies, and they are now discontinued. They stand on dime edges, heel hook well, toe hook well, can be used on slab, roofs, and anything in between. There is a reason Sharma swore by these shoes for so long. I wear a size 11.5 in Nike street shoes and size these at 11.5 for a more comfortable, but still precise and performing shoe, and 11 for standing on dime edges and sending harder rigs. It literally pains me that these are going out.
Unanswered Question
I wear a women's 7 in the Elektra, would that make me a 5.5 in this shoe since it's mens sizing? :) Thanks!
I am very new to the sport of climbing, specifically bouldering. I wear a size twelve street shoe, I am flat footed, and fat footed. After reading countless reviews and advice from stronger climbers I went with these bad boys in my street size. Way better than gym the shoes, better heel than the evolv defy, Similar fit to the defy, but a tad more aggressive, which is why I opted out of down sizing them. They did not take more than a few trips to the gym to break them in. Not too much give so far. No smell yet, I've been pretty consistent with powder for the foot sweat. I am in serious like with these, Thanks backcountry.
What will the sizing on these compare to the shamans? I've got a size 10 shaman right now.
I also have size 10 Shamans. I have size 9.5 Pontas IIs.
What's the sizing comparison between these...
What's the sizing comparison between these and the defy vtr? Also how much more aggressive are these compared to the defy vtr?
Compared to the Defy these are pretty aggressive. Like all aggressive shoes these will either work for your feet or they wont depending on the specific shape of your foot. I suggest testing these out in the size you would normally wear and tweak your sizing from there, and if you just can't hind a size that fits just right try a different shoe.



With aggressive shoes don't try to make it work, you are not doing yourself a favor with ill-fitting shoes.
First velcro shoe
Familiarity:

I've put it through the wringer

Fit:

True to size
I am normally a laces guy, but I figured I would give these velcro puppies a shot. They have a nice fit, I ordered half a size smaller and they fit super snug. After a while they stretched to perfection! I like how if my arch was bothering me I would loosen up one of the velcro buckles to take care of that problem. I was shocked at how tight the velcro held and their adjustability. Highly reccomend these.
This is a great shoe if it fits you well. I've had no issues with wearing the the shoe material, nor with straps breaking like i've seen on lots of sportiva muiras. i'm not the biggest fan of the rubber, but it did get sticker after a break in period.



i wish there was more velcro area to stick the strap to for a more dialed in fit. however, i haven't had any issues with the straps coming undone lake my last pair of katanas. adding the third strap from the original pontas is also a nice touch.



If your style of rad involves lots of steep and aggressive front pointing, this may not be the best choice.
Evolv Pontas II Climbing Shoe
Good all-around shoe
Gender:

Male

Familiarity:

I've put it through the wringer
The stretch was acceptable, but boy do they get stinky!

I've managed to tear the frontmost strap and partially wear through the metal too, so consider that if you're going toe/foot jam a lot.

Grip is decent, about what I would expect at this price.
pontas shoe
Gender:

Male

Familiarity:

I've used it several times
I bought and loved the first , original pontas, great shoe, surprisingly durable for what i was expecting, they lasted a full season in the gym and at ten sleep! unfortunately the shoe finally blew out, i immediately ordered another pontas this years edition, same size as before. The sizing has changed, i wore an 8.5 in the original, the 8.5 for the new shoe is closer to a 9.5, even with the added third velcrow strap the toe box and heel were too loose. majorly size down by half to a full size smaller for this shoe.
Love these shoes. Super comfortable and durable. Use these in the gym and out climbing sport and bouldering on mostly granite. Does well edging and smearing. Have held up extremely well. These are my second pair of Evolv's and both pairs have performed very well.
if i could only have one shoe
great all around shoe. way better than my Galileo 5.10. pointy toe and good backstepping power. durable rubber that seems to work better in warmer temps than most. nice deep heel without digging in too much.
The Pontas had been my go to shoe for about a year, and when I heard that Evolv was planning on redesigning it, I was worried. This turned out to be totally unnecessary because the pontas is reborn and better than ever. I loved the original pontas and sent all my hardest routes in them, but I did have a few gripes with the original, and now those are no more. The Pontas 2's heel fits even better then the original, with no bagginess, or slippage. Its also a touch stiffer and feels better on the skin. Also the addition of the third strap really helps pull the midsole up into the arch of your foot making an much more precise feel and removing all stretch that occurs in a well loved shoe, or even just after a long day of cragging. The edging is certainly as good if not better than the original, and the new VTR3D makes the rand all the more durable (not that that has ever been an issue with evolvs.)To sum it up I'm super psyched on the new design and I'm certain it will slay your projects regardless of the angle.
Hi, I own a pair of the old Evolv Pontas...
Hi,

I own a pair of the old Evolv Pontas and I love them. I want to try the new Pontas II and I wanted to know if they are comparable in there sizing?

thanks

Janosch
The sizing will be consistent with the original Pontas.
So I never climbed in the original Pontas, so I can't really make a comparison between these and the first version, but I have worn many, many different climbing shoes in 10+ years, and I've been quite a fan of these since I picked them up.

(For reference - I work as a routesetter and climbing coach, and have usually climbed in Anasazi Lace-ups for a stiffer technical shoe, testarossas for a steep sport shoe, and Speedsters (or the old school Mantra S, for those that remember it) as a gym shoe.)

The style of this shoe is flat and pointy, and it climbs very similar to other shoes in this category (think Anasazi lace-up). The three velcro straps work about as well as laces for tensioning the fit throughout the whole shoe, and the heel cup is decently deep and secure enough that my heel hasn't slipped out on strong heel hooks. Decent toe cap rubber over the rand for toe-hooking. If you have decent footwork and can place your toes well, I think this shoe will serve you pretty well on just about any terrain - while many new shoes are pushing the downturned toe as a necessity for hard climbing, these feel they will perform just as well on steep routes as on thin vertical routes.