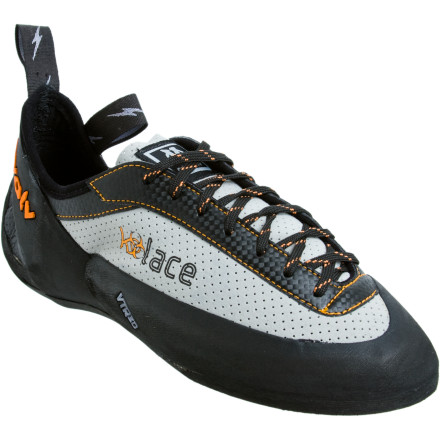 Detail Images
Great for indoor climbs
Gender:

Male

Familiarity:

I've put it through the wringer
Great shoe to learn with, worked well with indoors once used outside had hard time getting a good foot hold but over all would be a great indoor climbing shoe.
I wore these out twice and then sent em back. I got my normal climbing shoe size, after reading the conflicted reviews on this page, and found that size to be about a half size to big. I found the sole to be reasonably gripy outdoors, and somewhat lackluster for smearing in the gym. My biggest complaint was on all the extra room in the toe box. I felt like I had a lot more room there than was necessary, and I found it interfered with my edging big time.
funcional shoe, but way too small
I am a beginner, so I'm not qualified to say much about performance. They have worked for me in the little that I have tried to do, and I have not had any wear issues in the gym or on the rock. However, I ordered a half size up from my street shoe and they were too small. So I ordered another half size up and my big toe toenail is still turning black. So, I wear an 8 in many different brand shoes, and now have the 9's for this climbing shoe, and they are still way too small. I don-t know how they claim that these shoes are 9's. I would take a 9.5 but the right foot fits great, and the left doesn't, so I am switching to some Scarpa's I found in the same price range.
I am not sure what others are doing with these shoes, but i took the advice of the other posters and sized down a .5 size. I was swimming in them. I would order a full to 1.5 sizes down if they were available, but they aren't. shame, seems like they would be a good edging shoe for the money. Also, Evolves seem to fit a high volume foot best.
After two months climbing mostly in the gym, the sole is starting to separate from the lining on the sides and there is already a hole on the tip of one shoe. The lining material looks very crappy, not durable enough to think about getting the shoes resoled. I got them at 50% off and they were not worth the price I paid.

I preferred my previous Mad Rock Flash Lace shoes which were cheaper, but lasted longer and had stickier rubber.
The shoe was great for the first month or so of climbing then suddenly the rand at the toe separated from the midsole.
Decent, just really cramped
good basic shoe overall, good edge on the inside of the toe for gripping those tiny holds. solid construction. Only issue was that it runs about two sizes small. i wear an 11, so i ordered a 12 and it was still painfully small. Needed at least another size up.
Honestly, look elsewhere. I sized these true to my shoe size which ended up being the perfect fit. They edge decently and were advertised as a "technical smearing shoe" But these are not even close to durable. The soles were ripping off within one week of climbing at the gym. After 2 months, both soles have huge rips in the toes and the sole on my right shoe has almost completely separated from the shoe. Granted I do climb at the gym 14 or 15 hours a week. But even after just barely 30 days in them I knew there was no way they were going to last. Just pay a little extra and get a better shoe.
Good shoe all in all. Just under true to size but very comfortable for all day climbs. My only complaint is that the rubber seemed to wear quickly. The rock I'm on the most is like a cheese grater but I only got a couple months of casual climbing before the wear caused slippage.
Great shoe, especially when it's on sale! It does run small like every one says so order up a size. Other then that it's a great shoe. I do wish I would of gotten Velcro straps instead of laces since I do mostly indoor climbing
Great Price for a great shoe
I just got these in the mail and took them out right away. They feel nice and tight. I wear a size 10 street shoe and I ordered a 10 in these and it is really tight, just the way I like them. My feet are accustomed to tight climbing shoes so I can't say that they hurt but if I didn't climb so much, they probably would hurt based on tightness. Like a tiger.
I like laces on climbing shoes. Only potential drawback I can see is the laces are thin and will probably break before the shoe is worn out. Oh well, get new laces when that happens I guess.
Picked these up to get back into climbing after a few years of not climbing very much... I wear a 10.5 street and so judging from other reviews I grabbed a pear of the 10.5 k laces. They fit well but are definitely tight. I'm hoping they will break in nicely over the next few weeks and stretch a bit but so far they have performed very nicely.
I wear a 10 or 10.5 street shoe and originally ordered these in a 9.5. They were too small but as is always the case Backcountry took them back no problem. I ended up keeping the size 10 and they work great. The fit is breaking in nicely and they have really helped my foot work on the wall.
Great shoes with great edging.I wear a size 11 street shoe and I got a size 11 and it was a snug fit but not painful. I've only tried them indoor but they work awesome so far.
I would say The shoe runs about a 1/4 size larger than your normal climbing shoe size. I normally wear an 11.5 and its pretty close, but I bought this shoe at that size and its almost a little too comfortable. But I'm gonna keep 'em anyway as a long day/alternate shoe. I sent my old ones off to get resoled anyway. Otherwise a great shoe!
Awesome all around shoe. I wear this shoe everyday at the wall, and it is comfortable enough (as far as comfort in climbing shoes go) to wear it all day. Sizing is crazy hard though, I ha to size up to a 10.5 shoe, and I wear a street 10. Other than that it's great, love the lace to cinch in as tight as I want/need. Now I'm looking for a new pair of super aggressive to throw in the gear bag for a little more technical touch.
This is a good midrange shoe that specializes in edging. I bought it a half size down from my street shoe, and it gives me great edging ability; however, it's not a great crack shoe as a result. The synthetic doesn't stretch at all, so go either true to size or a half size down depending on how you want it to fit/perform.
well, i ordered these due to the price. i wear a 10.5 street shoe (vans to be exact), and i originally ordered 10.0 with these... i knew they would be too small but i wanted to start small. the ones i have now are 10.5. they fit well, but cheaper evolv shoes MURDER your toes. these ones fit well yet both my big toes are very bruised under the nail and 5 of my toe nails have cracked at the base... personally i dont care. the shoes are much more comfortable after climbing every other day for a month, but the toes still get the pain. if i had a size 11 it might help but i feel they would be a little too big. my buddy has the evolv quest-af shoes and he reports about the same for the toes.
despite the pain, these shoes do perform nicely. i've used them on granite and a little bit of indoors and have been happy with how they do. if it wasnt for the pain i would completely love them!
I have the Kaos II with velcro, but it's still pretty much the same shoe. The XT-5 rubber is quite good, I've only used these a few times so far but they are a huge step up above my old Evolv Defy shoes. I do wish I had gotten the lace-ups, but I found the velcro ones on sale somewhere. I'm a size 11/11.5 street shoe, and since my style of climbing isn't too agressive or anything, I just ordered a pair in 10.5. Which is when I discovered that my left foot is a tad larger than my right foot...
Still, great shoes, they hold their own against much more expensive shoes, and they look pretty nice too I think.