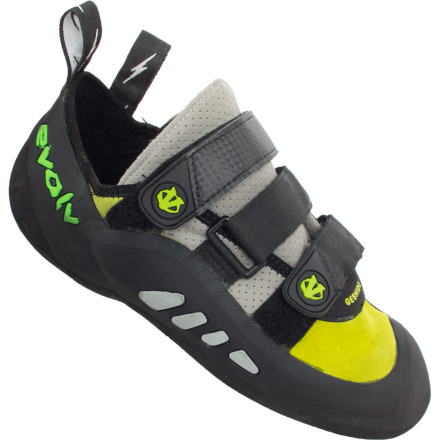 Detail Images

Videos
Another brainchild of master climber Chris Sharma, the Evolv Geshido SC Climbing Shoe combines all-around capability with discipline-specific aggressiveness. A downturned toe helps you gain ground on overhangs, while the Geshido SC's 'Love Bump' midsole fills in dead space under your toes for better energy transfer and control.
Multi-directional webbing structure secures the shoe from all sides and eliminates slippage
Three-strap hook-and-loop closure for convenience and security
Arched midsole supports your foot in a natural position
Super-sticky Trax rubber keeps you glued to tiny holds and desperate smears
I wear EU 36. I ordered EU 37. I wished i would have ordered EU 38.
Great shoes!
Familiarity:

I've put it through the wringer

Fit:

True to size
For last several years I used Pontas, but after I gave a try to a pair of these I wasn't disappointed. Fits well, the same size than my street shoes. Also it works better than Pontas on small sharp holds.
i'm a beginner and i'm looking for a climbing shoe with wide toebox.i've tried my friend's size 8 la sportiva tarantulace and it fits perfectly in my feet. i was thinking to buy a red chili, a bandit or geshido? what would be the best chioce? and what size is equal to size 8 tarantulace. thank you in advance
I would definitely go with the Bandit over the Geshido for your first pair of shoes. The Geshido look pretty aggressive and they would be great shoes, but if you want something that you can climb in and stay in for hours I would definitely go with the bandits. I love EVOLV shoes and I think they would last longer than the red chili shoes. However since these shoes are only $60 they would be great to get now and then when you're ready to give your feet a rough time but upgrade to something with better edging power then I would get these and the bandits.
I am a beginner, and climb and boulder mostly in a gym using rental shoes. I am thinking of buying a pair of my own. Which shoe is better for a beginner? Evolv Defy or Geshido SC? I hear a lot about how Defy's flat sole is better for beginners, but I wonder whether Geshido would be a more versatile option, bringing overhang problems more within my reach. Any advice will be appreciated. Thanks!
The Defy is a better beginner shoe. The Geshido is more aggressive and won't be as comfortble of a fit. Don't worry about a shoe preventing you from climbing "overhanging problems" as that is not the case. The better and stronger you become at climbing, the easier everything will feel. A shoe can help later on when you have a specific discipline you want each shoe for but as a beginner don't stress out about it.
I wear a W 7.5-8 street shoe and wear Womens size 7 in evolv rentals. Tried this in a 6 and couldn't even get the shoe on. Should I go up to a 7 or 7.5? Or even higher?
Hey Rebecca! I would go with size 7.0
Great all around shoe
Familiarity:

I've put it through the wringer

Fit:

True to size
I've been climbing in this shoe for about 1.5 years now and it's served me quite well in the time. I'm a size 7 men's and I got true to size, and it worked well for a while. However, I'm starting to notice that it's stretching a bit and it don't have the same level of fit as it used to. So be wary of that!
EXTREMELY SMALL
Familiarity:

I returned this product before using it

Fit:

Runs small
I usually wear EU 37-38, however, this shoes 40 is too small for me.... EXTREMELY SMALL... but good qulity if they have 41 in stock...... hehehehehe...
are these more or less aggressive than the defys? ive been wearing defys for 8+ years, and looking to upgrade. if i do 7.5 defys, any suggestions on the sizing of these?
Best Answer
Hey Jau,

These are more aggressive than the defys. The Defy has almost a flat sole compared to these. However the shape of the sole still provides enough versatility for all around climbing. Good on steep faces, but i've even done a few cracks in them. This is a great and natural upgrade from the defy.
sweet, thanks dan. did you keep the same size when you went from defys to these puppies?
Hey Jay,

sorry for the late reply. I actually had to size up a half size in the Geshido.
Does anyone know how these fit compared...
Does anyone know how these fit compared to the Predator G2s? I wear a sz 7.5 VTR, sz 8 Shaman, and sz 9 Predator G2 and I was trying to see where these fit in there. The Predator G2's were RIDICULOUSLY tight (I find the same comfort in my VTR as my predators and they are 1.5 sizes apart!) and if the Geshido are in the same boat then I will want to pick up similar sized ones. Thanks!
Best Answer
Null!! Those shoes are made of leather and synthetic. The fit will be really similar to the Shamans. They will break it similar too. I would go size 8 in these and give them a few trips out to the crag to break in. I have these now and love em. My street shoe size is 9 and got the Geshido's in 8.5. If you have any further questions on these you can always chat in to me or email me at skdavis@backcountry.com



GESHIDO AKA (GET SHIT DONE)
No way, I got mine a full size bigger before they would even think about going on my foot.


Null, get them a full size bigger than your street size, trust me.


Great moderate to aggressive shoe
Familiarity:

I've put it through the wringer

Fit:

True to size
This is my second pair of Evolvs. I chose these over the Shamans for the slightly less aggressive downturn. Great grip on overhangs, but you still have a little flex for more general situations.



My street shoe size is 10.5 and this size seems to work fine for me with these shoes and other Evolvs. The toe box was initially quite tight (especially on my left side where I have more of a Morton's toe); however, they broke in easily over the following weeks. The heel also fits quite snugly. Overall, they're very comfortable and I hardly have any discomfort during long gym/outdoor sessions.



With regards to the fabled foot stank... Evolvs have the tendency to start smelling more quickly. Having experienced this with my first pair, I got in the habit of spraying these bad boys down after nearly every session and airing them out as much as possible. This seems to have significantly reduced the build-up.



I'd say the biggest downside to these shoes is the rubber. Great grip, but low durability. I've worn the toe down a fair bit over just a few months. However, this is from 3+ days a week in the gym with outdoor time at least once a month. When I eventually resole, I'll probably get a different rubber.



tl;dr

Pros: nice fit, easy break-in, great grip, especially good for bouldering/overhang, very comfortable

Cons: relatively weaker rubber at the trade-off for very good grip, keep them sprayed/aired out after each use unless you're fine with the stank
great shoes
Familiarity:

I've used it once or twice and have initial impressions
These things are insane. they blow me away every time i put them on. i got them for a steal at a store near me but id say they are worth the $115. great shoes i highly recommend them. and im a size 11 shoe but these are around a size 12 shoe and they still fit great, oh yeah they have really good support for your heal also.
Small
Familiarity:

I returned this product before using it

Fit:

Runs small
I purchased these shoes knowing that this type of shoe is supposed to fit tight. After reading reviews I ordered the size that usually works for me , 10.5, expecting them to work maybe be a little big if anything. Needless to say they were outrageously small. They were almost impossible to put on. There was no way I could walk with them on. I exchanged them for size 11. These I could get on but barely walk with, it was basically unbearable, there was lots of pain in the toes. I thought my toes were going to tear the shoes apart they were soo curled up. I am now in the process of exchanging them for a larger size for the second time. I am seriously thinking about going a full size and a half (12) above my normal size (10.5).




First off, I love the fit of these shoes. Having some leather around the toebox allows for a little stretch where it's needed. I have a wider forefoot and a narrow heal, so the combo of non-stretchy synthetic in the midfoot, and leather up front was golden. I wear a 8-8.5 street shoe and a 7.5 in these for a tight but not uncomfortable fit.



Now the downside: The rubber of these does not last. I have used these for the past year or so, climbing in the gym occasionally and outside only a handful of times. So in all honesty these have not had a hardcore year of use, and still the rubber is gone at the toe with a nice hole taking it's place.



-Verdict- It's a nicely put together shoe and performs well with very little break in. However, that apparently leads to a shorter than expected life span. I am continuing to use them as gym shoes, but will probably not purchase again.
All-round-awesome
Familiarity:

I've used it once or twice and have initial impressions

Fit:

Runs small
Runs about a half size small. Other than that, this shoe is a beast. So far I've put it through overhang/roof climbing, some thin technical edging, and some slab, and it has performed very well. I think this will be my all-round moderate to hard sport shoe for a while.
Evolv Geshido SC Climbing Shoe
This was my first pair of Evolv and was a great choice. The downturn in the toe for sure helps when doing steep sport routes, but it does not limit you on less than vertical terrain. I now switch between these and the Shamans depending on the route angle. These shoes do stretch somewhat; when I got them my mortons toe was nearly jabbing through the rand but now they fit great. I wear a 13 street and got these in a 12 which was perfect. They have held up well I would say despite what other have said about Evolv quality. If you want something that truly does everything well grab these!
Pretty good shoe
Gender:

Male

Familiarity:

I've put it through the wringer
Fits a tad wider than the Shaman (I have to crank the straps on mine down to the point where I'll probably cut the last inch or two off them to keep them out of the way). The heel fits a bit better than the Shamans though. All around good shoe for gym and outdoor climbing. I wear street size 12 and that's the size that works for me in both these and Shamans.
Absolutely fabulous shoes. The "love bump" in the feel lets my foot curve agressively downward while still maintaining comfort and the triple strap design pulls my foot in to the shoe really well. The sole is thick and feels nice and durable. I could not imagine feeling more secure in these shoes.
First off: I wear a US 8 in Pontas (performance fit, but not crazy tight), and an 8.5 in the Optimus. I wear around a 8.5/9 street shoe.

I bought an 8.5 in these and I'm glad I did. At first, they seemed way too tight, but they felt great when I took them climbing. They are narrow in the toe box, so my pinkie toe gets pinched, but they're leather so I think they'll stretch out nicely. My other toes are not that bunched up at all and I can wiggle them freely.

These shoes are incredibly form fitting. The middle strap really pulls the shoe into my arch. When I press on a very small foothold, I feel like my whole foot is driving into the hold and not just my big toe. I'm a fan and I will be using these for bouldering until they stretch a little bit more, in which case I'll probably start using them for general cragging as well. I would love to check out some of the lace-ups.
desert tower base climbs in Moab, Utah