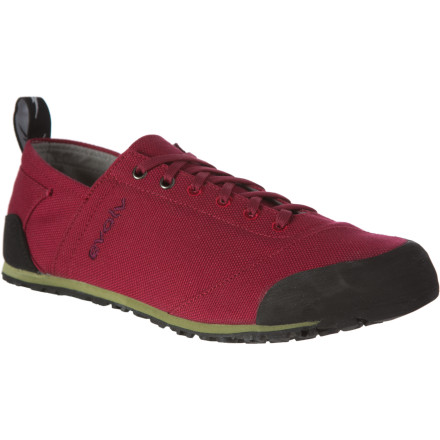 Videos

Community Images
Occupying that coveted gray area between rock, approach, and casual footwear, the Evolv Cruzer Shoe is a minimalist kick that loves to live life on the move.
Cotton canvas upper breathes well so your toes don't overheat during the approach
Moisture-wicking microfiber liner is barefoot-friendly for added convenience and style
Rubber toe and heel rands add extra protection against wear and tear
Thin, minimal drop EVA midsole ups the cushioning power while keeping the overall profile low and casual
Memory foam insole is like walking on the wisp of angel breath
High-friction Trax outsole allows for superior grip during your approach
Heel designed to fold down for use as a casual slipper
Heel tabs allow for easy attachment to a backpack or harness
Great, But
Familiarity:

I've put it through the wringer

Fit:

True to size
I love these shoes. They fit great. Super comfy with a fairly wide toe box but also snug enough that they dont slip around when your boulder hopping. They look really sharp and they are essentially toms with sticky soles. However, if you wear them barefoot, even once, they will smell so bad you'll almost want to throw them away. Seriously, I wear my five fingers and my vans barefoot and neither smell bad in the slightest. But, the cruzer stinks! I've even washed them twice. That being said, I just love the way they look, feel, and function.
Out with the old, in with the new!
Familiarity:

I've put it through the wringer

Fit:

True to size
This has been voted best minimalist shoe for a couple years now and it's obvious why. It's lightweight for long days trad climbing and easy to attach to your harness, or simply lounging around town. The backs of the shoe also fold down nicely for bouldering projects and crag days when you're switching between climbing shoes frequently, etc.

5 of 5 stars!

Also, the new cruzer Evolv "Psyches" are out now! They're bulkier for longer approaches but still boast all the favorite aspects I love in the original, but more durable and a hot new look. Stoked!
Great minimal approach shoes
Familiarity:

I've put it through the wringer

Fit:

True to size
Picked these shoes up last winter for a steal and have been wearing them for practically all climbing trips since. Great shoes for guys with big feet, barely notice them on my harness and sometimes they even fit the bag. The sticky rubber is great however you might want to avoid jamming too much, the canvas does not hold up the best. Also, expect your feet to ache on long approaches, unless you are use to minimal shoes. I wore them for an 8 mile trek recently and would not recommend it.
I tear through shoes like no other these are holding up pretty well but the tag on the back ripped shortly after I got them which was disappointing but as I said before I'm hard on my shoes.
I'm a girl and I wanted a low profile approach shoe so I bought these in a 7 (I'm usually a 7.5-8 in women's) and I love them. They aren't bulky like some other shoes can be but are still really grippy.
Unanswered Question
i wear 10.5 - 11 in merrell barefoot - any suggestions on sizing?
Awesome approach shoe
Familiarity:

I've put it through the wringer

Fit:

True to size
I love these shoes. They are light, have great sticky rubber which is super helpful for approaches and descents, look great and are very comfy.
I've had them for over 6 months now and I am keeping an eye on the websites to see if they go on sale again so I can get the second pair.
To echo some earlier reviews, they are not super durable. The rand on my shoes is fine but canvas on the outside of both shoes has worn out quite a bit.
Still, I'd give them 5 stars. They make my approach life much easier and they are light enough to clip to a harness on a multi-pitch and not feel the weight.
Also, love the stretchy shoelaces and collapsible back of the shoe!
Cool shoe, but not very durable.
Gender:

Male

Familiarity:

I've put it through the wringer

Fit:

True to size
Well, I've worn these shoes all over the southern Illinois sandstone crags for a year now so I suppose that it's time for a review.

When I first got these shoes, I thought they were the bee's knees. In many ways, they still are. They're nice and minimalist. The rubber is super sticky and great for scrambling, and running around the crag. The stickiness combined with the light weight makes these shoes feel very agile. It's definitely possible to climb some easier climbs in these as well. The fold down heel is definitely nice for back at camp or anywhere you don't need the shoe firmly on your foot. They're great for hiking, cycling, and wearing around town as well. The split tongue is a very nice touch and is much more comfortable than the usual style tongue.

However, these shoes are definitely not the most durable. Within a month the toe rand had started to detach from the canvas in a few spots on each shoe. At this point, the toe rands are held to the shoe only by super glue. The sole on these is also quite narrow, to the point that part of my heel hangs slightly over the edge on the inside. Within four months at the most, a few holes had developed in the canvas. about six months in, the stitching near the heal had started to blow. At eight months, the stitching was completely blown on the inside heel of the left shoe and the heel rand as well as the sole have begun to detach as well. At 1 year in, these shoes are used mostly for hanging around camp and quick trips to the store. I think though, that another round of super gluing will keep these shoes together for at least another 6 months and may lead me to start wearing them more regularly again.

Overall, I really like these shoes. They're great for what they are, and if you can get them on sale, I would definitely recommend these shoes for wearing around the crag, hiking, cycling, and just great all around outdoor shoes that you can also wear around town. If you're doing some more serious adventuring, where you need to depend on one pair of shoes (besides climbing shoes.) these may not be the best choice due to the durability issues.



My go-to casual shoe and approach shoe
Gender:

Female

Familiarity:

I've put it through the wringer

Fit:

True to size
First off, if you plan on wearing socks, size up a half size or more - these puppies fit snug.

That being said, I wear these everywhere; I've basically given up on wearing normal shoes for my trips around town because of how comfy they are. The soles are very grippy. I've been wearing them for a few months and they've held out pretty well, with no split seams. They do tend to get smelly and attract dirt with prolonged use, but that's a minor complaint. I definitely intend to buy a second pair in the future.
bouldering
Familiarity:

I've used it once or twice and have initial impressions

Fit:

True to size
Hello, are very comfortable to boulder and approximation shoes I use it a few times, the inside is soft and padded. I am very happy with them.
Cruzer
Familiarity:

I've put it through the wringer

Fit:

Runs small
Here's the quick and dirty.

Cool shoe. Good urban look. Great traction. Hike. Bike. Scramble. Ramble. Sole is super thin and flexible. Makes the feet tired on long hikes. A couple seams have blown out. Love the fold down heel. Easy to slip on and off in camp. Great for those late night restroom trips. The canvas is lined, so they are warmer than you would expect. I waxed mine with some otter wax so they wouldn't soak up too much water. Smash them down flat to put them in your bag, or wear them almost anywhere. When these ones reach the end of their life I will purchase another pair.
better wear socks
Familiarity:

I've put it through the wringer

Fit:

True to size
I bought these for a quick on and off shoe around the house and for approaches. While I actually really like the shoe after about two weeks of wearing with no socks, they smell insane. Not sure why I thought they would be any better than evolv climbing shoes in that regard. However if I would have worn socks every time I might could have avoided this issue. Already moving these from my casual shoe rotation into a hike/climb only shoe. Fit is good. I think it's true to size, but does run on the small side. Narrow last and fit.
Slip them on when your just heading to the gym or lace them up tight to make some steep approaches at your local Boulder. These can do it all and they are really comfy. Fits true to size but if you want them to be a little on the looser side you may want to go a half size up
Evolv
Familiarity:

I've used it several times

Fit:

Runs small
SWEEEEET SHOE! I wanted to try out a more minimalist approach shoe. So far these is doing great. Super easy to slip on. Waaayyy grippy. I like these quite a bit more than my five ten guide tennies. I got the red, looks great. They are just a little bit small. The heel folds down which is super cool. Overall great, buy them.
Awesome versatile shoes.
Familiarity:

I've used it several times

Fit:

True to size
These are lightweight, comfortable, and versatile. Though I initially purchased with the intent of using them solely as approach shoes, I find myself wearing them everywhere. They're cute and easy to slip on when I'm in a hurry.

The rubber is super sticky, which is awesome when I'm rock hopping and scrambling up approaches.

The only downside I see to these is that the rubber is not non-marking, so they occasionally leave black streaks on the floor. However, the black marks easily come off the floor, so it's not much of an issue.

I am generally a women's size 5-6 street shoe. Since these are men's sizes, I got these in a 4. They're tight but fit well.
Perfect relaxed fit
Familiarity:

I've used it once or twice and have initial impressions

Fit:

Runs small
I just received a pair. I'm all iced in texas. Early today I took a walk And slip all over the place, so as soon as they arrive I walk the same icy slippery roads (6 blocks) of sleet and the traction of the soles are impeccable. the fit feels a lot like your typical toms, highly breathable with max comfort and plenty protection.

Note: order 1/2 bigger they are a true size fit.

They are super light, perfect for small hikes and perfect for camp base after the trail.


As I've mentioned before these sneakers are sticky enough to climb in... Yesterday while setting I found they were super comfortable while jugging and swinging around the climbing wall as well.



Surprisingly they have held up to the abuse I put shoes through!



I'm very happy with these kicks. Highly recommend!



*Pic-Route Setting in one of the better, more comfortable approach shoes I have owned.
Seriously comfortable
Familiarity:

I've put it through the wringer

Fit:

Runs small
I was so sad when I saw these weren't in my size in the women's version, but have no fear! I ordered a small enough size in men's that they worked out PERFECTLY! I am obsessed with these shoes, I wear them all the time, even just on walks around the neighborhood. They are seriously comfortable. I may need to order another pair.

I sized up 1/2 size, to accommodate room for feet swelling while hiking, as well as since everyone has said to size up, and they fit perfectly! I wouldn't recommend these for any serious approaches, but for just hiking to the local crag they are great, and so lightweight!



Highly recommended! And Ladies, don't be afraid to order a men's shoe if it comes in your size :)
Great Shoe
Familiarity:

I've put it through the wringer

Fit:

True to size
These are a great shoe. Incredibly light, comfortable, and have held up pretty well. I originally bought them just for the approach to one of the local crags, but now I wear them anytime I'm hiking anywhere. They're a solid shoe that make it really easy to walk just about anywhere.