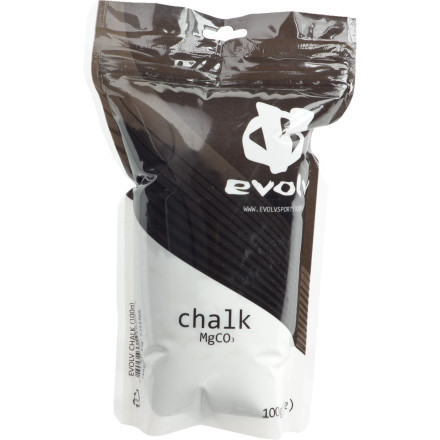 Don't let a little sweat rob you of your send. Dry off with some Evolv Chalk and send your project with ease.
I've refilled the bag!
Familiarity:

I've put it through the wringer
CHALK! Soo no noticeable differences between this stuff and the BD Gold or the So ill Perscription chalk. I personally prefer the cheap So-Ill stuff or the Melolius Super Chalk, but the bag here is still a great purchase for reuse. I've personally refilled the bag time and again with extra chalk for a daytrip or weekend trip to the crag due to the easy pouring.



The chalk starts out rather chunky, but crushes easily into fine powder really similarlly to the Black Diamond stuff.
Works great.. Love how the bag has a nozzle that makes pouring super clean. The bag is pretty sturdy too so you won't be tearing it.
Great Bang for your buck!
I'm primarily a boulderer, and definitely like to use a lot of chalk because my hands sweat a lot. This chalk is definitely a great deal deal, and fits my needs excellently. I bought the 300g bag, and after filling my chalk sock twice, I've only used a small fraction of the bag. The twist off cap is also a nice feature, and makes filling my chalk sock much easier. The chalk also lasts much longer than the Metolius chalk I used to use. I can knock out one or two good length problems before I really need to chalk up again. The only downside for me, is the fact that the chalk is really fine, and every squeeze of the chalk sock puts a lot of chalk on your hands. While that might not seem like a problem, it bothers me a little because I like to have a very full chalk sock, as I have big hands and like to be able to squeeze it a bit while I chalk up. Thats really a minor flaw, and I am perfectly happy to overlook it. I just have to top off my chalk sock a little more often, but I've got plenty of chalk for that.
It's, well, chalk
Gender:

Male

Familiarity:

I've used it several times
It does a good job keeping your hands dry, and it's fairly long lasting. Not much more to say about it than that.



At the moment I just use it at the gym right out of the bag it came in, the 100g works well for this, not sure how well the screw bags would work. Works like a charm.
Sweet Chalk, Awesome bag.
This is really everything that I look for in chalk, it keeps your hands dry and sticks to your fingers well. I really like the screw top bag, it makes it really easy to pour chalk into your bag with out spilling everywhere, like most ziplock type bags are prone to do.