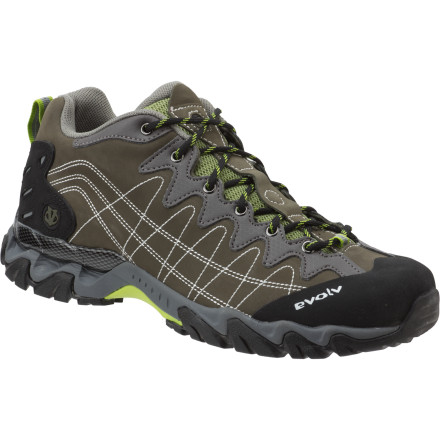 Minimalist approach kicks might be just fine for a quick out-'n-back jaunt to a nearby slab. But when getting to promised land requires a little more gear, a bit more determination, and a bigger investment of time, reach for the Evolv Captain Shoe to take you there and back safely and in total comfort.
Nubuck leather upper stands up to abuse and shields your toes from jagged roots, rocks, and talus on trail
Rubber toe and heel rands add extra protection against wear and tear
Compression molded EVA midsole ups the cushioning power
TPU heel stabilizer provides extra support
Full shank provides lateral and torsional stability for extra stiffness that doesn't add weight or inhibit your foot's natural flex
High-friction Trax outsole allows for superior grip during your approach
Wanted to Like it...
Familiarity:

I've used it once or twice and have initial impressions

Fit:

True to size
First of all, this is the Capitan, not the Captain, as Backcountry would lead you to believe. I was looking for an approach shoe that was stronger as a hiker than a climber/scrambler. (I think this is the first question one has to address when looking for an approach shoe. Where do you want your shoe to perform on the hiking/rock-climbing spectrum?)



It's actually quite comfortable out of the box. The sole is fairly rigid initially. The synthetic outer appears to be well stitched and I have no doubt this shoe is bullet-proof, as other commenters have attested. Despite this, the material looks cheap, but I think this is mostly aesthetic.



The problem arises after wearing the shoes. If you're walking in a straight line you wouldn't notice it, but when I planted and did turn (like you'd do scrambling up a mountain), I felt this edge on the insole. I took the shoe off and looked. Sure enough, the insole is cut very narrow, essentially leaving a considerable gap within the shoe where your foot can "fall off" or create hot spots. This is a deal breaker for me, but you could always replace the insole with a better one. The second fault I found with the Capitan, is the rigidity of the sole lasted all of about 1/2 a day with indoor wear. I think with a heavy pack and any substantial incline, the easy give of this shoe would cause some decent foot pains. Finally, the tread isn't Vibram, which I'm okay with, but it is kind of slippery and plasticky.



All in all, the price is good, but in this case you get what you pay for.
This shoe is great. You can approach in it, boulder, hike, or just wear it around town. Super comfortable and stable great for any need, looks good too. I ordered a half size up from what I generally wear. I have nothing bad to say about these things so far.
I bought these to replace a pair of 5.10's that I had had for several years. I loved the traction provided by the 5.10's, particularly on slickrock, but they were never super comfortable. The Captains, on the other hand, seem to be the best of both worlds. These have become my go-to shoe for canyoneering and all around hiking. For an approach shoe with legitimate midsole cushioning they also edge surprisingly well.
Climb or hike, why not both?
I got a pair of these over the winter and have since worn them for everything from hanging around, climbing El Cap or scrambling in the Sierra.



These are a great approach shoe or hiker for more substantial missions than a quick jaunt to the crag. You can put the miles down in these things, and climb in them too. I have worn them for soloing lots of easier climbs like Cathedral Peak in Tuolumne and love them for that. I would say they excel as a hiking/approach shoe (which is what they were made to be, no doubt, not a true approach and climb shoe, check out the Bolt for that).



Overall, the design is really nice, I do wish that the toe rand extended about 3 or 4 inches farther back on the outside edges, this is always a problem on shoes for me. I do so much climbing in my approach shoes that this is always a weak spot.Despite that, I definitely recommend them.
I have had this shoe for about a month now and have used it multiple times climbing in Joshua Tree. It works perfectly as an approach shoe over some pretty scketchy approaches. The shoe fits true to size, is very comfortable and grabs the grainy rock in Joshua Tree like glue. I would recommend this shoe to anyone looking for a good approach shoe at a resonable price. Backcountry had it on sale and they were great on the shipping. I had it in just a few days.
I got this shoe for the long approaches to my favorite climbing crags and I haven't been disapointed. From jumping through talus fields to mud and snow these haven't let me down. Great grip and good anchle protection I love these shoe for any kind of terrain.
running around the cliffs
Excellent traction on rock, snow, or wading through rivers. Breathable yet rugged construction, fits well in aiders, and stands up to heavy blows removing loose choss. Even stood up to bits of slag from welding in the shop. Excellent shoe, good for expeditions!