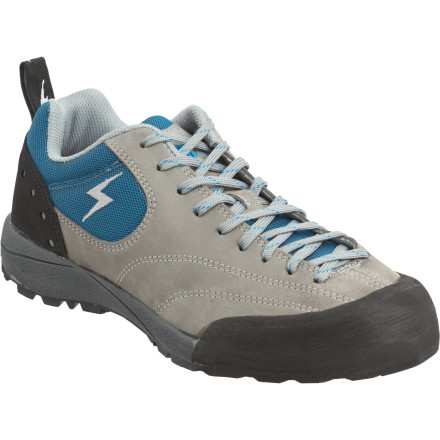 Videos

Community Images
Designed to help you navigate winding approaches, take you through difficult scrambles, and lead you back safely to post-climb watering hole, the Evolv Bolt Shoe is a well-cushioned chassis for those who are livin' the life.
Nubuck leather and ballistic nylon upper stands up to abuse and shields your toes from jagged roots, rocks, and talus on trail
Rubber toe and heel rands add extra protection against wear and tear
Trail-running last adds extra comfort while maximizing precision
Compression molded EVA midsole ups the cushioning power
High-friction Trax outsole features an edging platform for extra confidence on tricky terrain
How is a proper fit supposed to feel? Are...
How is a proper fit supposed to feel? Are my toes supposed to brush the toe box? Do these tend to run large, small etc.?
Best Answer
Redairline,

A proper fit for an approach shoe should fit similar to your standard running sneaker, comfortable w/o too much wiggle room. If you're looking to use it for climbing easier routes or technical approaches/descents you may look to have a snugger fit, but don't want to size down as much as a climbing shoe because you'll sacrifice comfort for the hike in. Evolv tends to run small/true to size for an American shoe company. For comparison, in approach shoes I wear La Sportiva 44, Five Ten 10, and Evolv 10.5.
Has anyone used these for urban climbing??...
Has anyone used these for urban climbing?? I was originally. Going to get the mammut chalk shoe but they are sold out in my size

Second question, are they comfortable to run in?
If sized for climbing it wouldn't be very good for running. The soles on these are also pretty stiff even taking quite a bit of break in before I could wear hiking or walking beyond 1-2 mi. Initially the cupped heel and very supportive fore foot would cause blistering. After break-in I've enjoyed on approaches/hike off and for 5.8/v3 climbing
I am hard on shoes. I hike a lot, I climb even more. In the Sierra I love wearing a pair of shoes to get to a climb, and then climbing it in that same pair of shoes. To do this you need a shoe that is comfortable enough to hike in, but can actually climb. That's where the Bolt comes in.



I would compare the bolt to the 5.10 Guide Tennie, but this shoe is far more comfortable than the flat bottomed and archless guide tennie. The bolt is more durable too, in my opinion.



This past spring I climbed a hard aid route in The Black Canyon (La Visage, VI 5.10 A3+, the A3+ being a laughable sandbag). I wore a pair of these because I knew that I would have to go from aid climbing to free climbing and needed something on my feet that could do both. These things were perfect. I could stand in the aiders and have the arch support needed to keep my feet from getting smashed, and I could step out of the aiders for some hard, scary 10- free climbing.



So the bottom line, this is the shoe. The large toe rand helps the shoe last longer (I always wear holes in my shoes before the soles are even close to being worn out, the toe rand is key).



I would recommend these shoes to anyone who likes to approach, scramble and climb in the same pair of shoes.
This shoe is perfect for anyone who wants a comfortable durable shoe. I use these shoes everyday for route setting and I have been so happy with how they preform. I spend a lot of time on my feet and I have been impressed with how comfortable these shoes are. I also climb in them a lot and the edging capability of these shoes is great. I also love these shoes for hiking the rubber is sticky and they even hold up well to the dirt and grime. I recommend these shoes for everybody!
When I'm in the back country hiking through thistles, loose rock, and rough terrain, these shoes stand the test. Comfortable, sturdy, quality construction. The improved toe box stands up much better in the harsh environments and does not de-laminate like other shoes!
I wore Sportiva Exums for a long time and was bummed when they started manking with the design. Evolv is my go-to climbing shoe, so for approaches .... why not? Glad I did.

The sole is super tacky and climbing around on rock makes you feel like you've got velcro down there. There are no little suction cups on the sole, so there's some sticky black magic going on down there. They shed mud better than my old shoes too. They fit a little wider than the Exums. That's a huge bonus for most of us 'mericans that don't have skinny-ass Italian feet.

They're not flashy unless someone with a headlamp is walking behind you at night - they have a cool row of reflective dots on the back. So far they've held up to a decent amount of abuse. Definitely exceed my expectations. You won't be disappointed.

Oh, almost forgot - used these to bike in the other night - waaaaay stickier on the pedals than my normal biking shoes.
This shoe is really, really comfortable and really nice for a lower-top approach shoe. The rubber is awesome--haven't even thought twice about twisting my ankle on sketchy terrain! I generally prefer high tops, but this provides a ton of support for longer approaches. On a similar note, it keeps your feet dry when you have to hike through some snow. I'm a women's 6.5 and I wear a 5.5.
This simple, well-built, comfortable shoe easily competes with some of the market's classic approach shoes. A very neutral shoe, it doesn't try to twist your foot into any weird positions, and it is comfortable out of the box. The sole is very sticky. I've had a pair for a few months now and (in addition to "approaching,) I have generally abused them. My boyfriend also has a pair - he's been building trails, cutting down trees, bolting routes in them - and they seriously haven't shown any wear yet.
Started using these about a month ago, and thus far they are holding up solidly. Much lighter than initially expected from an approach shoe, but solid construction and the materials are tough.

Nice level of stiffness in the front portion of the shoe an a low-profile toe that works well for jamming into cracks. On a trip to St. George a few weeks ago, I was able to warm up on mid 5.11 sport routes in these before putting on my climbing shoes.
I have worn this shoe almost exclusively for around 2 months now and a super psyched on it. Apart from a sole made of the super sticky Trax rubber, the Bolt has no real bells or whistles but is simply a comfortable, and solid light hiker. I'm exceptionally hard on my approach shoes, I wear them on the longest hardest approaches, to school, route set at least 3 hours a week in them, hike, do yard work, and even climb. Oftentimes this continued abuse wears a shoe down fairly quickly, however the Bolt takes it all in stride. Within the time I've had them I've route set for a bouldering comp, done multiple long approaches in varied terrain (mud, talus, trails, and snow), walked for 2 and a half weeks around Italy, and done some light climbing (up to 5.11a)in addition to walking around campus, walking my dogs, and one or two mountain bike rides. After all of this the Trax Rubber sole (the same rubber that's put on evolv's climbing shoes) has shown NO WEAR, and if this has the same durability as evolv's climbing shoe I'm sure the'll hold up to anything else I throw at them. If your looking for a light do it all approach shoe check 'em out, you won't be disappointed!
Really surprised how good this shoe is for the price. Fits great, sticky soles have great hiking traction to. Seems pretty bomber and should hold up well.