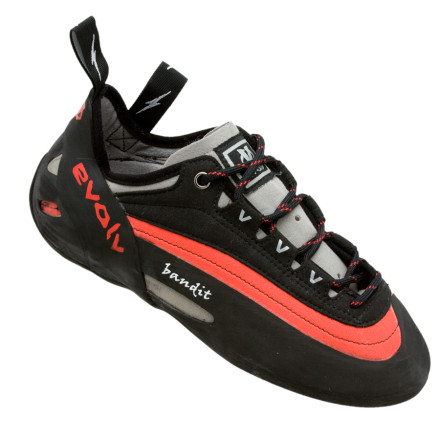 Detail Images

Videos

Community Images
From dime-sized edges to splitter cracks to high-angle jug hauls, the Evolv Bandit Climbing Shoe can do it all. The Bandit features a full-length speed lace that gives you a precise fit with a single pull. Webbed side panels help reduce excessive stretch and provide added lateral support.
Synthetic upper reduces stretching to keep this shoe from outgrowing your foot
Padded tongue for increased comfort in cracks
Ultra-sticky Trax XT-5 rubber for security on the thinnest holds
Stiff half-midsole for increased edging performance
Fit and Function
Familiarity:

I've used it several times

Fit:

Runs small
I hate to say it...BUT....you get what you pay for. These are junk.

Poor fit. They are WAAAAAAY too small. (And I like tight rock shoes.)

They lace up strange - they bunch up in the toe. Maybe it is my foot?

Junk. Love BackCountry - always 5 stars for them. This shoe is no good.
Great shoe very comfortable!! I wear a size 10 street shoe, and i have 11.5 bandits and they fit perfectly!

the Bandit
Familiarity:

I've put it through the wringer

Fit:

True to size
I ordered these as a beginner shoe. I read a lot of reviews and noticed everyone says your feet sweat and they smell. This is extremely true. I sweat a lot as it is climbing and this made it crazy moist down there. I had to take them off every couple climbs. After that ravishing review I would like to say that these shoes do do a great job for beginners, the edging is not bad and they have good grip on walls and outdoor rock. I climb a lot of hard and soft sandstone and in the winter months I climb indoors. If you are looking for a good value for your money these are a great shoe.
Evolv Bandit Climbing Shoe
Love it
Familiarity:

I've put it through the wringer

Fit:

True to size
I worn out my first Defy and finally bought Bandit as my second pair. I'm so glad I did! Sizing is true to the size, doesn't stretch much after 3 months of use. I love the edging precision, the hard midsole allows great edging and putting body weight on my pinky toe or big toe. This is definitely a good step up from Defy, still comfortable after several climbs, the material inside doesn't stink up after a sweat session! The lace up system is super fast and convenient. I get in/out in seconds. To be honest, I will consider getting another pair of bandits later.
How do sizes run-European or US?
How do sizes run-European or US?
Best Answer
The sizes are in US.
What is the aggressiveness of this shoe?...
What is the aggressiveness of this shoe? It looks like it would be slightly more aggressive than the Elektras, but not insanely for someone who is still a beginner. I've climbed in shoes that are rather flat, and a little aggressiveness would be ideal.



Also, I'm always either a size 7.5 or 8 in casual shoes, and so far in rock climbing shoes as well. I'm a size 8 in Evolv Elektras, so would I probably be the same size in this as well?
These are quite a bit more aggressive than the elektras but they're not designed for extremely overhung terrain. They're a good all around shoe, extremely good at edging. Will really excel in the gym as well. They do not have a lot of feel because they are so stiff. This isn't necessarily a bad thing if you are confident in your footwork, but many times this works against beginners because they don't have the muscle memory to know exactly where their feet are. As far as progressing to more difficult terrain, there's not much that these shoes wouldn't work on. There's plenty of 5.14 climbers using these as their daily shoe. The edging power can build a lot of confidence. You can stand on anything comfortably with these.



I've owned about 12 pairs of shoes in the last 20 years and these are the only ones I had to size up, which I needed a half size larger than my street shoe. I would go with the same size as your elektras. They're not going to stretch a lot so what you have out of the box is pretty much what you're going to have down the road.
what's the difference compared to the...
what's the difference compared to the geshido lace?
Best Answer
The difference between those two is the Geshido's have a higher asymmetrical curve which provides more power and edging and is great for overhangs/roofs. The Bandit is also made of synthetic material where as the Geshido's are leather. The Leather will stretch out much more when broken in and sythetic doesnt' really stretch at all. I personally prefer leather, I really like the feeling of a shoe that naturally molds to my foot. Both are great shoes but the Geshido's are just a little more aggressive.
Couldn't be more satisfied.
Familiarity:

I've used it once or twice and have initial impressions

Fit:

True to size
Firstly, I'll say that this is my first pair of climbing shoes, so my only basis for comparison is the rentals at the local gym and the 5 other shoes that I tried on there and at a local outdoor supply store. Obviously, they are better in every respect than the rentals. But also, I was very disappointed in the other shoes I tried on at the store. They all seemed very poor in quality compared to these (even though they were fairly popular and similarly priced shoes). The fit was uncomfortable and didn't feel secure. When I did size down enough for the others to feel secure, they felt unnatural and painful. These seem to find just the right happy place in-between. Toes are slightly knuckled up (but that's to be desired, as I understand), but there are no places in which it feels painful or prone to lead to injury. Also, the construction quality of these shoes seems head and shoulders above the others. In particular, I was considering the Red Chili Durango and the 5.10 Rogue Lace. Both of those seemed poorly built and prone to come apart. These shoes feel rugged and built to last. Typically, it's probably desirable to wait until I've climbed in them to write a review, but considering my complete lack of skill and very little experience, I wouldn't really have anything to gauge them against, anyhow. So, let me just say that I can already tell these will give me the proper foundation upon which to build my technique. If I'm having problems with my climbing, it'll obviously be my lack of skill and no fault of these wonderful kicks! Also, concerning sizing, they feel true to size. I had read too much about others downsizing and was beginning to drink the kool-aid, so I originally ordered them in a size 8.5 (I wear a size 9 casual shoe). A few hours later, I began to have misgivings about my choice, so I jumped on chat with one of the wonderful customer service folks here and they easily switched my order to a size 9. I'm extremely glad I did that!
Solid grip
Familiarity:

I've put it through the wringer

Fit:

True to size
Every step up feels solid. Toe box was a little tight when new, probably just my foot. Stretched a bit, fits snug now. Also I have these in 3 strap Velcro. Great shoe. Highly recommended.
Have been climbing for more than 20 years and these are one of the best all around shoes I've found. Lacing system is amazing. I prefer these to anasazi laceups and muira's just don't fit my feet. Tried a few and I ended up going up a half size, which I will admit isn't typical of climbing shoes. As stiff as these are, and as little as they stretch, there's no reason to get some masochistic size. I think you could still stand on dime edges in a pair that is 5 sizes too large.



These shoes edge amazingly. Haven't used them in cracks yet but they should excell. Not a lot of feel due to the sole thickness and stiffness, but I consider that a positive if you're confident in your footwork or just need an edging masterpiece. Extremely comfortable, I could wear these all day long. Very impressed so far.
My first pair
Familiarity:

I've put it through the wringer
I've been using these shoes since November 2012 and they really do edge well. They're also very comfortable. I just wish I got it in a half size smaller because it stretched a bit. Tightening the lace well does the trick though. I'm buying a downturned pair but I will definitely be keeping my Bandits.
Stoked on these shoes!
Familiarity:

I've used it several times
killer shoes, bought them a 1/2 half size small and they fit perfect. comfy enough to stay in them for multipitch and still got that snug fit for tougher routes. Solid rubber and thin enough to feel that rock but enough comfort that my toes dont feel like their dying like some my buddies. and yes they still hurt after awhile but id expect that if u want a solid fit.
Evolv Bandit Climbing Shoe
Only size 13 is on sale?!?
Only size 13 is on sale?!?
Yeah, it sucks. They are likely trying to get rid of previous seasons and/or outsize overstock.
I've been climbing everyday for almost seven months in these shoes and they have held up great. very little indoor climbing on them. after about 5 months the rubber wasn't quite as sticky and my arms became pumped faster. size accordingly as they will loosen over time, not much, just to a comfortable fit. The stiff sole is great for begginers and have used them on many technical 11's and 12's. Great shoe with great performance. My feet stink in most shoes, I have sweaty feet. :/ But have not noticed much smell in them at all.
I climbed in these for two months, at a beginner level (5.9) and no more than twice a week, strictly on the plastic rocks and both toes split open about ~1/2in. I also hate how bad Evlov's start to smell fairly soon after you break them in, due to them being synthetic. It's just unfortunate that they got trashed so quickly since I think they would've been a great outdoor shoe since they are very comfortable and easily stick to whatever you want them too, however since the edges are rather rounded the edging in them wasn't as good as I had hoped for.
How do these differ from the K-Lace?
How do these differ from the K-Lace?
The Bandit has a stiffer midsole and a different lining.
Per Evolv's website:

K-Lace II:
Asymmetrical toe profile (KA-1 last)
SOLE:
4.2mm TRAX® XT-5 high friction rubber
RAND:
2.2mm TRAX® duro-rand
UPPER:
Perforated elastic Synthratek synthetic upper
LINING:
Perforated cotton lining
MIDSOLE:
MX-S 1mm sensitive, full-length midsole

Bandit:
Asymmetrical toe profile (KA-1 last)
SOLE:
4.2mm TRAX® XT-5 high friction rubber
RAND:
2.2mm TRAX® duro-rand
UPPER:
Perforated elastic Synthratek synthetic upper
LINING:
Microfiber lining
MIDSOLE:
MX-P 2mm stiff full-length midsole

If you like sensitivity and feeling the rock better, I'd get the K-Lace's. Otherwise, I've heard better things about the bandit's durability, but I feel like it's mostly subjective anyway, climb what you like. Also, the shape of the two shoes is different, most noticeably in the heel.

Goodluck!