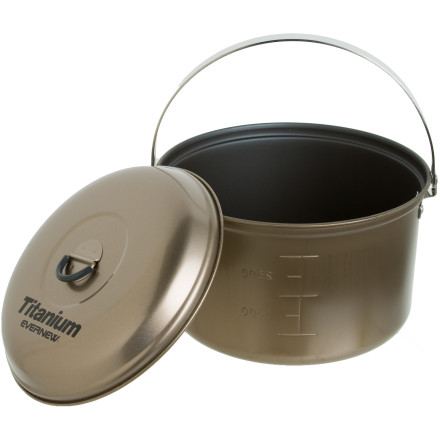 Detail Images

Community Images
It's not that you want your camping buddies to be jealous. But, there is something kind of exciting about seeing their envious glances as you pull your Evernew Titanium Non-Stick Pot from its nylon stuff stack. Titanium is stronger than your buddy's stainless steel cookset, and it weighs less than your other friend's aluminum set. And, they're really going to turn green when it comes to cleanup; the silicon and ceramic non-stick coating makes cleaning easy, and it's a healthier alternative than ingesting Teflon.
What do you think about this product?
Have questions about this product?
evernew 1.3 liter pot, msr xgk, emory pass nm
Pick of fire
would this pot be good to use for a openfire...
would this pot be good to use for a openfire cooking pot. I am looking for a pot to set directly in the fire on backpacking trips
dont know but wearing it on your head after a night of drinking might be ok