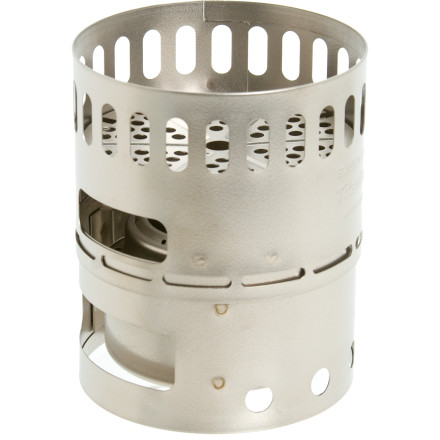 Detail Images
Weighing in at just over 4 ounces and rocking the ability to burn alcohol or solid fuel, the Evernew Titanium DX Stove Set makes other backpacking stoves seem like antiques made of lead. Two stands, a plate for converting this stove from liquid to solid fuel, and a jetted alcohol stove all nest within each other to comprise this compact package. With no moving parts to break and a simple design, you'll spend less time wondering why your flame is all smoky and more time playing Iron Chef by the trail side.
Bi-level jetting of the stove canister creates a tall and stable flame that burns with consistent power
Pot stand gives the stove protection from the wind while creating a platform for a small pot to sit above the flame
Turbo plate slides into the pot stand to allow the use of small solid fuel found around the campsite
Fuel capacity of 70ml (2.4 fluid ounces) allows for enough burn time to boil water in a single sitting
All of my back country cooking revolves around boiling water for coffee, and the freeze dried pouches. The Evernew Ti DX Stove Set works perfect for this. Outside temperature was 25 deg. F, with 5 mph wind ~ it boiled two cups (.5 liter) of water, with under 1.5 ounces (45 ml) of 180 proof ever-clear grain alcohol for fuel, in about eight minutes (using homemade foil wind screen). I use a Backcountry Ti 700ml pot, the stove set and wind screen fit comfortably inside, and the whole set up is very lite (stove and pot under 8 oz). I am a big fan of using alcohol stoves as the whole idea is Eco Friendly, from the manufacturing of the fuel to the end use out in the field. The DX stove Set is a bit pricey but it is well built and with care should last a lifetime. The stove set is advertised as a three fuel stove, I performed a test outside at home using small twigs about the size of my little finger and smaller, and to my surprise it worked very well too. If I ever run out of fuel on a trip and have to rely on natural fuel I'll write an update to this review at that time. I uploaded a photo of the set up in use.
EVERNEW Titanium DX Stove System
Sponsored Athlete Justin Lichter (AKA Trauma) is showing how to operate this stove system