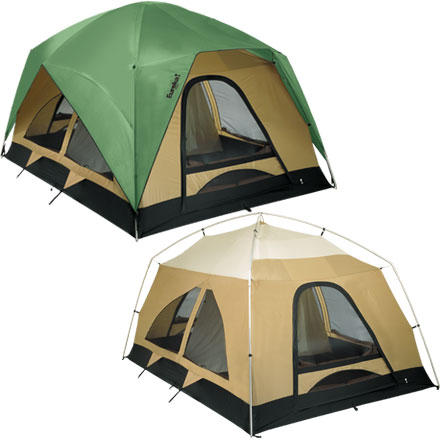 After you pitch the Eureka Titan 8-Person, 3-Season luxury family tent, divide it into two rooms for some privacy or leave it open to enjoy all 128 square feet of space. Get the most out of your tent space with the side wall pull outs. Six extra large windows keep breezes flowing through this tent but protect you and your family from splashing rain. Set the Titan 8 up in a snap with the Eureka hub and color-coded roof panels. This car camping tent is Eureka's best-selling luxury family tent and gives you durability and a massive amount of usable space.
My original Eureka Great Western tent.
In July of 2011, I was on vacation on the Androscoggin River in Northern New Hampshire at the Mollidgewock State Park Camground. Towards the end of the week I was beaking down camp and packing my vehicle to go home. I had taken the tents stakes out of the ground and rolled the tent on it's side to wipe the moisture off the bottom as I have done for the last 22 years that I have had this tent. There was vertually no wind at all and then suddenly there was a micro burst of powerful wind of about 40 to 50 mph. It ripped the tent right out of my hands and picked it up in the air about 20 feet and blew it out into the middle of the river where the water is 30 ft deep. I tried to rescue it with my canoe, but, it had filled up with water quickly because the windows were opened and I couldn't move it in the current. It sank to the bottom in about 15 minures or less. I just put a Eureka Titan tent on lay-a-way at Hilton's Tent CIty in Bostom, Ma after seing one on display. I was very impressed at this tent features and quality.
Had this tent set up for two weeks in Arkansas Devil's Den State park. Rained (down poured) all night several times. Stayed completely dry. Even had a "lake" under the tent when we tore down. Except where cot legs where. no water!!!This is an amazing tent. Only downside was it needed the rainfly to come out a little further over door to help keep you dry coming in and out in the rain. We really put this tent to the test and it held up remarkably well. Also have used it in FLORIDA winters and stayed comfortable in 40* weather.
This tent is so easy to setup! It also fit 2 queen mattresses and a twin mattress along with all of our bags for 5 people. I would highly recommend this tent to anyone that is looking to upgrade to a higher quality tent.
Where can one purchase replacement poles...
Where can one purchase replacement poles (along with any info on current prices). Thank you.
Best Answer
hi,

That's going to be something to take up with Eureka directly. Here's a link to question #5 from their FAQ page that tells you all you'll need to know about contacting them and the process.

http://www.eurekatent.com/detail.aspx?id=43#question5
Write your answer here...call eureka and order an aluminum pole for under $50. Or if the pole is not bent badly, you can bend it back into shape, carefully, using your weight against the pole after clamping or bracing it.
I am interested in purchasing this tent...
I am interested in purchasing this tent but can't find out how the "side wall pullouts" work. Help!
See the little triangles of tan fabric on the sidewall? They pull the side walls out a little when you take/guy them out so that you "get the most out of your tent space."
No it's gold with a black floor and around the side bottom with a green rain fly. A GREAT tent. You won't be sorry if you purchase this tent. Worth every penny.
Unanswered Question
How well is this tent's ventilation? I...
How well is this tent's ventilation? I noticed there are no ceiling vents which I thought was strange for such a high quality tent and wonder how well the "high/low" vents in the doors will work without them. I'm planning a Northern CA beach trip in August (70-high 80's weather) and any help would be appreciated.
We bought the Titan because of the size. It fits two cots plus luggage in 1/2 of the tent. The other 1/2 fits two blow up twin mattresses. This half also has an asile and fits our luggage nicely. You can stand and walk around in the tent. Checking on the kids at night is a breeze. The side with the two air mattresses could fit another twin air mattress. But then you couldn't walk as easily.

We had rain the first night and we stayed dry. We moved camp sites and put our tarp down at our new location and it was still wet. We put the tent up anyway. The water never came threw the bottom. When we took the tent down 3 days later the water was still on our tarp but not in the tent. We also bought the Eureka Northern Breeze screen house. Expensive but worth it!
This tent is $449 at campmor.com: Wht spend...
This tent is $449 at campmor.com: Wht spend an extra $240 here???
It;s out of stock anyways.
How much did you spend for shipping and handling? I have a Eureka Titan on Lay-a-way at Hilton's Tent City and there price is $471.00. When I have it paid off in March, I'll just drive down to Boston and pick it up.
The Eurka website http://www.eurekatent....
The Eurka website http://www.eurekatent.com/p-88-titan.aspx lists the MSRP as $549. Whats with the $689 price here? Don't think I'll being buying anything at backcountry.com..........
Best Answer
Get over yourself. Why post twice? Don't you understand that since it is out of stock they have not updated the pricing? Try getting a no questions asked lifetime guarantee from those sites. If you buy it from BC you can use it for 10 years, destroy it, and then return it for full refund. Who signs their message Frugal consumer? That's Lame.I agree. Plus it's a crappy tent. Don't buy it anyway.
I love the tent. Got it from Amazon.com
It's (the Titan) not a crappy tent by any means. I have had many tents of all sizes and shapes and the best tents that I have owned have been made by Eureka and Coleman.
Hi. Do all the windows of this tent zip...
Hi. Do all the windows of this tent zip up? I plan on bringing it to Burning Man this year.
All windows are able to be closed to keep the elements out.
They have a double zipper on each window and door and they completely close up tight.