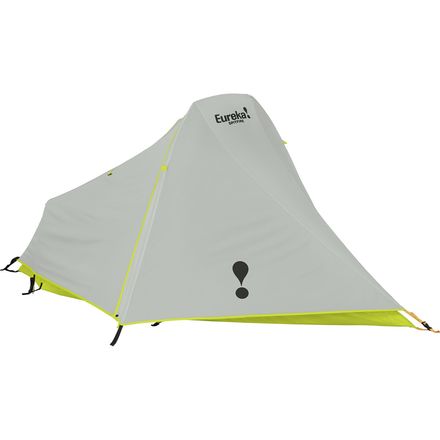 Detail Images

Community Images
A little alone time it is, and the Eureka Spitfire 3-season, 1-person tent is an easy choice for fast-and-light solo travel that won't zap the bank account. It has a little more room than most solo tents, so you don't feel like you're stuffed in a coffin when you're getting some sleep or staying out of the rain. Lightweight aluminum poles reduce the overall weight, while the hoop-style design make set-ups super easy. When the skies are grey, throw on the PU-treated rain fly, and when they're clear, enjoy a bug-free sleep under the stars thanks to the no-see-um mesh canopy.
75D polyester taffeta fly (1800mm)
Polyester taffeta walls with no-see-um mesh
75D polyester taffeta floor (1800mm)
One door
One-person capacity
2lb 12oz trail weight
Two-pole hoop design
Internal storage pockets
Nothing better for the price.
Familiarity:

I've used it once or twice and have initial impressions
Is rarely you can find a lightweight and quality tent for this price.
To be bluntly honest i was a little concern but again the price gain me over. I had multiple solo tents from msr, north face, mountain hardware and other brands , more expensive and heavier.
The trail weight of the tent is 2lb and 7oz lighter than the MSR Hubba which retails 3 times the price.
The interior of the tent is big enough for a 6'4 person with room to spare on the side for additional items and you can fully sit up thanks to the 42" interior height.
The mesh provides plenty ventilation for no condensation just make sure the tent is properly taut otherwise the fly be directly on the mesh above your head. The side entrance roll up mesh panel makes a difference since the vestibule is not large enough for cooking but the design on the fly allows you to insert a trekking pole by releasing one of the clip attachments creating an awning under the rain.
I had this tent under 6" of snow with all guidelines attach and had almost no condensation inside and no damage to the 8.8mm poles. (thats really impressive for a 3 season tent)
This tent is a super bargain...the only con is the one way zipper at the entrance which if you are not careful will get stuck in the interior flap.



Does this tent come with a footprint?
Hey Nate,



A footprint is not included with this tent. It is sold separately.
Good lightweight solo tent
Familiarity:

I've used it once or twice and have initial impressions
My previous solo tent was light and convenient but had a peak height of only 28" which made sitting up impossible and getting dressed inside a bit of a chore. So I was looking for more height and this tent provides that with room to spare - easy to sit up in and to get dressed. I'm 6', 160 lbs. and there's plenty of room for me and my gear. Haven't been through any storms yet, but the quality appears to be good with nice even seams, smoothly operating zippers, and secure attachments for the stake pullouts and pole clips. So I expect it to hold up well over the years. The roof vent that can be adjusted from inside is a nice touch - can be left open normally but closed if wind-driven rain should start to come in. Comes with steel pin-style stakes which are both heavy and not very secure in loose soil so I've replaced them with a pair of aluminum triangular stakes for better holding power at the tent ends and very light titanium pin-style stakes to hold out the fly.
Great Solo Tent With One Caveat
Familiarity:

I've used it several times
I've had this tent for about six months and have used it four times in Fall and Winter conditions. The two most important criteria for me when I purchased this tent were weight--I wanted something less than three and a half pounds--and peak height. While there are plenty of solo and two person tents that weigh less than three and a half pounds there are very few that have a peak height of 40 inches or more. By the time I had whittled my list down to two tents it was between this and the Big Agnes Angel Springs UL 2. (I know, they're not really comparable tents, but those were the two I was considering.) The Spitfire 1 won out in the final analysis because it offered everything I wanted at a price that wouldn't make me feel bad if I used it once and then put it in the garage sale pile.

Bottom line: I love this tent. At three and a half pounds it met my weight criteria. With a 40 inch peak height I could actually sit up and still have an inch or two of spare headroom. In a compression sack it squishes down to the size of large loaf of bread. For a non-freestanding tent it's pretty easy to set up. There's just enough room for me and my gear and I haven't had any condensation issues or leaks in everything from sub 20 degree nights, rain, sleet and snow. The verdict on long term durability remains to be seen, but the tent appears to be well constructed and I haven't noticed any separating seams or undo wear. After four trips--and I do use a footprint--the tent still looks brand new.

The one caveat is that while it has a very generous peak height for this class of tent it isn't very long. At 5' 8 I'm a short guy and if I was much taller the length would be an issue. If you're 6 feet or taller then I'm pretty sure that your head and feet would be touching at the ends. Having said that, if you can live with the length and you're looking for a lightweight solo non-freestanding tent this is an outstanding value and I think it will likely give you many years of good service.
Here is how the I had the tent place on the rack. It isn't the smallest tent when rolled up, but it also isn't very heavy or super huge. Can compare the size with the bike or the Z-Lite Pad next to it. Everything fit in the bag plus the footprint that I got extra, so I has a little bit of room for the sloppy mornings when you don't have the energy to get it perfect.
This was the morning after our first night of bike touring through Kanarraville, UT. Sleeping bag fits great with a pad, some space above the head and below the feet, and plenty of room by the shoulders to more around a little. The screen door rolls up and can be held in place, same with the fly so they get out of your way and make getting in and out easy.
Welcome to my abode.
Familiarity:

I've used it once or twice and have initial impressions
If you are looking for a 1 person tent that is light and also comfortable, this is the tent for you. It packs up small, has a solid construction and does exactly what I need it to do.

Setup
This tent is a breeze to set up and goes together quickly without any issues. The clips for the poles are so easy to use and you don't have to worry about ripping those little sleeves that are always such a hassle. Well not with the Spitfire! Only two curved poles, a few clips and then the stakes for the ends and bam! You have a tent set up for that coma that you so badly need after that long day of riding or hiking. The fly is nice because it has clips on the end so it will actually clip right to the tent and the straps on the ends are even color coordinated with the straps on the tent so you don't have to worry about putting it on the wrong way.

Construction
Of course this tent doesn't feel like a super gnarly canvas tent that will last forever, but for how light it is the construction does feel really solid. The seams are tight, the zippers feel solid, and the straps and poles are great for keeping the tent in place and solid. I did buy the footprint, which unfortunately backcountry.com does not have available, but that is something I would recommend to help preserve the life of the tent.

Size
I have looked at other 1 person tents and I liked how tall this one is without adding a lot of extra weight or sacrificing build quality. I am 5'10" and I fit great in the tent and still had room at my feet for some extra clothes and above my head for some snacks or goodies. The shape is great because it is wide by your arms so you can have a little room to move around and more narrow by your feet where you don't need as much room. Being able to sit up in the tent was great and I never felt claustrophobic inside.

The mesh pockets on the inside are great for those things that you want to keep off the ground or you want to always know where it is. The colors are great, true to the site, and make it easy to see inside and help bring in the light to make it not feel like a cave. Using the rope and stakes that came with the tent help keep the fly far from the edge of the tent so you can stay dry when the rain does fall.

Super stoked with the tent and I'm excited to get out and use it more.

So far so great, but only time will tell how it will hold up.
is there a fast pitch option for the Spitfire1?
Best Answer
Yes, it can be used as a fast pitch tent.
is the Spitfire1 free standing?


Best Answer
No, it must be staked.