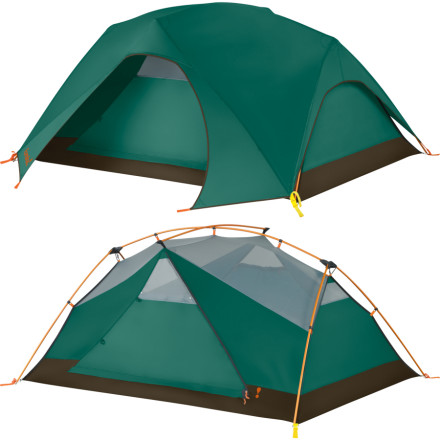 Eureka utilized its proprietary Sequoia A-Frame (strong like bull) and spreader pole configuration to make the Forte SQ 2-Person 3-Season Tent super-duper-ultra-crazy-tough. The Forte makes a solid little castle for areas of high-wind and lots of precipitation.
75D polyester taffeta floor, walls, and fly are lightweight and strong
40D polyester no-see-um mesh roof and side panels provide ventilation
Use fly, footprint (sold separately), and poles for lightweight shelter
is this tent to take while hiking. like...
is this tent to take while hiking. like odes it fold up really easily and small let me know
It's a completely standard backpacking tent. You should stuff it in the sack, because they you don't get weakness from folds. Other than that, it's not particularly light, but then again, it's cheap. Check out the Kelty Salida. It won Backpacker Magazine Gold award because it's over a pound lighter than this for about $20 more.
this tent was cheap and still made it through its first season in one piece. will be using it again next year. I use different anchors with it and lay a tarp down for a footprint. pretty light and simple which is what I like.
Hadn't been in a wash yet, but a shower and wind didn't cause any issue. I got the footprint and might fast-pack with it for Turkey weekend....
This photo shows the "XT" version of the...
This photo shows the "XT" version of the Forte SQ 2 tent with a closed vestibule. Is this the tent for sale or is the photo wrong?
Best Answer
Spoke with Customer Service in Utah. Was advised that description is wrong. Price is for the "XT"