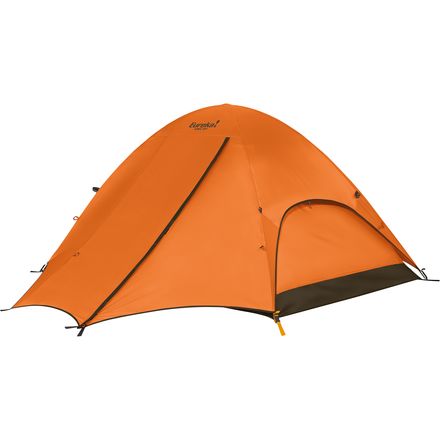 Description
Take the Apex, and go camping.
Campers on a budget know that Eureka packs plenty of quality at a price that is likely to induce singing and laughing. The Eureka Apex 2XT 2-person, 3-season Tent features a waterproof fly to shed wet weather and comes with fiberglass poles for ease of setup and added weight savings.
Stormshield fly and bathtub floor are made from waterproof material to keep the elements out
No-see-um mesh keeps bugs out and increases air flow
Two large D-style doors let you easily get in and out from both sides and ensure that there will be no tripping over one another to go to the bathroom
Two fiberglass poles help keep the weight down and provide essential support
Clips and post-and-grommet assembly make setup a breeze
Two interior storage pockets keep headlamps, glasses, and water bottles within easy reach
Vestibules let you get your and your buddy's stinky gear out of the rain
Footprint sold separately
Easy & Durable
Familiarity:

I've put it through the wringer
I've brought this tent to several camping trips and a few festivals across the country. This tent has had intense wind storms, rain storms, and drunk people almost falling on it. Setup is so easy you can do it by yourself, and it compacts really well.
easy up/easy down
Familiarity:

I've used it several times
on a windy but dry night in the desert outside of Las Vegas, setting up wasn't an issue, but I did worry about the rocky ground and if I'd get any sleep due to side wall flapping. Neither were an issue, and the gear nest areas inside the tent were a super nice feature.
Camped out in the cold, rain and wind
Familiarity:

I've used it several times
As it turned out, my first night in this tent was the perfect night to test it out. It was cold (in the 30's), windy and rainy. I slept in this tent all night and stayed dry and warm in my sleeping bag. This tent has 2 vestibules (one in the front and one in the back) and easy access to both, considering that there's also two doors.



What I really love about this tent is that the doors are mesh, but the meshing on the doors can be zipped shut or left open if you need ventilation. This is a 2 person tent, but I'm just using it for my own personal use, and so it's great that I can store my gear in the back vestibule with easy access, and therefore it doesn't get in my way upon entering or exiting.



I only have one gripe about this tent (if you want to call it a gripe), and that's because I wish the meshing on the roof could be zipped closed like the doors. But I knew about this before ordering, and so I'm fine with it. If you need to close the roof meshing (which is covered by the fly anyway so it's not a big deal) all you have to do is slide a space blanket or tarp inbetween the top of the tent and the fly and that would keep some warmth from escaping. But then you'd be faced with the possibility of condensation building up inside your tent. So actually having the mesh ventilation is a good thing, I just wish it had a zipper like the doors.



Overall great tent. The service and shipping time at Backcountry.com is also excellent. Highly recommended.
not for backpacking
Familiarity:

I've put it through the wringer
This was my first tent. I mostly used it for solo motorcycle tripping. I made the mistake to take it hiking, it was one heavy tent..



The tent has held up well, and is roomy enough for two people, makes for a good car camping tent now.
Eureka! Apex Series Tents
This tent withstood 35 mph wind gusts in utah this past week, I was impressed. It was bending hard but not breaking.
Picked one up the other day because of a good sale and im jacked to try it out. Its much roomier than what I used to use. I set it up already and it was easy and fast to do. I like that there are 2 large doors on each side. I dont know how it performs yet but I am confident it will do the job.
will take a beating
Gender:

Male

Familiarity:

I've put it through the wringer
i own own the older model apex xt 2 man tent and I am telling you, it has served me from the Midwest thunderstorms, in death valley, snow at the grand canyon, many many days at Yosemite, and 15 years later it's still my primary tent. still never a drop of rain on the inside. not only is it waterproof, it's durable and will last for years. then new one looks even better with a larger vestibule. I don't have a footprint just use a plastic tarp I cut to size in 1997 and still use it.
Not Recommended
Gender:

Male

Familiarity:

I've used it several times
Ahh, i baught the apex a year ago, and just like with other cheap tents the water proofing coating only lasts after the first rain, used it numerous times, and everytime i woke up soaked from condensation even tho i have all mesh open and vents open.. I now have upgraded to the Marmot aura and its amazing and bombproof. But for the price on the apex, expesially on sale.. This is a decent amature tent. gets 2 stars for that
What's the temperature range for this tent?...
What's the temperature range for this tent? And is it waterproof?
3 season tents don't really do a whole lot in terms of warmth, most of your insulation depends on your sleeping bag. Yes, it is waterproof.
do these tents require a footprint?
do these tents require a footprint?
Best Answer
Hey there, no tent REQUIRES a footprint, they only help in the life of the tent; that being said I usually buy some Tyvek house wrap from the Home Depot/Lowes/etc and cut it to size as a foot print.
I have always loved Eureka Tents because they are easy to set up and are overall great quality tents! I love the dual vestibule and the 2 big doors on both sides. The 2 pole system is mandatory for me. Be careful with with the fiberglass poles though. I've had them break on me in the past. If that happens just contact Eureka and they'll send you a new one! :)
This tent is what I wanted
I purchased this tent after using a Eureka Solitaire one-man backpacking tent. I didn't like the one-man tent at all. It was like sleeping in a coffin, and no room whatsoever for any gear. I upgraded to the Apex 2XT shown here, and I am very glad I did. I laugh at backpacker nazis who are so gram-conscious that they have to have little one-man "escape pod" tents because they weigh a pound less and take up an inch less room in their backpack -- but to each his own.

I use the tent for kayak camping. I have very little precious room in the kayak to bring everything I need for a 2 to 3 day journey, but I opted for a two-man tent just to have room to sit up, and have a little room for my gear. With this tent, I have the perfect amount of room for my backpack, my clothes drybag, and my self-inflating bed roll. Anything else that needs to be kept dry can go into one of the two covered "vestibules" this tent offers. The vestibules are pretty handy to have, especially in cold weather. I actually fired up my little sterno camp stove in one of the vestibules, and it heated the tent to a warm and cozy temperature within minutes. While I wouldn't recommend leaving it on for very long, I was able to open both mesh doors and heat up the entire rainfly enclosure with the stove, then put it out and close up the tent. I was warm all night.

The tent is very easy to set up, as it only has two poles. Those two poles clip into place, as shown in the picture. I like clips much better than the cloth sleeves used in early tent models. The rainfly is "color-coded" to only go on one way, and if you look at the above photo you will see what I mean. Each corner of the tent has a nylon webbing buckle, three of which are black and one is yellow (as shown above). The rainfly buckles to these straps, and one corner has yellow webbing. Just align the yellow corners together and the rainfly fits perfectly. This was an excellent idea, and works well.

I love these tents that have two doors. I can get to both vestibules easily, and during hot weather I can open the mesh portion of the doors for fantastic ventilation & visibility. The rainfly doors roll back to allow full visibility from within the tent.

Inside there are four mesh pockets for storing items - one pocket in each corner.

I purchased this tent from a local shop, but Backcountry has it available for the same price as I paid. If I had to make the purchase again, I would probably go with the Marmot Limelight 2 only because I really like that tent. But this Eureka tent seems just as good and less expensive.

I do not have any complaints, or anything I really don't like about the tent. It is lightweight and is easy to set up, and stayed dry for several nights with one night/day of rain. It is orange, but more of a nice pumpkin orange and not bright UT ugly deer hunting vest orange.
I've used this tent for one season now. It held up well to moderate wind and rain. It takes about 5 minutes or less to set up with one person or two. 1 minute to take it down. I'm 6'1'' and it is long enough and has plenty of room for 2 people and some gear or a dog. The vestibule is big enough to hold 2 full large packs. It's hard to get to the vestibule zipper when it closed because you have to crawl halfway out of the tent to reach it, and if you don't stay low, you'll have a nice wet, cold back from the morning dew. I also don't like how the zippers are arranged. One is along the bottom, the other along the top arch and side. They come together at the corner, which does not create a completely insect proof zip. I haven't had any problems with bugs, but I also don't bring food into this tent. A ground tarp is a must for this tent. The bottom doesn't feel strong enough to hold up to rocks and roots. I couldn't find a footprint anywhere online so I just cut a piece of visqueen and it works well. I'm happy with this tent for what I spent on it, but I don't expect it to last as long as a similar, more expensive one.
Looks like a nice tent. I ordered it for an upcoming hiking trip. Had to return the product because it is not 5lb 6oz or 6"x18.5" packed size as stated in the specs. It is 6lb 5oz and 7x24.
I was a little iffy on the described weight so an extra pound put me over the edge. Backcountry is great though and issued a RMA no problem.

I will be looking for a 4lb tent.
Does anybody know if the Eureka tents have...
Does anybody know if the Eureka tents have fottprints?
Best Answer
Eureka does make footprints for their tents and has one for this one tent,
Backcountry.com just doesn't stock them.
If you are having issues finding a footprint that BC does not carry, you can try here. I got my Eureka! K2XT footprint here

http://gofastlite.com/
http://store.eurekatent.com/2-2xt-footprint-apex-scenic-pass