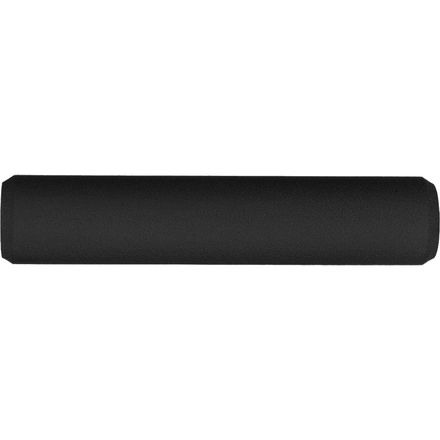 Colors
Description
Get the edge.
The seemingly magical properties of silicone grips have made them popular items in endurance racing circles, and you're able to thank ESI for starting the trend. With the Racer's Edge Grips, ESI has brought that smooth ride and all-conditions control to those of us who prefer thinner grips.
ESI's grips are built from silicone for a host of reasons. Chief among them is the vibration damping that silicone provides. Basically, these are much more effective than a standard grip at canceling out high frequency vibrations, which ultimately leads to numbness and pain in the hands. It's especially noticeable during long rides, but the benefits will be apparent every time that you hop on your bike. Silicone is grippy stuff, which is good news, because that grip works in both directions. As a result, the grips are secured not only to your hands, but to your handlebars as well. In fact, when installed per the instructions, these grips stick firmly to handlebars, even in the rain. And naturally, they provide a solid hold for your hands, regardless of sweat or dirt. Better yet, because silicone has memory, these grips will break in to the shape of your hand, providing a custom-fit that gets better the more that you ride them.
These grips are offset, which means that they're slightly thicker on one side than the other. So, when installing them, make sure that you have the thicker end facing your palms, and the thinner end underneath your fingers. This will ensure maximum vibration damping, while still providing a direct steering feel. The Racer's Edge grips are fairly thin, and work well for riders with smaller hands, or those that simply prefer thinner grips. Riders with larger hands, or those who prefer thicker grips, will be better served by the ESI Chunky grip.
The ESI Racer's Edge Grips are available in one size and in the colors Black, Blue, Green, Red, and White. Please note that we advise referring to the included instructions for correct installation.
Addicted to these grips!
Familiarity:

I've put it through the wringer
These are my go to for my MTB's. Great dampening and comfy. I've been careful not to drop the bike as I can see that they might be susceptible to tearing- but so far they have held up great!
Great grips!
Familiarity:

I've put it through the wringer
These grips are light, comfortable, and most importantly, grippy. They are easy to install and I love all the different colors they come in. My grips lasted about a full season.
Comfort and performance at its best
Familiarity:

I've put it through the wringer
The grips are extremely comfortable and stay in place perfectly on your handlebar as long as they are installed properly. I recommend using either a little rubbing alcohol or soapy water to make them slide on smoother. They may move a little right after you first slide them all, but once the liquid dries they should stay in place really well. Be careful crashing however, as they might rip if they get caught on something. I have still managed to get these grips to last a whole race season which was pretty sweet, but don't expect them to last much longer than a year because they eventually tend to rip.
Great set of grips
Familiarity:

I've put it through the wringer
After three years of racing and riding with ESI grips I have never thought about switching to a pair of lock on style grips. I have spent considerable amounts of time with both the racers edge version and the chunky and enjoy both. The simplicity and comfort that ESI brings to the table is second to none. The installation and durability is not like lock on grips, but the advantages these have far outweigh the occasional downsides.
Simply the best
Familiarity:

I've put it through the wringer
I have used these grips for a couple of years and each ride they impress me even more. Not only do they absorb the shock like no other, but they are super comfortable, and stay grippy when wet. The race style fits perfectly. I was super impressed with how they felt. I recommend these grips to everyone!
A nice pair of grips
Familiarity:

I've put it through the wringer
A lightweight pair of grips that are easy to instal and allows you to have great grip while riding or racing your bike. Comes in a large assortment of colors and trim levels to match the rest of your bike!
Set and forget
Familiarity:

I've put it through the wringer
Having to worry about your grips rotating on your bars or hand sliding off of them is the absolute worst feeling to have during a race. ESI grips on the other hand are very grippy, and will not budge off your bars. I have been using ESI's for three years now and have yet to find a reason not to love them. Definitely worth a try, you'll be hooked.
I (mostly) Love These
Gender:

Female

Familiarity:

I've used it several times
I give these grips 4 out of 5. I give them a 5 for tackiness, grip, feel, and control. They are the only grips I've ever used that I notice throughout the ride because I find myself thinking repeatedly, holy crap I love these... I will say that installation was difficult, but I wouldn't consider it an issue if you know what you are doing. I installed them myself with a narrow-nosed air chuck attached to an air compressor. No tearing. Just needs a bit of finesse, you definitely can't wrestle them on. I'm ok with the fact that they are tough to put on because they don't slide off. You don't need alcohol. I give these a 1.5 on durability. They are holy fraying after only a small amount of ground contact time. I have used these about 20 times, they have not seen a full season yet.
Sorry...
Familiarity:

I've used it once or twice and have initial impressions
I'm sure these would be great grips, if you could get them on your handlebar without tearing them. After the fifth popsicle stick and half a bottle of alcohol, still no more than 50% on, with both sides torn...oh well, $17 down the drain. Stick to lock-ons, friends.
Awesome option
Familiarity:

I've put it through the wringer
I went back to ODI Non-Lock on rubber grips, but these things are always vying for my grips. an awesome grip that damps vibration well. So comfy.
Best grip. period.
Familiarity:

I've put it through the wringer
These grips are very comfortable. Put them on with rubbing alcohol and they stay put as long as your bars are clean.
ESI makes great grips
Familiarity:

I've put it through the wringer
I give the Chunky ESI grips 5 starts. I tried the Racer's Edge and these are too thin if you have a large hand. I gave these to my wife and they're perfect.